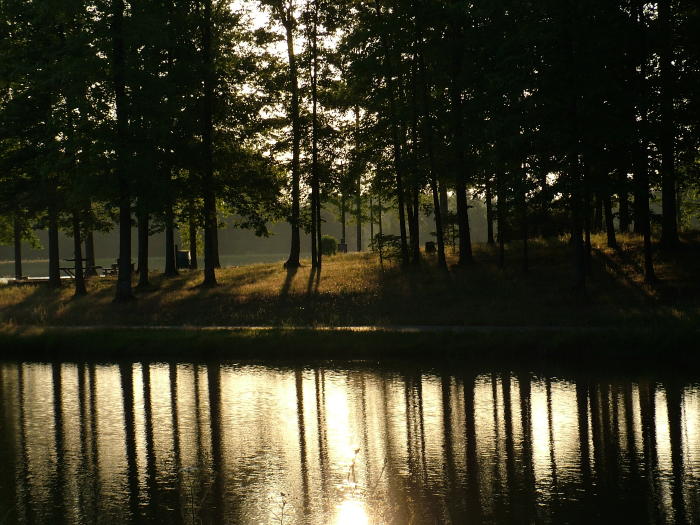 Lincoln Parish Park, Ruston, LA.
We spent last night in Tyler, Texas, visiting our friends Meade and Lee Ann. They took us on a bike tour around their neighborhood and through the campus where they both work. Back at their house we did what you do when you visit friends in West Texas, we played Texas Hold'em Poker. Lee Ann took all of our money but we drank all of her beer so it evens out. When you consider that they live in a dry county and that it will take them a 40 minute drive to replenish their stock, you might even say we came out ahead. This morning per their advice we headed for Tyler State Park which is said to have some fantastic mountain biking.
The park is gorgeous and the trails look like a blast but today they were closed due to rain, so a driving tour was all we got. Again we were impressed by Texas' state parks and would recommend this one. Not to be dissuaded we got back on I-20 and headed east for Louisiana. This is the first time we've been in a new-to-us state since Christmas. I get to put another state magnet on the stove so I am happy.
Our friend John Owen, who we will be visiting tomorrow, told us about Lincoln Parish Park outside of Ruston, LA, another place known for mountain biking. We got here around 1pm today, and promptly took a nap, seems it took Lee Ann a while to take our money so we were up too late. After the siesta we started peddling around the lake we are camped on, we easily found the trailhead and followed the well marked path through the dense and damp forest. The riding here is so much fun. The trails are rooty. muddy and a little technical in spots, but not steep or punishing like all those Utah and Colorado trails Dan drags me on. We buzzed through the trees and came out back at the lake an hour later. There are over ten miles of interconnected trails here and we have only ridden about four so far, (we did a lot of lollygagging along the way). Tomorrow we'll finish off the loop before going to Alto to visit John and his family.
This park is truly wonderful. The campsites are full hookup but with a primitive feel, cost is around $18/ night. We are overlooking the lake and only about 20' from its banks. The cove we are in is filled with turtles and bass, we are being serenaded by crickets, toads and birds as I write this. So far I am loving Louisiana, the people here are so friendly and helpful and the scenery is superb.