This was a true vacation. I realize the humor in my talking about vacationing, but hear me out here. We are constantly planning, where to go, how to get there, how to afford it and so on. This trip was put together by our friends; all we had to do was provide a credit card and next thing we knew we were whisking away for Central America.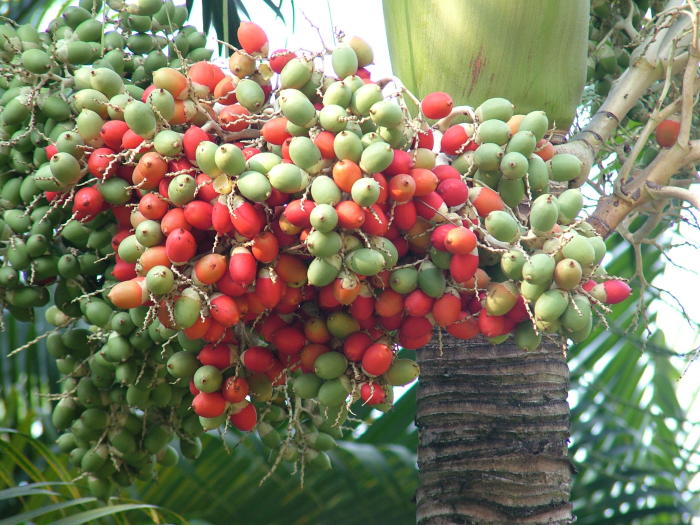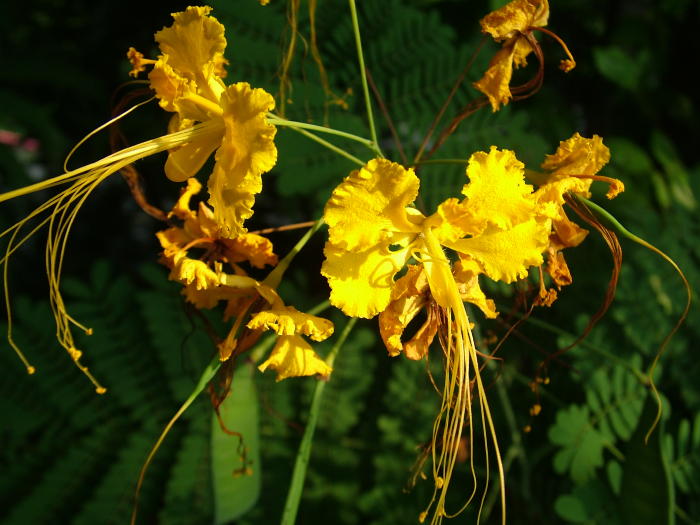 We landed in San Jose around 9pm Sunday night. We got a taxi and found a cheap hotel. Our taxi driver was named Wilson and he turned out to be our personal valet throughout Costa Rica. The next morning Wilson picked us up and drove us the four hours to Manuel Antonio, stopping along the way to point out crocodiles and to help us rent surf boards in Jaco.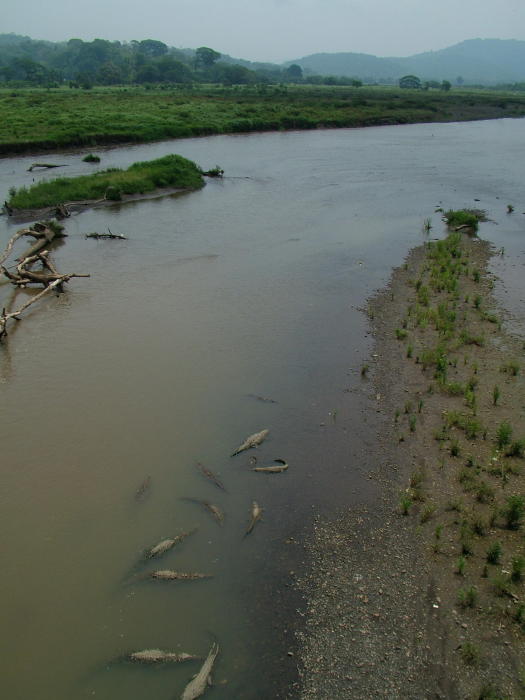 See all the crocs in the river?
We stayed at Costa Verde a very nice and small resort in Manuel Antonio just south of Quepos on the Pacific side. Wilson returned to San Jose and promised to fetch us at 5pm the following Saturday. It was still the afternoon so we threw down our bags and headed for the beach. The walk from the hotel to the beach is only 1km but is all downhill there and seemingly up a mountain on the return. We must have walked that hill 50 times during our stay.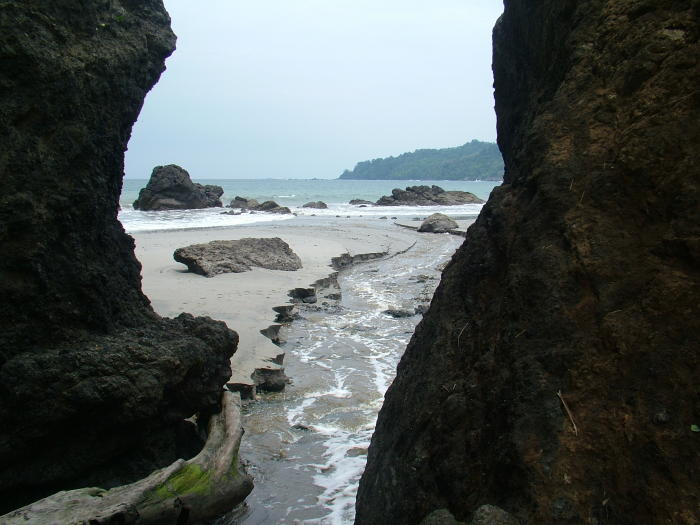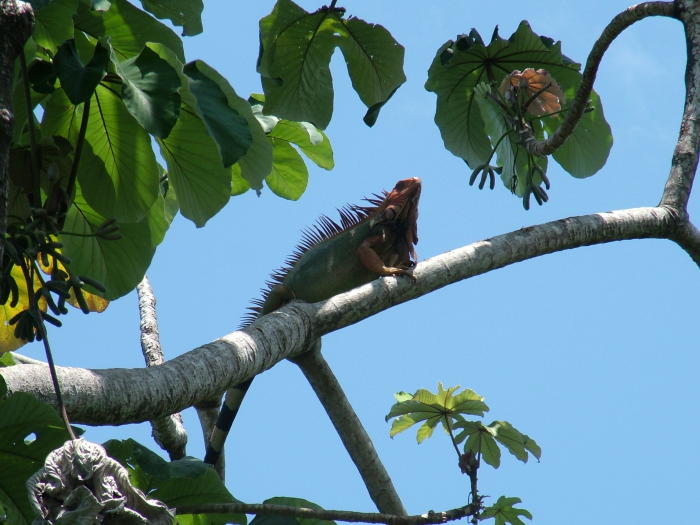 There are giant Iguanas at every turn.
We had been warned repeatedly about the theft problem in the area and so we brought nothing of value with us, leaving only our flip flops on the beach. After an hour or so of frolicking in the waves we got back to the beach to learn that apparently flip flops are of value, and someone had stolen Dan's brand new ones that I had given him for his birthday. Lesson learned.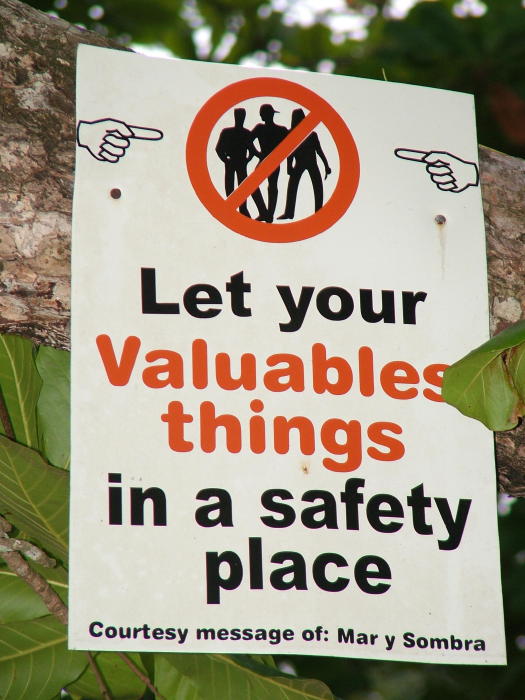 The next few days were filled with beach/surf sessions, pool sessions and alcohol consumption, punctuated with huge meals of casada. Casada, also known as comida tipica, is the traditional Costa Rican dish which consists of rice and beans (gallo pinto) fried plantains a meat of your choice (always pescado for us) and often a green bean and ground beef casserole of sorts. We ate casada for almost every meal.
On our first full day in Manuel Antonio Dan and I woke up early to catch some good waves. Note to self: learn to read tide charts. The tide was very low and as such the waves were shore break. None the less we gave it the old school try. Not a good idea, the first wave I caught I went over the falls and got cold cocked in the cheekbone by the board. Within minutes I was smuggling a golf ball under my eye that would slowly spread down my cheek and, as I was told by a local fellow, produced a nice green/black bruise which really set off my eyes. For the remainder of the week Dan got some nasty looks from anyone who noticed, I do look a bit battered.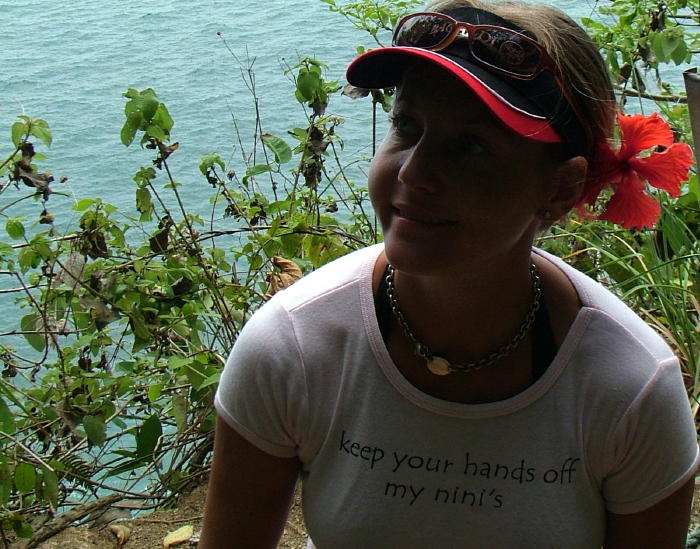 Me with a super-sized cheek, and shamelessly plugging our friend's restaurant. When in Durango eat at Nini's :)
The next day we hiked through the National park which is the big tourist draw in the area. The park is home to some truly stunning beaches and tons of wildlife. Everywhere you turn there are dozens of these super colorful crabs. Monkeys, Tucans and Sloths abound and we were treated to a particularly spry sloth at the end of our hike, in ten minutes he progressed at least five feet.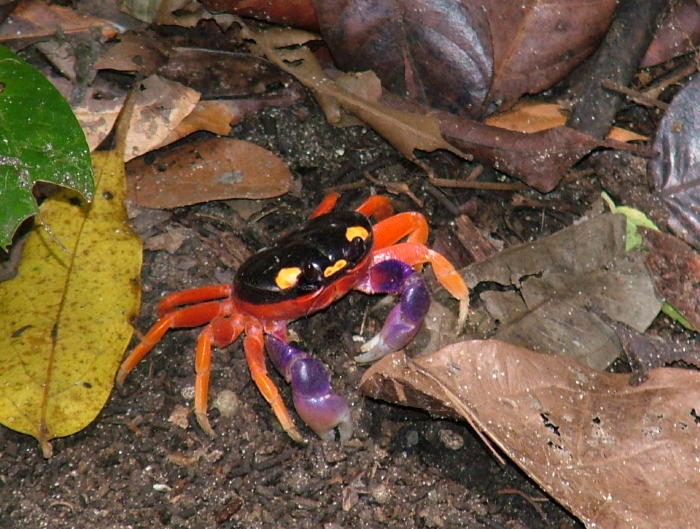 Crab in the park.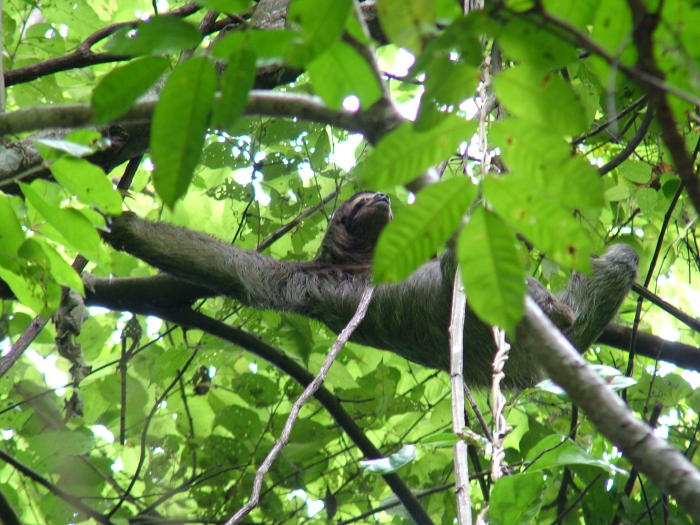 Three-toed Sloth.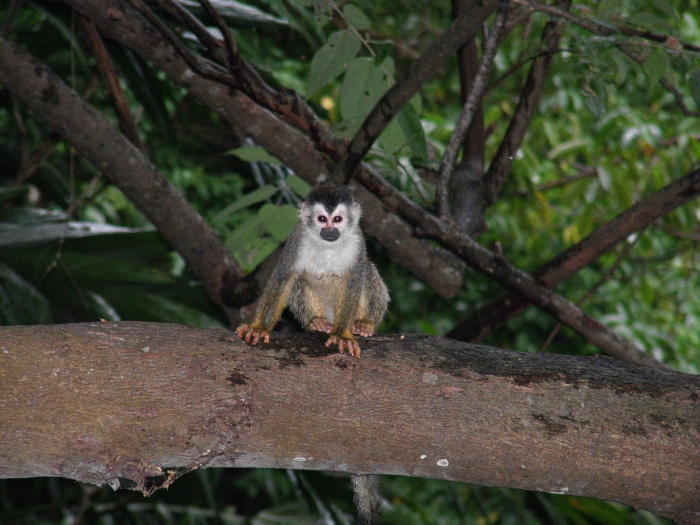 Squirel Monkey at the restaurant in our hotel.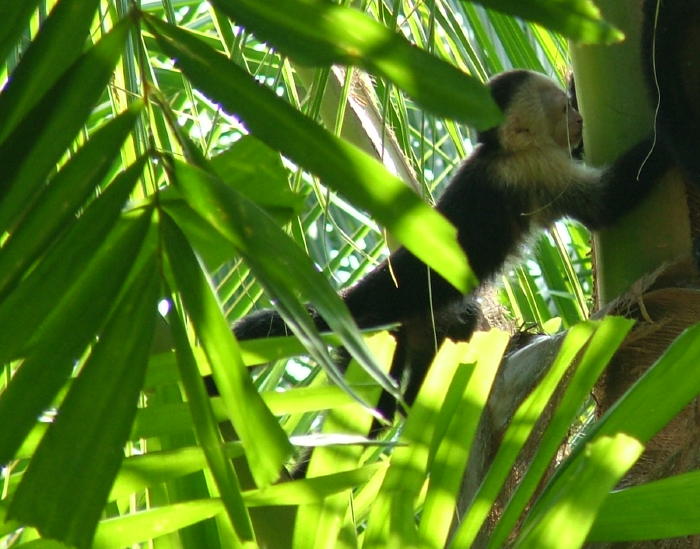 White-faced monkey.
Since surfing early was not good we opted for fishing instead. This is how Dan, Travis Zac and I ended up on the gay nude beach. We started fishing along the coast and worked our way around a few rock bars until we came upon a beautiful and deserted beach, the boys left me alone to go try their luck further down the shore. Slowly other people started to arrive on the beach; eventually I started to notice a trend. All of the other people were men, in Speedos and they were all in pairs. Apparently at about ten a.m. there is a signal, that I missed, which causes every one to hang up their Speedos and head into the water. I should have known, after all this was the prettiest beach in the safest neighborhood, of course it was the gay beach. The boys were equally as surprised when they came back to find me flanked by dozen of naked men, paying absolutely no attention to me, but they were largely distracted by the two fish they managed to land themselves.
The four of us stopped for breakfast at very empty beach side restaurant. We came to find out that it was deserted because the hotel had been rented out for a movie which was being filmed there. We enjoyed our breakfast, got to watch a trained Chimp parade around in a dress (he's in the movie) and generally reveled in what an odd morning it had been. The movie is titled Surf Camp and stars a bunch of pre-pubescent kids who star on various WB shows. Just then three drop dead gorgeous models walked past (also in the movie), laid out their towels and stripped off all but their bikini bottoms; then they ran past us Baywatch style into the surf. Conversation immediately stopped, and I became invisible to them all. Ahh yes what a day indeed.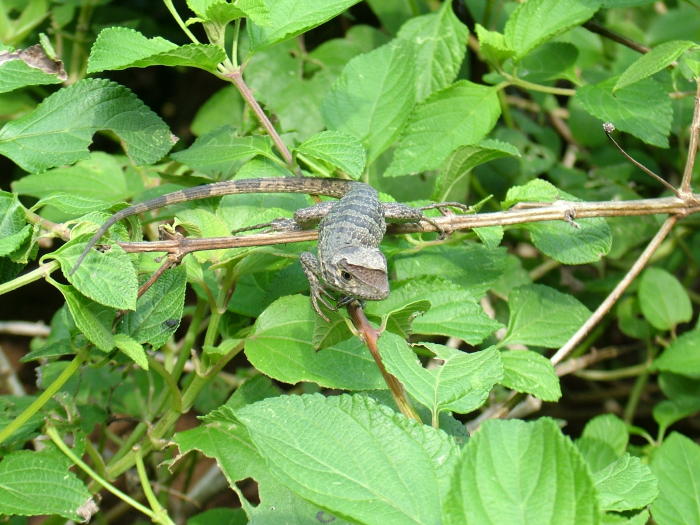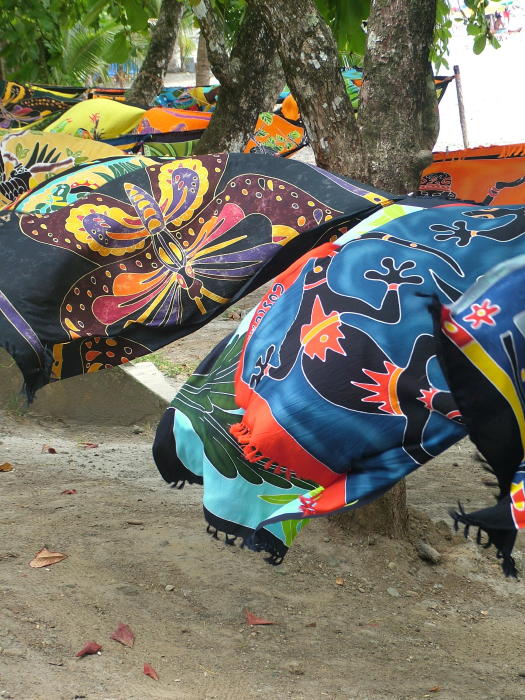 On Friday we opted to use our February ad revenue to enjoy our second Reader/Clicker Appreciation Day. This time we went on a zip line canopy tour through the rainforest. Thanks again to all of you. This was an exhilarating tour and a real challenge for me since I don't like heights. Waiting my turn to zip, atop a platform suspended 90' off of the ground was not something I would normally do. Once it was all done though I was thrilled to have done it.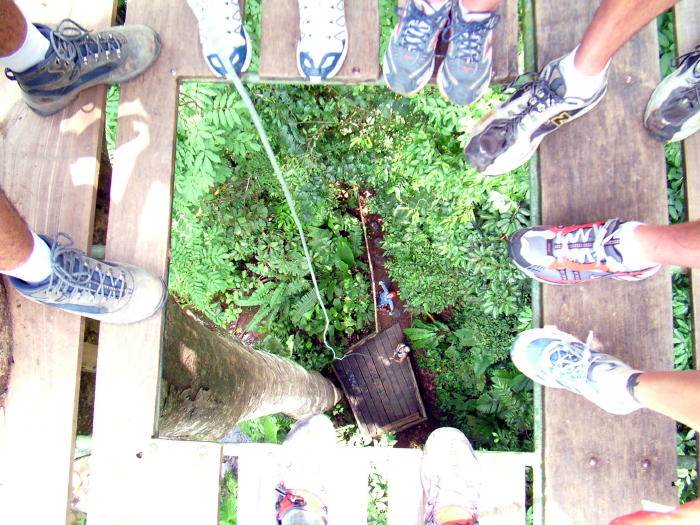 This was a 65' rappel.
Morgan zipping along.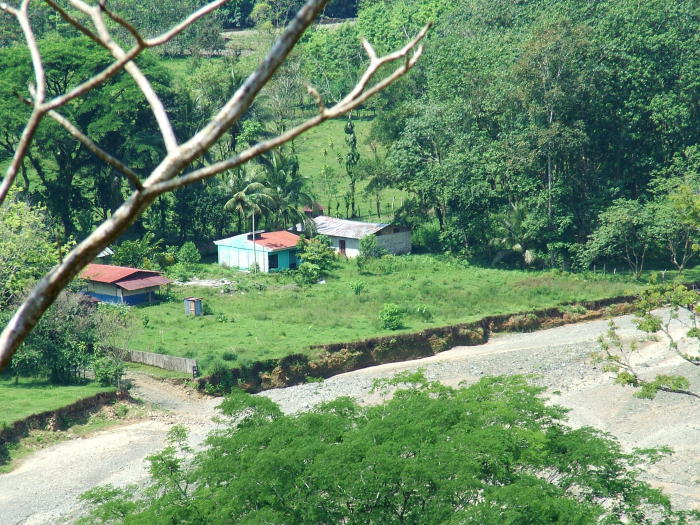 View from the zip line.
Mostly though we just made laps between the beach and one of the three pools at Costa Verde. It was a relaxing and fantastic vacation and a true departure from what has become our routine in the camper. Wilson, true to his word showed up Saturday and delivered us back to San Jose. Sunday we spent 19 hours traveling back to Colorado.
From left to right. Jeremy and Steve, Eric and Jamie, Dan and me, Travis, and Zac and Morgan.
Today we leave Durango for the first time with no set return date. This weekend we will be in Dallas and from there we are off to the land of mudbugs, gators and swamp buggies.
Thanks to all who wrote in response to our last posting, unfortunately all of the correspondence was complimentary so there will be no rebuttals this time ;)