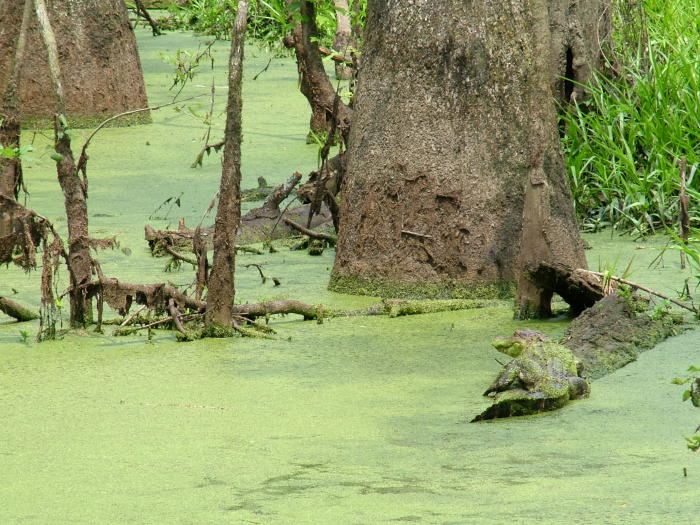 Gator Day
Today is Friday the 13th. Unlucky? I think not. Today we saw gators and turtles and even a cottonmouth. The day began at Ticfaw Park, which is just such an amazing state park. Dan and I rode our bikes all around and walked along all of the boardwalks they have set up. The park is a science teacher's dream come true. The interpretive trails, as well as the nature center, are chock full of swamp land facts and history. While the park seemed to be teaming with school groups, most were regimented to guided tours and so we had the trails to ourselves as long as we beat the school busses. On our return trip a park maintenance man stopped in his souped up golf cart and asked if we'd noticed the gator we'd just passed (see picture above), we hadn't. After he pointed that one out, all of 50' from us, he told us about a pond right behind where we were camped that had "no less then five of 'em" in it. So of course the pond was our next stop.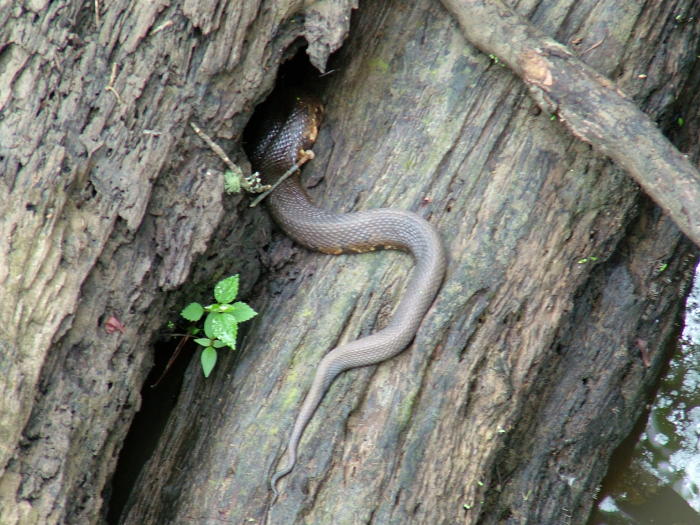 Cottonmouth.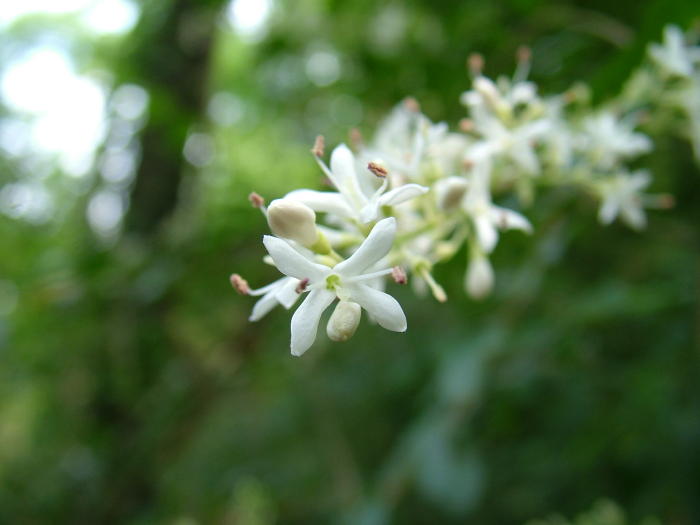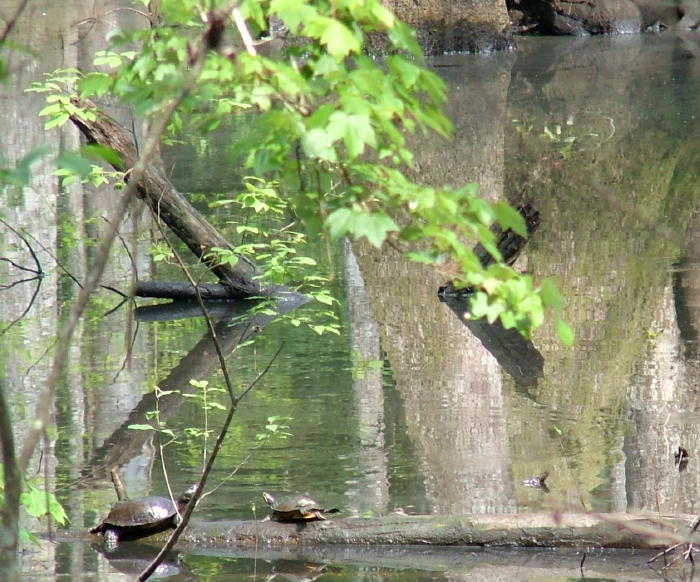 See the turtles on the log?
Ticfaw's water park.
The placards in the park talked about the region's history and about how the land went from being stripped of all trees to being fertile land for farming the best strawberries around. Well as we were leaving the park we passed a "U Pick-em" strawberry farm, so we did. For $5 we got more berries than we could possibly eat, we have since been pawning them off any poor soul who happens by our campsite.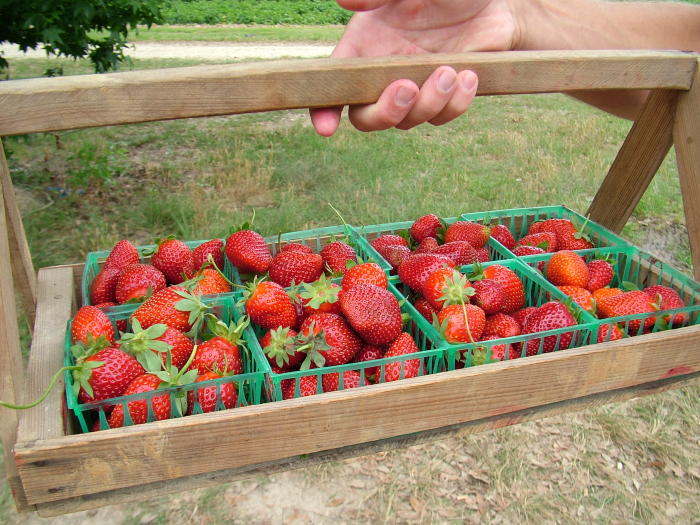 Tonight we are camped in our first ever KOA. This is for two reasons. One because it is really to close to the swamp tour I am getting ready to tell you about. And two because today is the second ever "Come Camp with Us Day", where most KOA's offer a free night of camping.
Swampin'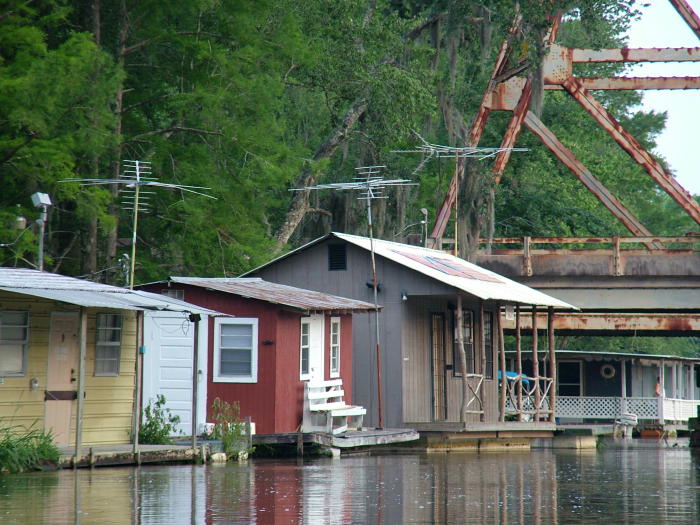 I was in Nawlin's for a wedding about a year and a half ago. I had one day to sightsee and got talked out of what I really wanted to do, a swamp tour. I mean when you're in Louisiana you must eat mudbugs, drink a hurricane and go swampin'. So this time I put my foot down (read as: begged Dan to forget our budget for a day and let me go) and off we went. From our free spot we drove about 10 miles to Cajun Encounters Swamp Tours, there Captain Ben took us (and 22 other touristas) on a two-hour honest-to-God swamp ture (I know tour is spelled t-o-u-r but ture is how it is said around these parts). The ture was complete with gators, nutrias (second largest rodent in the world) and many shanty swamp homes that make our trailer digs look mighty fine.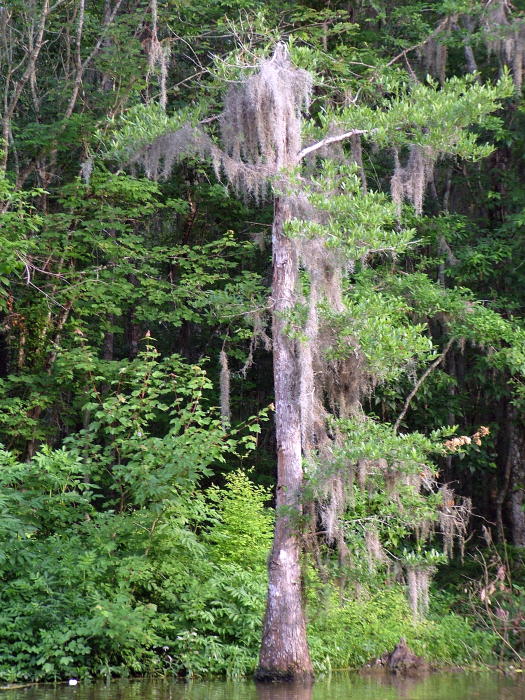 Cyprus Tree with Spanish Moss.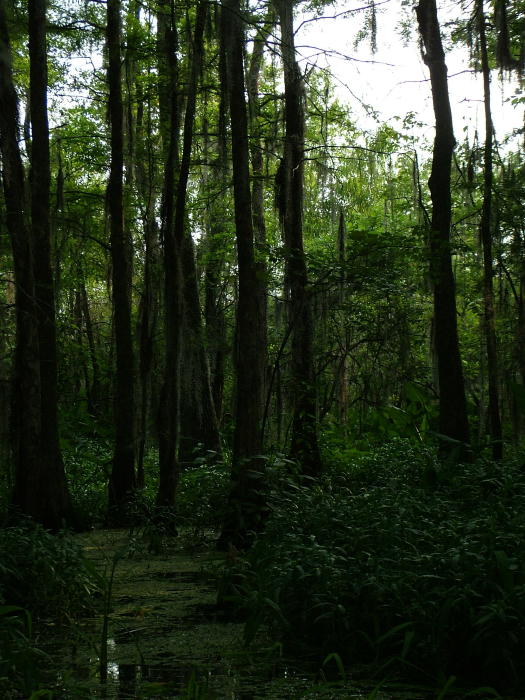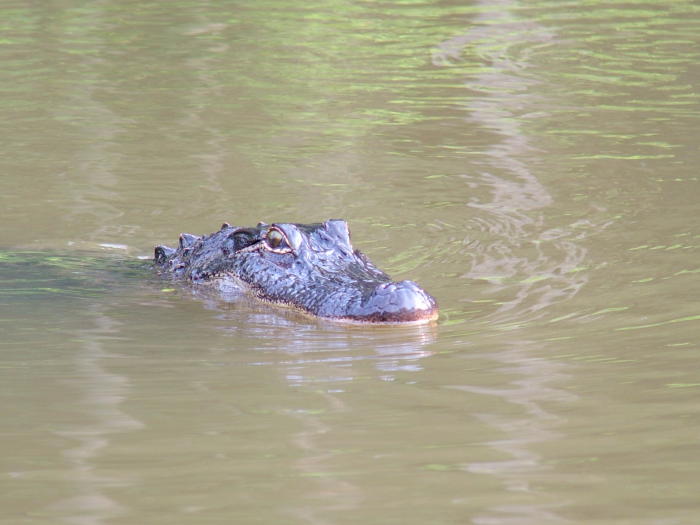 A six foot gator.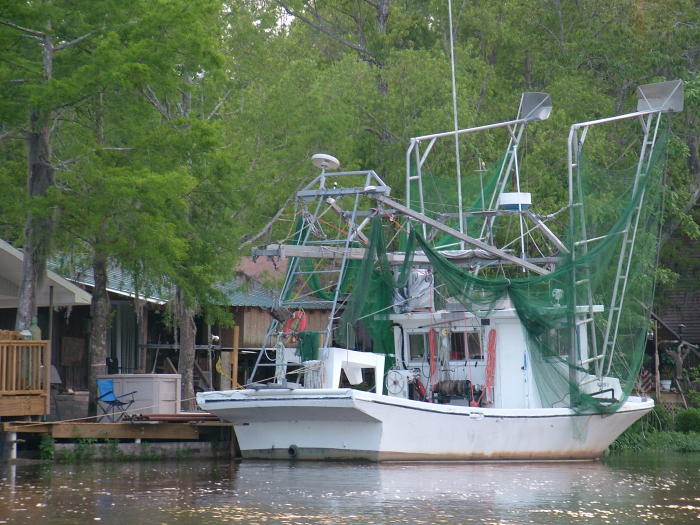 Nawlins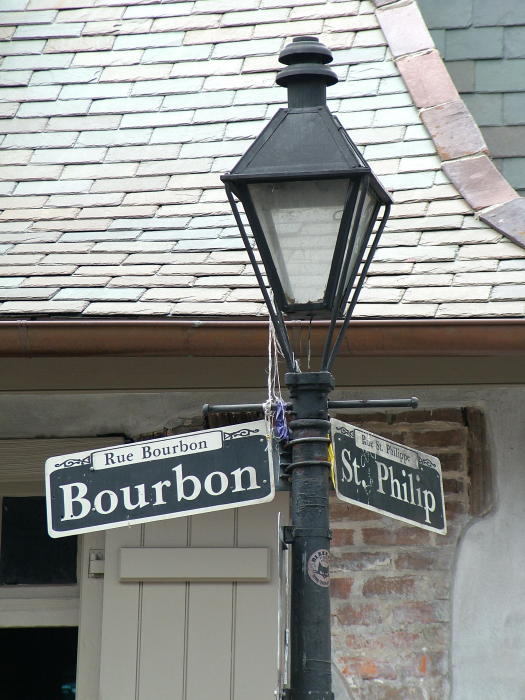 That is New Orleans to you folks. Today we took the free KOA shuttle into the Big Easy, this helped us to justify the $30 price tag on our no-frills camp site. Once in town we started the epic hiking tour that would last us eight hours. We strolled all along the River Trail, throughout the Garden District and mainly through the French Quarter. We ate our way through the town, gator, beignets and po' boys, none were spared.
In the background, in green, you can make out what Dan's eating.
We stopped and listened to street performers and enjoyed the numerous artists who peddle their wares along the square. We spent about an hour listening to a fantastic Creole band and savoring the buy one get two free ways of Bourbon Street. Finally at 7pm we poured ourselves back into the van and returned to our home for an early night.
The lead singer/ accordian player of the Creole band we listened to.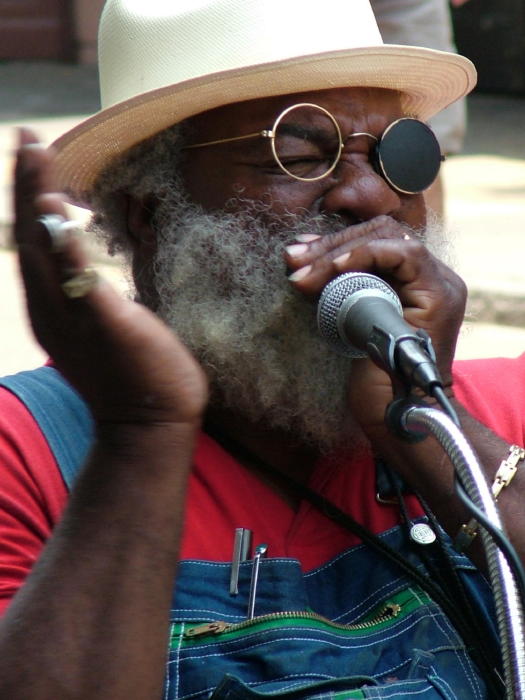 We loved this guy, a quintessential bluesman, ripping it up on his harmonica.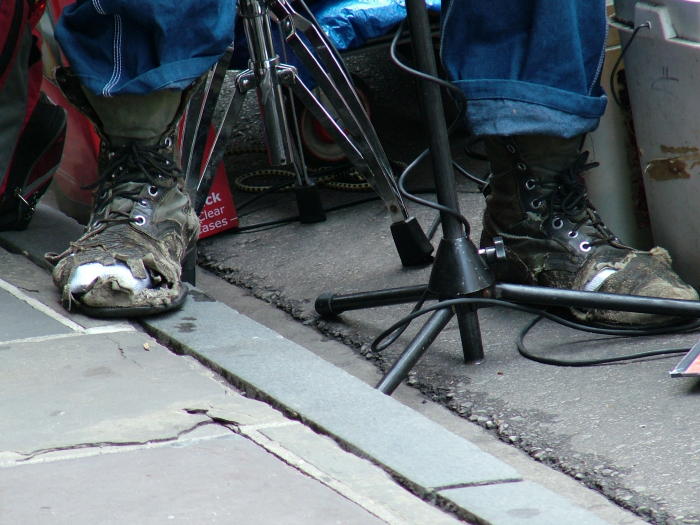 The bluesman's boots.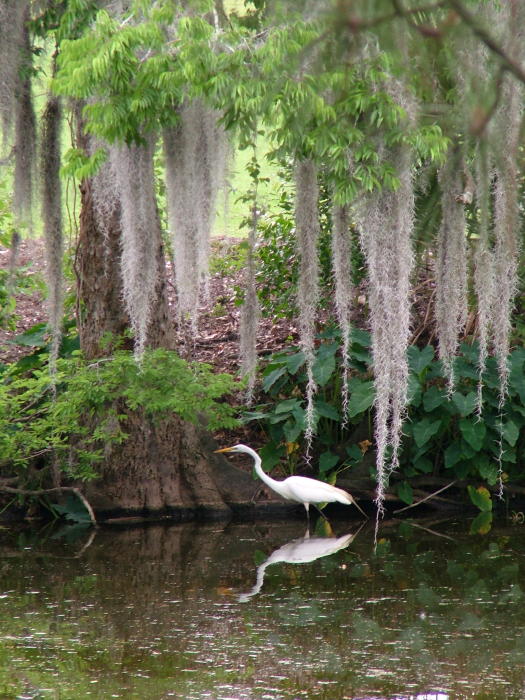 A crane in the Audubon Park.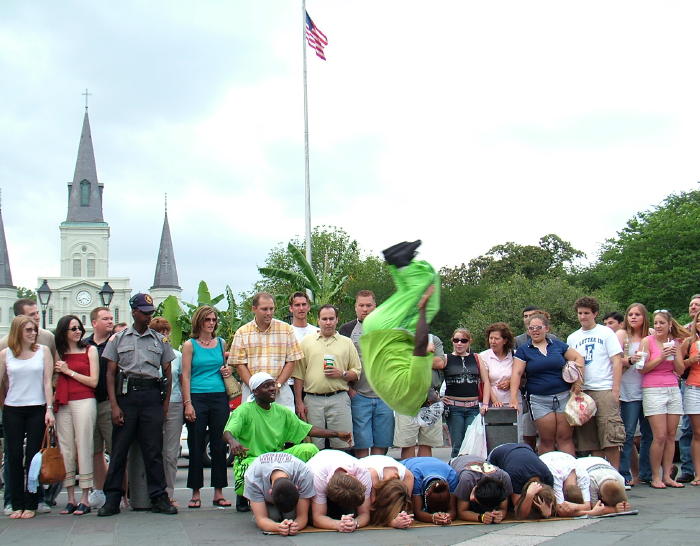 The street performers were great fun to watch.
More sights from The Garden District.