Our trip has a few legs, or chapters. The first chapter was from day one of unemployment through our trip down the Grand. This new chapter will take us through this fall and Mexico.
Zion National Park/ The Subway.
We met up with Brother Pat, his friends Eric, Chris and Joyce, and our beloved Meredith, Friday afternoon in Hurricane, Utah. We kicked off the weekend with a nice bike ride out on Gooseberry Mesa outside of town. From there we headed up to Kolbob Reservoir Near the Northwest corner of Zion park.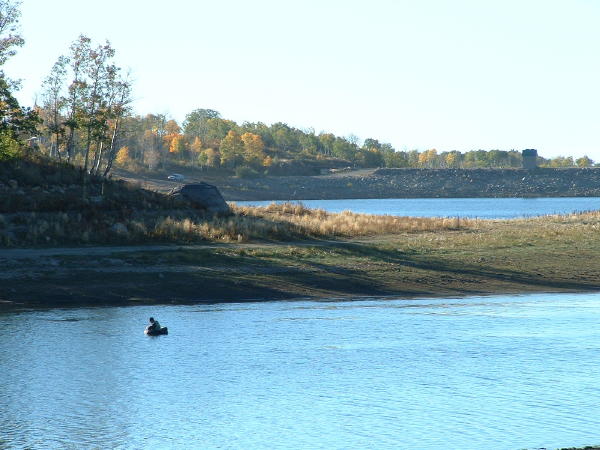 Fly fisher on Kolbob Reservoir.
The morning before we met everyone we visited the backcountry permits' office in the park and procured a permit for The Subway. This is a canyoneering hike 9-10 miles in length. Saturday morning we rallied early and headed for the trail. Little did I know how truly amazing this day would be.
The hike begins in a conifer forest and then opens up onto a slick rock basin, before dropping into the slot canyon that the hike is known for. During the hike we scrambled over boulders, swam through deep 45 degree pools and even rappelled a 30' cliff face. Here are the pictures.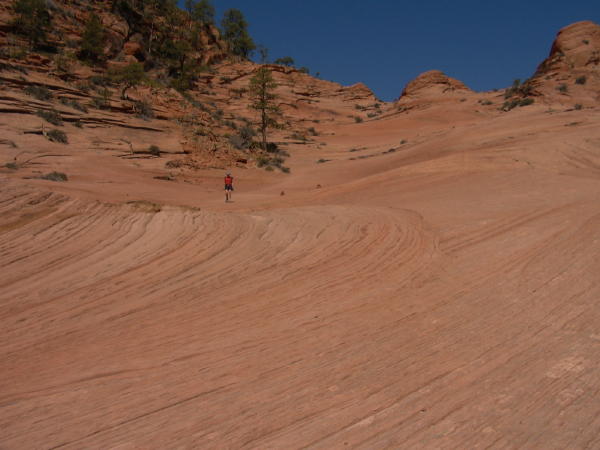 Joyce walking along the slick rock section.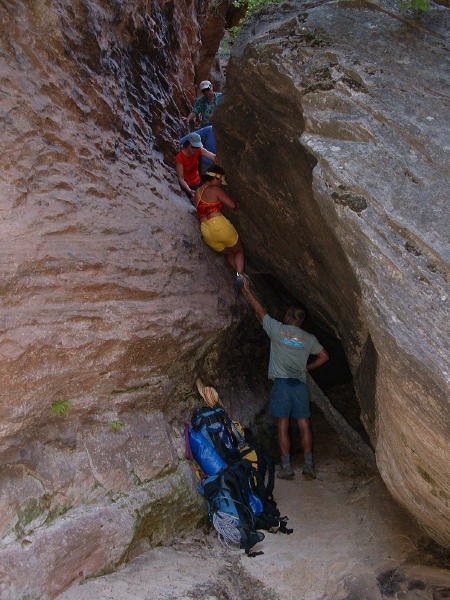 This was the first technical move. A shimmy/ fall down a 12' boulder.
Pools along the route.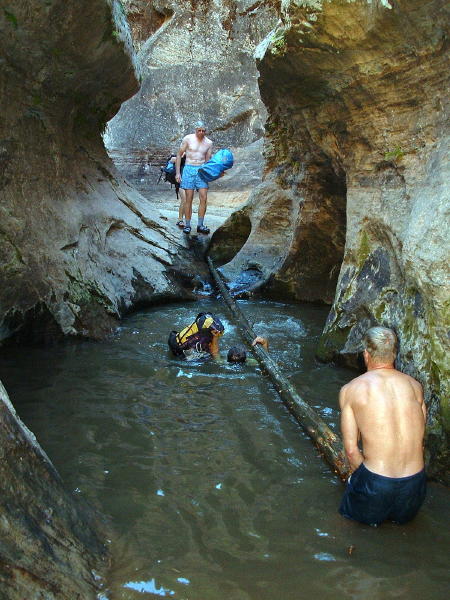 One of the pools we waded/ swam through.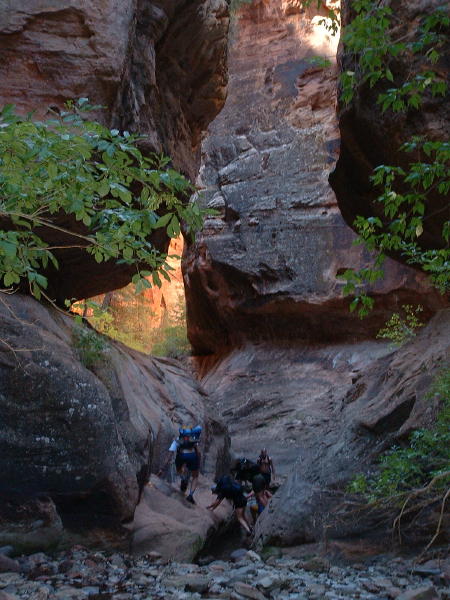 We tried to straddle over this pool, we all ended up swimming at least some of it.
From here we swam another pool, probably 100' long and 4' wide with a boulder chalked in the walls above the pool, this proved to be the longest pool.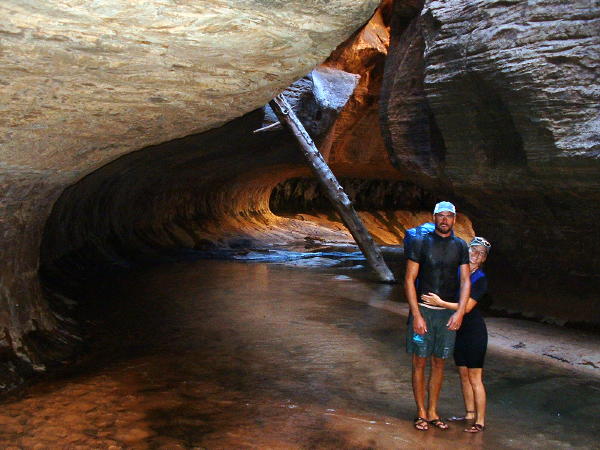 The actual "Subway".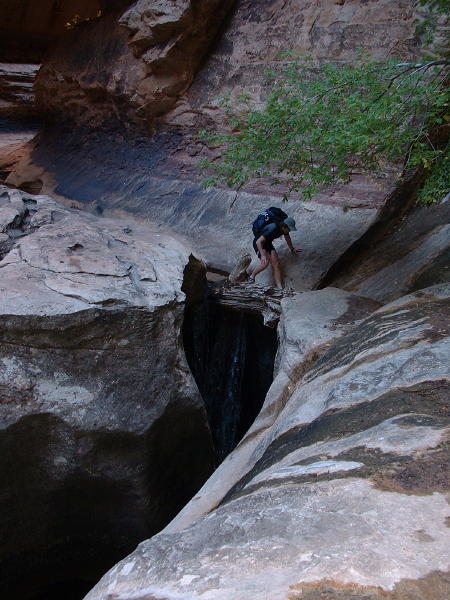 To access the rappel, you must cross over a 30' falls by walking over a fallen tree which acts as a bridge.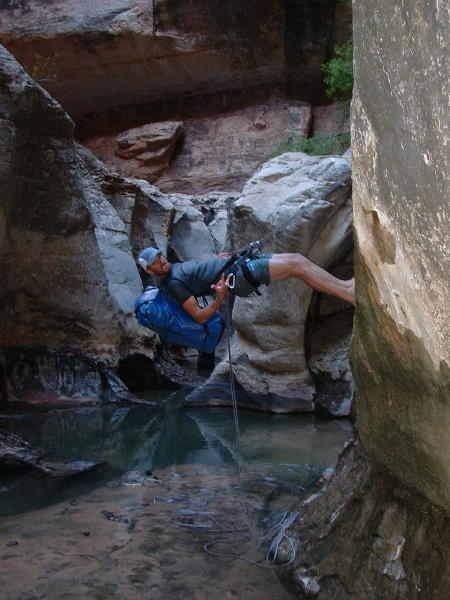 Dan posing on the rappel.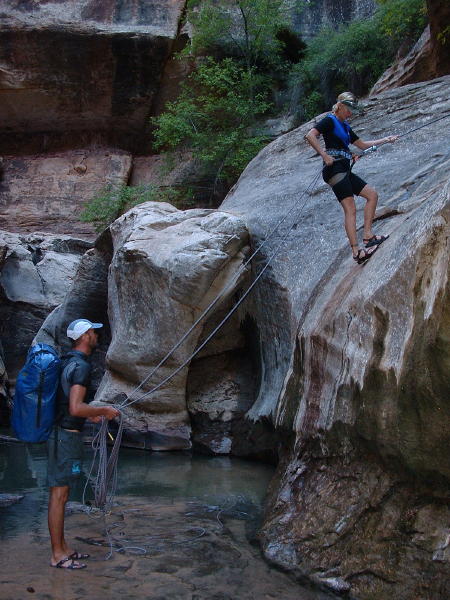 Have I mentioned that I am not a big fan of heights?
Pat made a friend along the way- and no he didn't really eat this guy.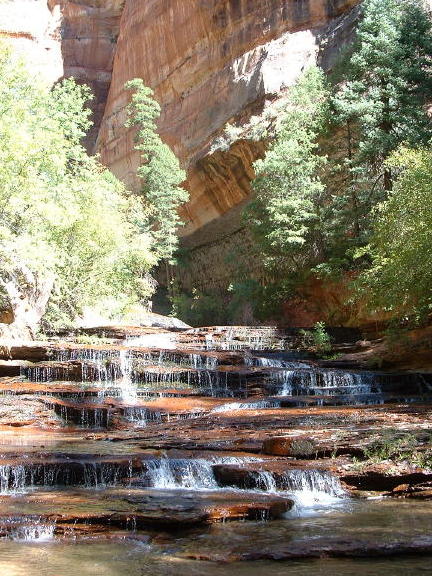 Cascades on the lower section of the hike.
Brother Pat really liked all the frogs, he took this picture.
Sunday morning we were all a bit slow to rise. The Subway hike had taken us almost eight hours to complete and we were all feeling muscles we had long since forgotten about. After breakfast we decided to hike another canyon, albeit a much shorter hike than the previous days'. Our hike took a detour when we realized that the canyon we had intended to hike was filled with smoke from a nearby fire. Instead we hiked a maintenance road to get a view of the fire.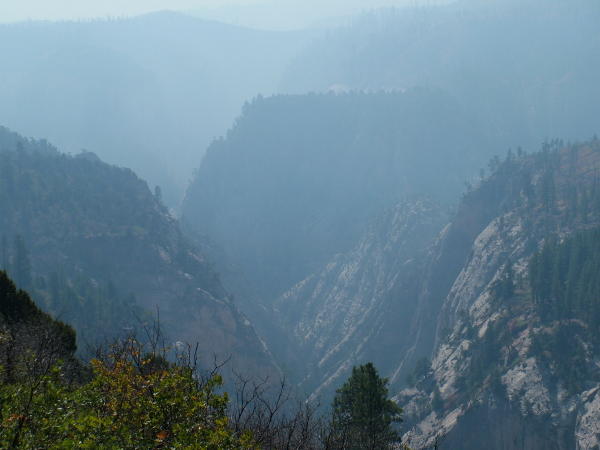 The canyon we meant to hike.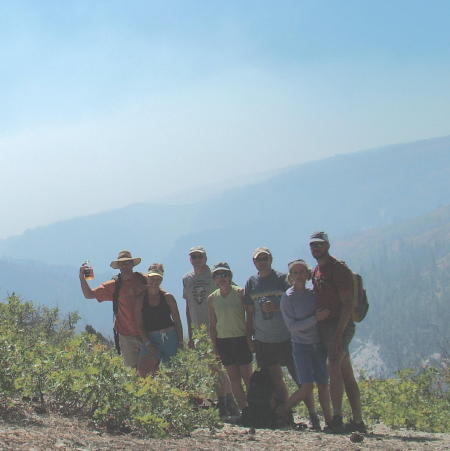 Our Group.
The fire that thwarted our hike.
Last night we decided a culture shock might be fun, so we said goodbye to our friends and the wilderness and headed for wild life. Vegas baby, Vegas. Dan had never been to Sin City. We found a nice spot in a casino parking lot, easily accessible from I-15. This particular casino lot, which is adorned with various medieval flags, has no overhangs, no fees and is a nice enough place to catch a few winks after walking the strip.
Despite my inherent loathing for this town, it does fascinate me in a morbid sort of way. Additionally per various conventions I have attended here, and a class I took in college, I know a lot about the place. I gave Dan the .25 cent tour of the strip complete with a few free shows. After an all-you-can-eat dinner we headed for a craps table. Two hours later I was right back where I started with $20 and had "earned us" eight free beers. Really, what more can you ask for? Our night's sleep in the parking lot went undisturbed. This morning we had biscuits and gravy, 3 eggs, hash browns and toast for $6 total- I suppose this town does have a thing or two going for it after all.
Currently I post this from I-15 while traveling at 65mph in the Mojave National Preserve. We hope to hit the beach tonight.