Day Six:
This was a big day. A really BIG day! We ran Unkar and hiked through the archeological site there. We scouted Hanse rapid and I wanted my mommy! We picked our line and learned that the river picks your line down here, not you. Afterwards we ran Sockdolager and Grapevine Rapids which are my favorite rapids, super fun and big wave trains.
Pottery Shards at Unkar.
The canyon changed today from Red and tan sandstone to medieval looking granite. Powell's expedition noted how this did not bode well for them because the harder the rocks they found, the harder the rapids. Tomorrow Jonika leaves us so tonight we celebrate her and enjoy our remaining time together.

Day Seven:
We bid adieu to our beloved Jonika and were so sad to see her go and to see Dodger so sullen at her departure. A few of us hiked up to Phantom Ranch and were rewarded with packages from family and friends. Our booty included homemade cookies, which remarkably survived the ten-mile mule ride, snacks and money which was converted into iced lemonade for all. Special thanks to my folks, Kim and Mike, Dave and Sue and cousin Heather.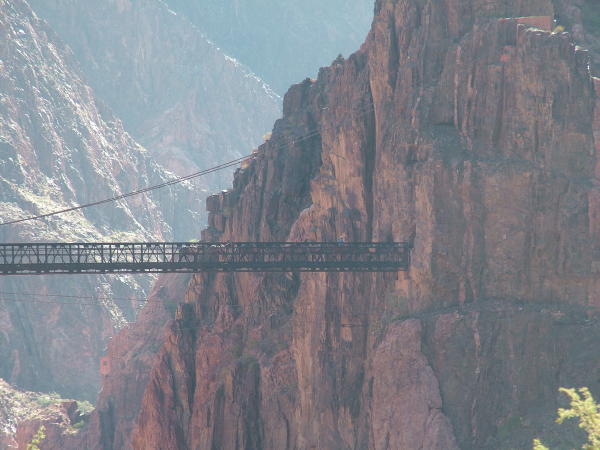 Mule train at Phantom Ranch.
Back on the river for another big day. Right away we hit Horn Creek, you enter the rapid through two rocks or horns and run her down the gut. Then came granite and again my mommy was no where to be found. Hermit was super fun, with the biggest waves I had ever seen. All runs were clean and I was just starting to feel really good about our chances. Then came Crystal, the ugliest meanest looking rapid I have ever seen. From the scout you cannot see the sneak run so it is truly mortifying. We watched two J-Rigs come through, these boats are about 40' long, this should give you an idea of how big these rapids are.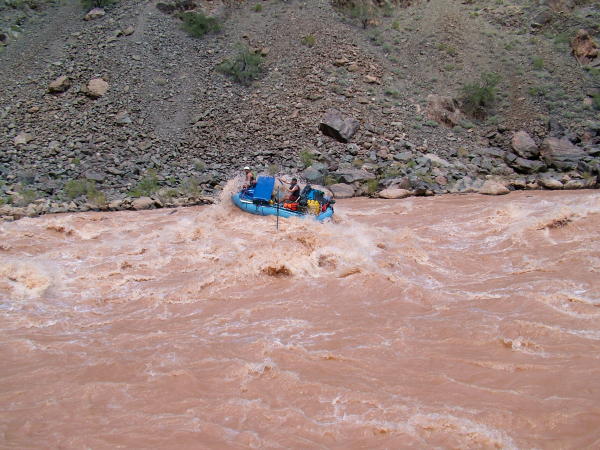 Dodger and Sutt in Hermit.
Juan in Hermit.
Day Eight:
Since our camp was occupied we had a slightly modified layover day. Traditionally a layover day is a respite from the day to day tasks of load the boats, unload the boats. We only had to float 100' to Bass Camp so we Beverly Hillbillied down the river.
Once in camp we realized the short comings of this layover spot. #1- no shade! #2 a nasty eddy in front of the camp, so no easy access to swimming waters in which to cool ourselves. Well we aren't whiners, we'll just drink the heat away. In the afternoon we hiked to Shinumo Creek and cooled off in the clear water.
Day Nine:
A fun day of Class 5 rapids. We did a group hike up to Elves Chasm and all jumped off the waterfall. Elves is yet another oasis in the desert.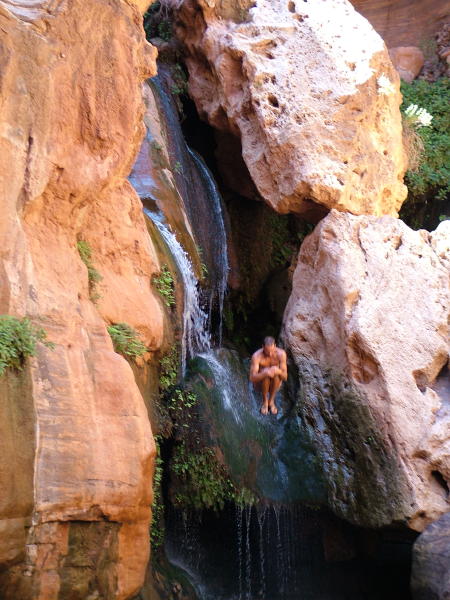 Elves Chasm.
Day Ten:
Big fun Rapids today. Specter Rapid was especially of note. Bedrock was a technical and potentially nasty rapid. Prince William spent some extra time in the eddy here. Dubendorf caused Dan to call out his first "Oh Shit!" command, as we hit the two biggest holes in the rapid. Somewhere in here Dan managed to throw out his back which lead to him not rowing much in the following days. We all did a huge hike up Tapeat's Creek to thunder River. This was a fun hike for Dan who did it ten years ago. At Thunder River you can climb into the rock wall where the water comes flying out of the cliff. Inside is a labyrinth of caves with waist deep pools of freezing water.
Next