Days Eleven and Twelve:
We hiked Deer Creek today. I had been looking forward to this hike most of all. The creek runs through carved red sandstone winding along to a 100'+ waterfall. Blades took a rock to the head on the hike and was pleasantly ga-ga for about an hour.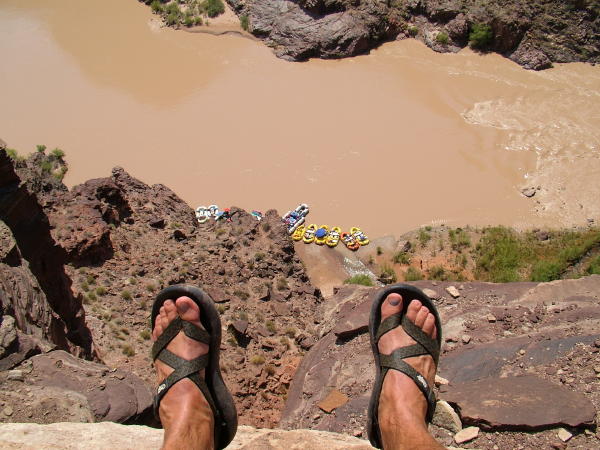 Dan's feet over Deer Creek.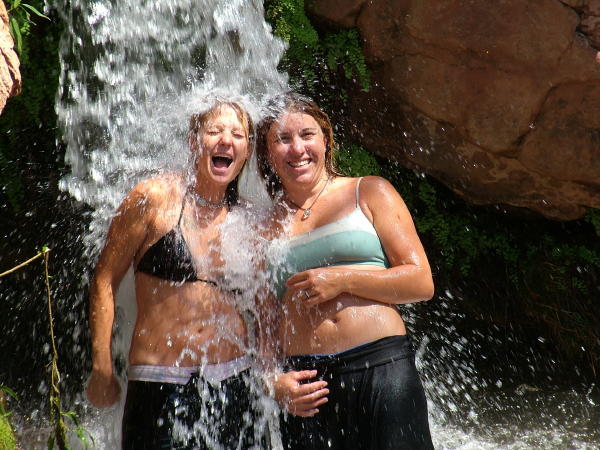 Jamie and me at Deer Creek.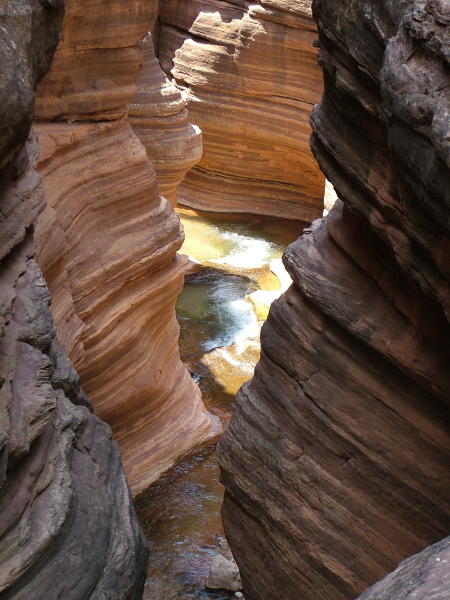 Deer Creek Caverns.
Just downstream from Deer Creek we lucked into the greatest layover camp ever. Poncho's Kitchen is blessed with a huge overhang and day-long shade. The beach here was perfect for horse shoes and volleyball, we all spent a fabulous day recreating. Two of our crew brought black lights along to hunt for scorpions with. Incase you have not enjoyed this particular activity I'll explain. Scorpions glow under black lights. They are really easy to spot and pretty cool to see. After our hunting trip my knee managed to find the only rock on the beach, injury number three.
Morning Yoga class.
Day Thirteen:
Dan's back was still really hurting him so he took a ride on Prince William. Brook and I took my boat for the day. Around noon we all hiked up Matkatanuba Canyon, a sandstone slot canyon. Also a very cool hike I would love to be able to do again.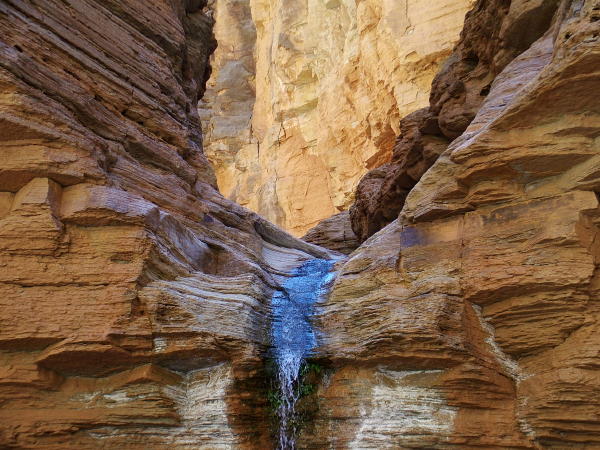 Olo Canyon above Matkatanuba.
Matkatanuba Canyon.
Brook and I loaded back into the raft, we were just a few miles above our camp and there was just one rapid in between. Our guide books had been really helpful and very accurate up until now. I checked the map and Brook and I had a chuckle over the description of upset rapid a class 3-8. This is a mighty big spread. Up until now we had been scouting everything over a class 7. The water had dropped down considerably in the last few days and we all assumed the rapid would more along the class 3 lines. We were wrong.
Brook lined up our raft perfectly, we tried to skirt the big holes by running right but the river took us and there was nothing we could do. The first hole slowed us to a crawl and delivered us into the belly of the beast, or the second hole, which delivered the knockout punch. The flip happened in slow motion for me I was acutely aware of everything that was happening. Brook and I both ended up under the boat and had to feel our way out. We came up on the same side of the raft and shared a big grin before trying to rectify our situation. It was the first flip for both of us, we were both fine and it couldn't have happened in a better place. We re-flipped the boat and had pulled to shore for a complete inventory within ten minutes. Total cost of the flip: one sarong, one beer can and one visor. This was a very successful flip. Dan's chest swelled at the fabulous rigging job he had done.
In camp Brook and I got the royal treatment and we recounted our tale to anyone who'd listen.

Day Fourteen.
Today was a mellower river day. We spent three hours hiking up Havasu Creek. What a phenomenal place. The hike is long and difficult now, due to a flash flood a few years back. The rewards are pool after pool of cascading clear turquoise pools and falls.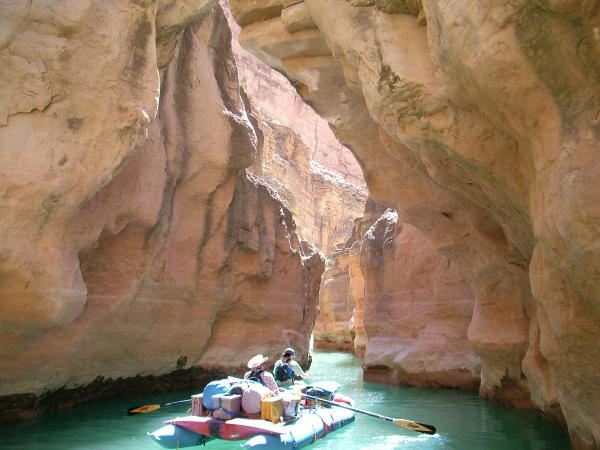 Havasu Creek.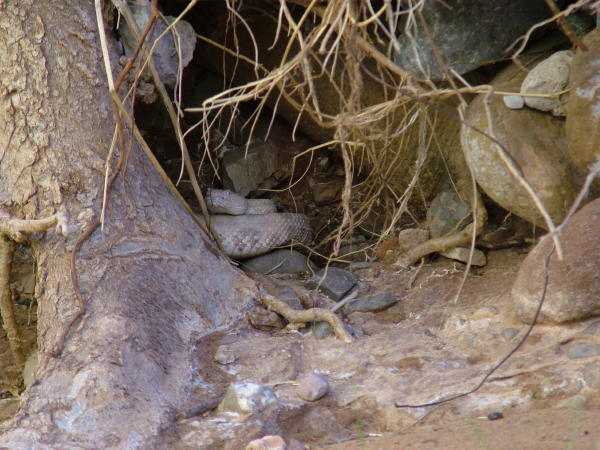 Rattler along side Havasu.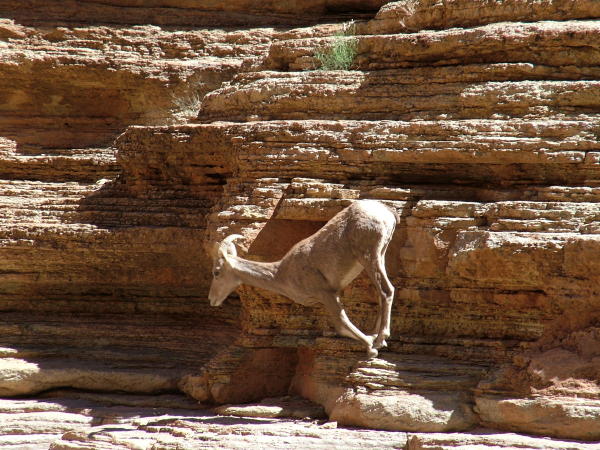 Goat at Havasu.
We got to camp pretty late, ate and all went to bed early. Lava's coming up tomorrow.
Next