Another Note:
Darn! I return
every
email we get and so I have been sitting here replying to all of your posts. Finally while replying to Peggy from Ridgecrest, CA I noticed that the return email was to "anonymous-comment@blogger.com", so I am gonna go out on a limb here and bet that none of you got my replies. This is a shame because they were all fantastically witty, literary, masterpieces!
If you would care for a reply from either myself or Dan please include an email address in your posting. Thanks to all for taking the time to write in, it is appreciated, as are your words of encouragement.
Note:
According to our hit counter we have recieved over 20,000 hits. Who are all of you people?
Please take a minute and click the
comment
button below. Tell us who you are, how you found us and where you are from. It would be greatly appreciated.
January 4, 2005
D-town
Our friend Katie, one of Wolf Creek's avalanche dogs.
It is always nice to be home. We spent Sunday and Monday enjoying the fruits of our labor, riding Wolf Creek. I hate to play it up too much for fear that you will all invade our favorite ski hill, but Wolfie has the best snow in Colorado and is a fantastic place to enjoy champagne powder and tree skiing. It is still a family owned resort and it has small area charm. We managed to hit it on two fantastic days. Part of Wolf Creek's charm is that there is no "resort" there. No condos, no Gucci stores, no spas, just a ski hill and some great people. We were permitted to camp in the parking lot, which was a real treat. Our two best runs were from the top down to our truck, gotta love ski-in/ ski-out camping.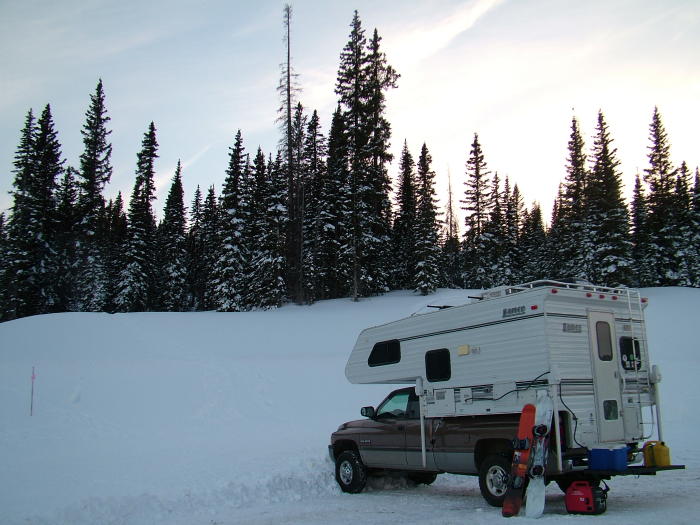 Our camping spot.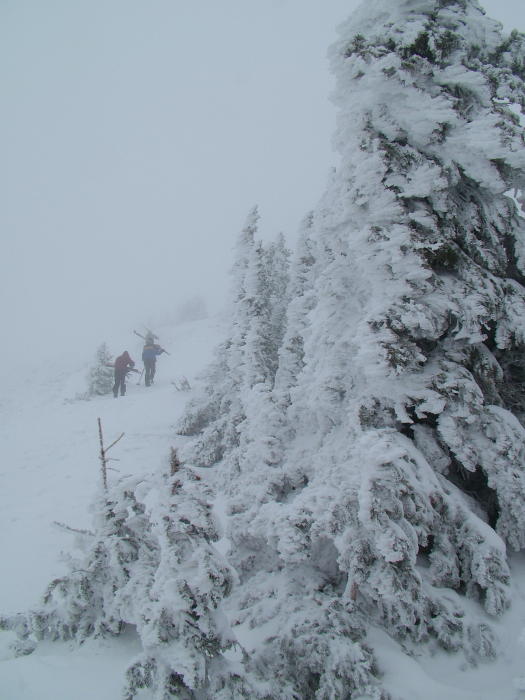 In addition to lift access runs, Wolf Creek has great terrain for those who are willing to hike just a little bit from the top of the lift.
Our first days of riding were remarkably painless. Surfing is a fantastic upper body work-out, but cardio or legs, not so much. Then throw in 10,000 feet and 20 degrees, and we didn't have very high expectations for our riding ability. Somehow though, everything fell right into place. We were able to breath, even with the altitude, and our legs managed to hold us up and carry us down the slopes.
Me, barely holding on, maybe my legs are a bit out of shape???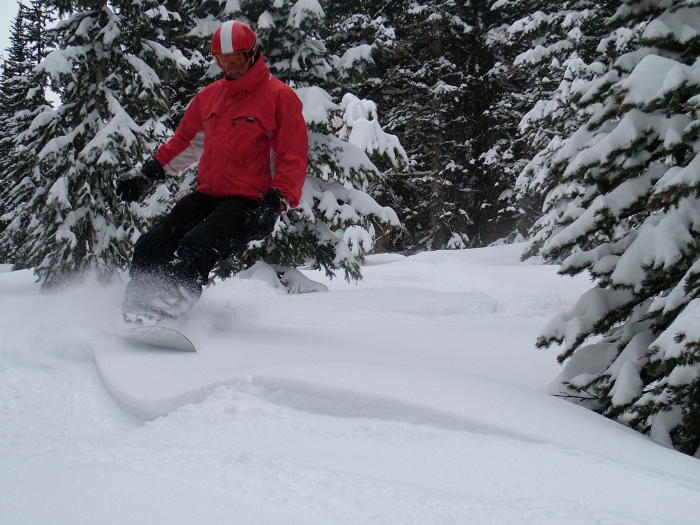 Dan enjoying our ride home.
Currently we are in Durango waiting for the truck to be repaired. Our major fears, that the transmission was dying and that the 4 wheel drive was caput, were for not. Seems only a bushing of some sort is out of kilter, no big deal. The only really bad part is that we have been dry docked here in Durango while huge flakes fall all around us. Fortunately we should be up and running tomorrow and on the slopes Thursday morning.
Coming home makes me homesick for my friends. The ONLY downside to our trip is the time I am missing with those I love. If you ever decide to do a trip like this you should know that this is the hard part. We are eternally blessed to have the most amazing group of friends, darn you all for being
so
cool, and making us miss you. We have made some fantastic new friends along the way, but nothing, and no one, can replace the people you have known all along. We are pretty sure that wherever we land come June, it won't be Durango. This is a hard realization for us, but fear not, we assume that we will land some place so great that you will all want to visit us there.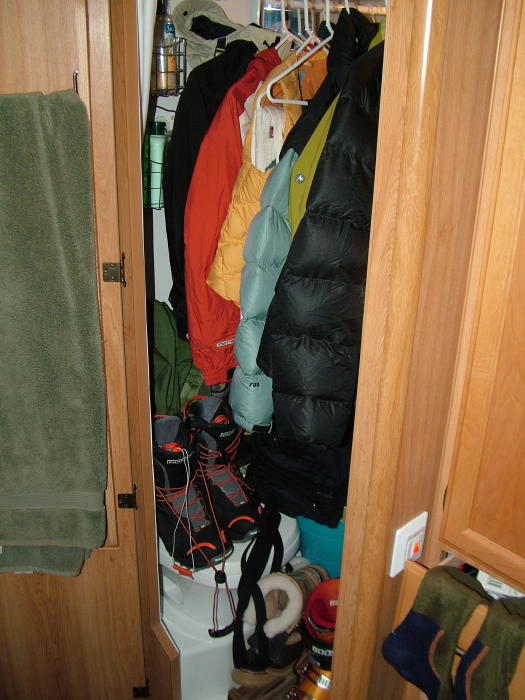 Our winter sports require a bit more indoor storage. Our bathroom has been transformed into our ski gear closet.
You may notice that I had some free time to dedicate to the site today. I hope the new format is a bit easier to read. Also I did "sell out" and add an advertisement link in the middle. If you are so inclined you can click on the link and by doing so you will be making a contribution to "the fund". I think we get a half a cent per click, only payable after we have had $100 worth of clicks, so don't think we are trying to turn this into a money making venture or anything. Perhaps if everyone clicks a link, everytime they visit, someday we'll earn enough for a tank of deisel, click away! If any of you are bothered by this, and are friends with publishers, pass our site along, once we get a book deal I promise to remove the link :)