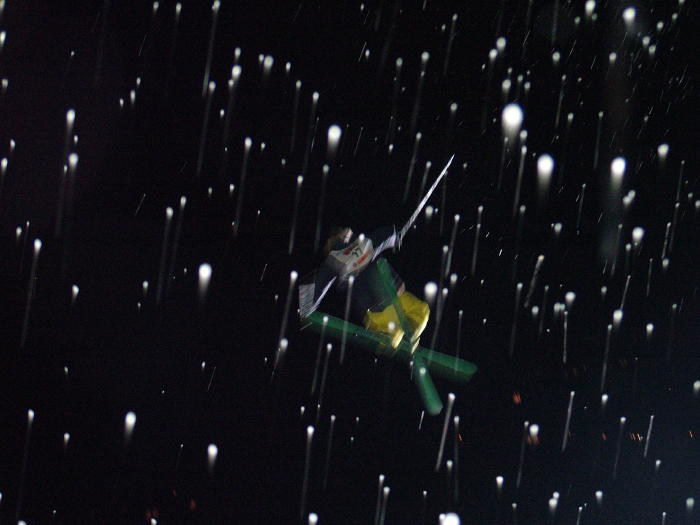 We finished up our work week in Vail on Monday. The event went well as far as us lackeys could tell. On the last day of competition, I handed out the award check to Tanner Hall. The show airs on NBC, February 19th at 2pm, look for me during the Men's half-pipe awards ceremony, that will be the back of my head in front of the check.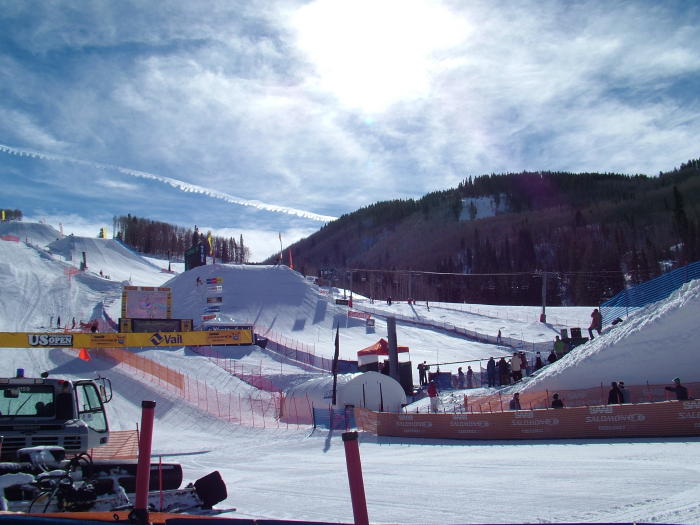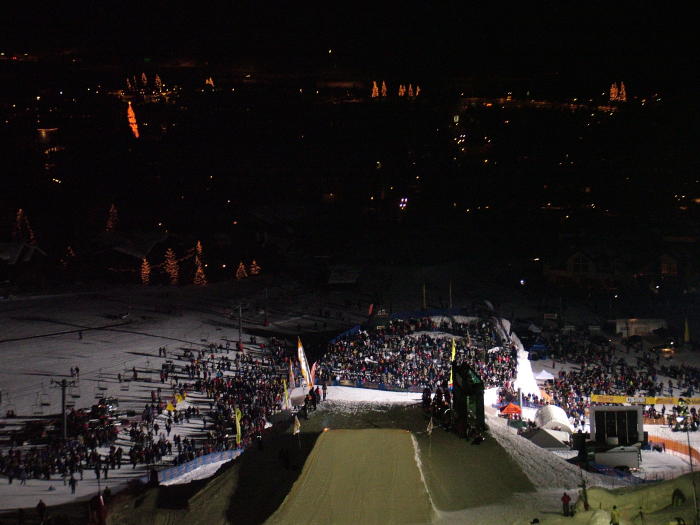 While parked here, we estimate the value of our camper went from about 10 grand to 2.5 million.
After we got off of work Monday night we found ourselves at the entrance to I-70 wondering which way to go. A quick check of www.onthesnow.com showed that Red Mountain, B.C. had lost snow!!! It seems the "Pineapple Express", which hit the Northwest last week, hit there too. This did not inspire a "hurry up and go" attitude in us. A couple phone calls later and we opted to turn left on the freeway and head for Aspen (pronounced ahhhhhspen, by the beautiful people). Aspen is home to our dear friends Brook, Bjorn, Kip and Blades, all of Grand Canyon fame.
The gate to the Aspen Ranch where our friends live.
Once we'd arrived at the most expensive zip code in Colorado, we settled in for a few days of laughs, laundry and snow sliding. Tuesday Dan, Bjorn and I were delightfully lazy, although we did manage to leave the house to run an errand and to meet up with Blades at their favorite watering hole the Endeavor. While at the Endeavor we drank a pint for our dear friend Sarah who would have been there too, had she not chosen to spend the winter at the South Pole (thanks for the use of your mug Swiller). Wednesday Blades played scenic tour guide and showed us all over Aspen Highlands. It hasn't snowed in a while, but the runs were surprisingly soft and were well groomed, we had a blast.
The forecast is calling for some snow in the next few days, but the storm looks to be going a bit south of Aspen. We have decided to visit friends in Crested Butte for a couple days in the hope of catching some powder down there. This is a bit out of the norm for us since it is much further than our 100 miles or less detour rule allows for. Since Independence Pass is closed for the winter the drive will take us about five hours. A long drive when you consider that CB is about 20 miles from Aspen Mountain as the crow flies.
After a few days in the Butte we plan to return to Ahhhspen for a couple more days with the Canyon Folk before heading north, or west, or wherever we think there may be snow.
Foot notes: You may have noticed that I have not been posting our expenses for some time now. Basically this is what our financial situation boils down to…. We had budgeted for $40/ day. Realistically we have spent more like $50/day. However, never fear, our recent spate of employment has put us ahead of the game and we feel that there is still plenty of money to carry us through June, and perhaps a bit longer.
If you are planning a similar trip, I still believe you can travel for a year on $40/ day, just not as much as we have. Choosing fewer places to go, and driving less would have allowed us to stick to our budget. Additionally if gas prices reverted back to say… 75 cents a gallon and you never spent a dime on alcohol, you could do it ;)
Concerning the question that EVERYONE asks us…
We are fairly confident that we will end out trip next summer and settle down somewhere other than Durango. The place and length of time we will remain there are still to be determined. That is as much as I can tell you for now.