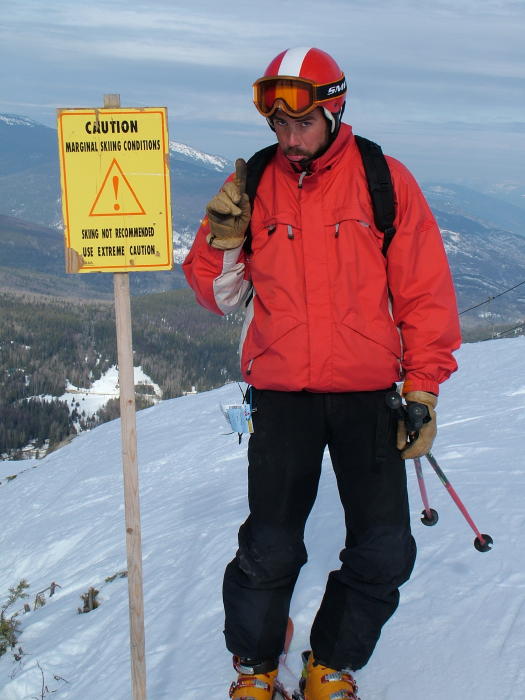 Well we did it, we drove to Canada even though everyone told us there was no snow here. Unfortunately THEY were right, and worse, according to The Weather Channel, The Farmer's Almanac and the Canadian Avalanche Center there is no snow in the foreseeable future. That is with the possible exception of Saturday when there is a 20% chance of flurries. But do not be dismayed, ever the optimists, we are happy to report that BC is only a short two-day drive away from Utah and thus powder.
The new revised plan is to ski Red Mountain on Saturday, maybe Fernie on Sunday and then retreat to the one place in North America that is set to be dumped upon for the next ten days, our old stomping grounds, Southwestern Colorado.
What a strange twist of fate it is that as much as we tried to get out and experience the rest of North America, we keep getting pulled back home. Is this a sign? Are we meant to be in Durango? Well you may rest assured that it will take a mighty big frying pan to beat that message into us if this is really the case.
We knew things were really getting bleak when we went into the Albertsons north of Spokane and the 70 something year-old checker commented upon learning that we were not from there, "I sure hope you didn't come all this way to ski." I laughed…to keep from crying.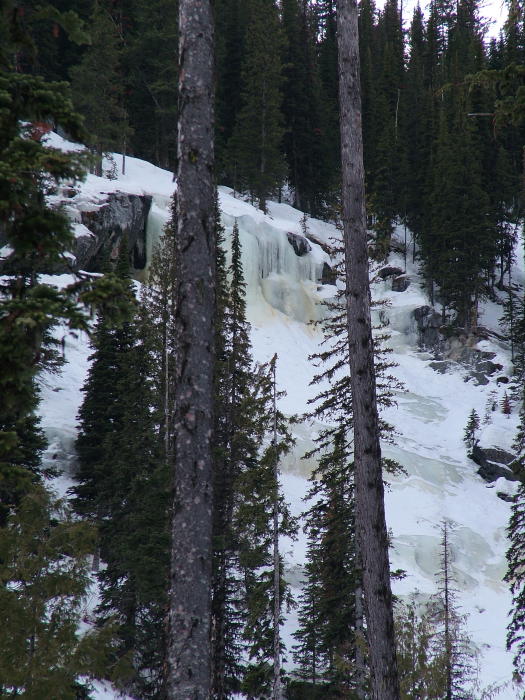 This is one of the tree runs on the north side of Red, not so good right now. See all of the ice?
We got to Rossland this morning and visited the ski area right off. First let me tell you that this is the place! If there was even a slight chance that it would snow here in the next few weeks or so, we would buy passes and settle in. Alas, as I said before there is no hint of snow, in fact rain is much more likely. Red Mountain is a glade/tree/powder skiers dream come true, our dream come true. Except, it would seem, this month and perhaps this year. The Mountain is quaint, and friendly. It has produced Canadian Olympiads and was recently ranked in the top 25 ski towns by Powder (I think) magazine, and the #1 by Canada's Ski magazine.
We learned that this was the first ski lift in Canada. Yup, it is still running.
The town nestled a mere ridge line away is small, charming and utterly gear toward the hard-core, live it-love it, no friends on a powder day, skiing way of life. There are 4000 acres of slack country (lift accessed backcountry) accessible from the top of Red. There are acres upon acres of epic, beautiful cross country trails, some leading right back to town. For goodness sake its Main Street is four blocks long and it has 4 coffee shops on it, none of which are giant US corporate chains! I am meant to live here!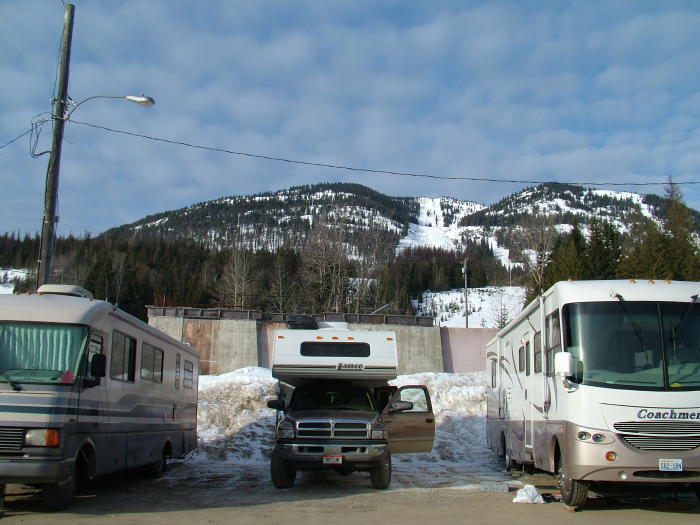 To make this decision even harder on us there is the fact that Red Mountain offers, free RV camping complete with electrical hookups, and not in the boondocks somewhere but right up front, perhaps 50 yards from the lift. They will even allow you to buy day passes and then credit the cost of the passes towards a season's pass should you later decided to buy one.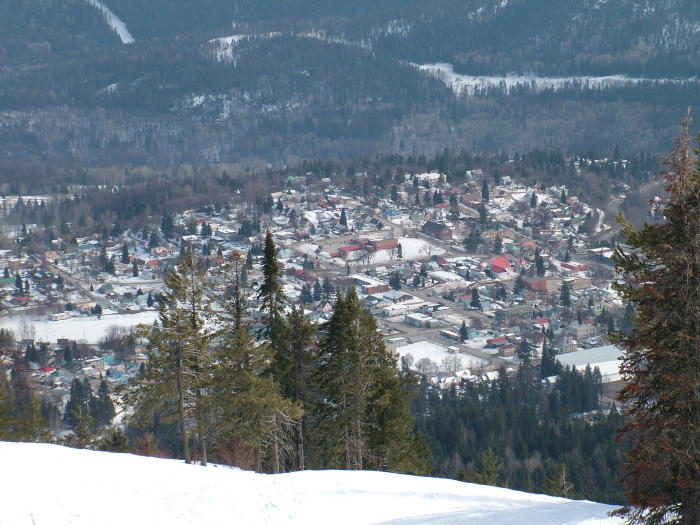 This is the run you can take back to Rossland.
So to recap, we are on the doorstep of our dream ski area and town. We have free ski-in/ Ski-out camping and the ability to use our electric heater to keep us nice and toasty. We can buy no-risk day passes and turn them in for a season's pass when it becomes cost effective to do so. We love the town, more so than any other that we have visited (save for maybe Sayulita), and we pre-bought beer this time, so we could even afford to drink here. Sounds like our idea of Mecca wouldn't you say? Except there is no snow. Why God, why???
As our dear friend Erik Wienk is prone to saying when something he's done goes array, "the blueprint was SO good."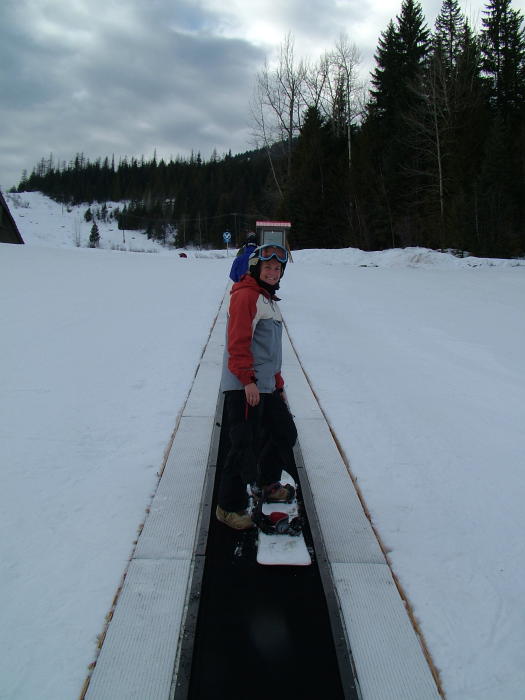 Rachel's first ever Magic Carpet ride.
To drown our current sorrows we opted to drive north and spend the night at Ainsworth Hot Springs. This place is gorgeous, it is located right alongside Kootenay Lake and surrounded by mountains. Camping here runs $5/ night and a soak is $4.60 U.S. Tonight we will soak and drink and pray for a snowy miracle.

Saturday
Ainsworth was great and made for a nice distraction from our woes. The springs boast a 150' long horseshoe shaped cave, which has in its depths the mother spring and acts as a hot springs/ sauna. It is fantastic. We tried to take pictures inside, but the steam made it very difficult.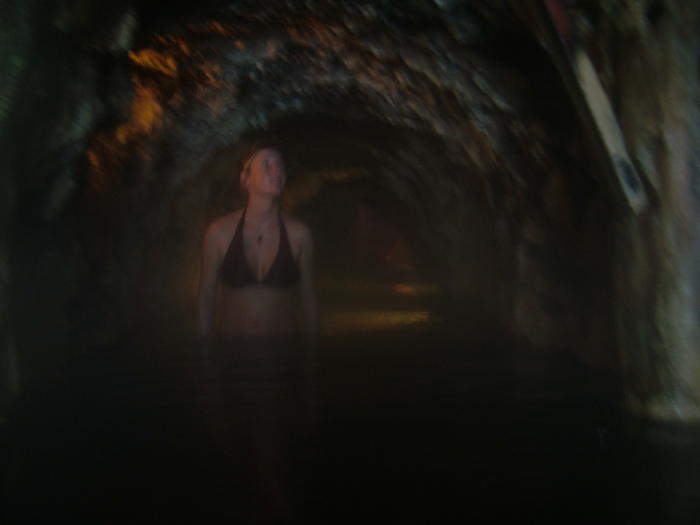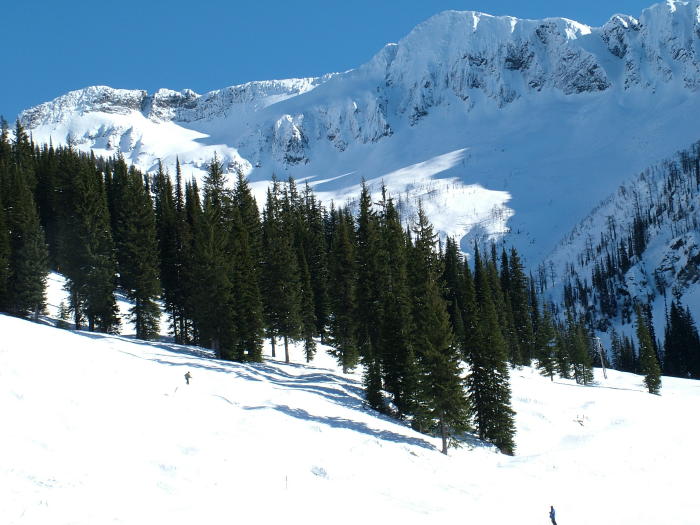 Yesterday we soaked in the morning then drove over to Whitewater Ski Area, outside of Nelson. Yet another area that looks like it could be great if only there was snow. With our depression mounting by the moment we returned to Rossland. The base of Red is covered in frozen granular; it looks like mid April snow, not February.
Across the street from the mountain is the Rock Cut Restaurant and Bar where we spent last night drinking jugs (Canadian for pitchers) and chatting it up with some locals. They assured us is has to snow, although they are all banking on March and calling February a loss.
The 20% chance of flurries seems to have turned into a 100% chance of partly cloudy skies with no chance of precipitation. Today we will ride granular and appreciate the water proofness of our ski gear, while touring what was to be our home this winter. We have set a 2pm deadline for the next decision to be made. Stay, go to Fernie or go home and ski SW Colorado, we shall see.
5:38pm
We had a really fun day at Red. It was the kind of day that was fun because we were exploring a new area, and because we were only there for one day. It would cease to be fun after a few days. We met up with a ten year-old Rossland native who described the conditions as such, "the snow is really bad, but the skiing is tolerable." He was right, as long as we stuck to groomed green and blue runs, we had fun.
Today made us realize more than ever that Red is a
fantastic
ski area. If we could have on a day like today, I can only imagine the sheer joy a powder day here would bring. We are already planning for next winter's trip up here. This year, however was not meant to be.
A quick call to meredith assured us that it is currently snowing back home and that the winter is shaping up to be an epic one. Finally we have received all of the signs needed. We are tucking tail and heading south. I post this from just north of Spokane.
If we try hard we can be skiing powder in Utah by Tuesday.