Voting results:
So far we have a vote for Cerritos, one generic go surfing vote, one for Yuma, one for and against Mt. Bohemia, and one for returning to Durango (I think- or is D-town too good for us "sorry slobering drunks hiding it behind an RV facade white trash barrel racing on skis no good vala-dick-torian gibber promoting movie star smilin bling, bling worthless, best friends a chump could have" types). Utah is a good suggestion, but alas Brother Pat lives there so that's out.

So in summary that's two votes for surfing, three for the 4 Corners states, and a nullified Mt. Bohemia vote. I was hoping for a more decisive spread here folks. Who else has an idea?? Mom- I see no suggestions for good old Ohio. Don,Sandra, where is the "anywhere is fine just get a job you idot brains", request? Brook, I was hoping you'd vote for a trip across the lake, I hear Austria's got snow.

Keep the suggestions coming. We are in Jackson Hole today and the snow is not falling- so unless Rossland is experiencing its own weather phenom- things are still not looking good.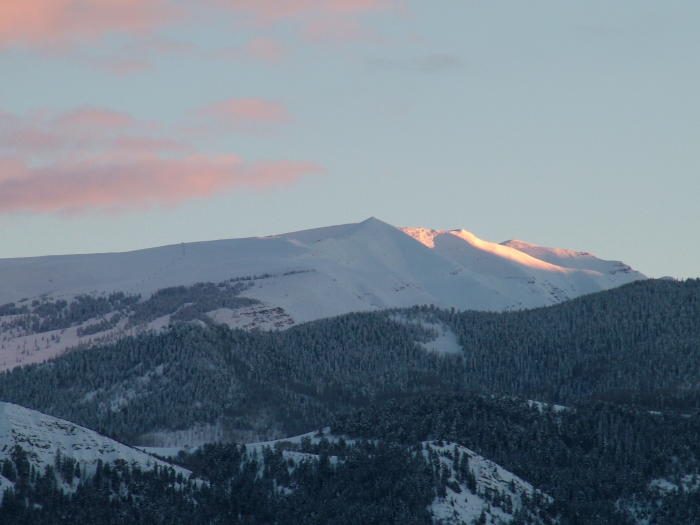 Once back in Aspen we found ourselves stuck in an eddy. For those of you who are not familiar with river terminology, an eddy is a (usually) calm spot in a river where the water swirls back upstream thus creating an opportunity to slow your boat down safely, or in the case of big rivers, a dangerous spot which can require a helicopter to get you out of. I am happy to report that we were able to pull free from the Ahhhspen eddy with out the use of a helicopter, but just barely.
The view from Brook, Bjorn and Kip's ranch, otherwise known as the eddy.
Brook, Bjorn and Kip live on a ranch in Old Snowmass. From their living room you can see Snowmass Mountain and many other mountains which frame a beautiful snow filled valley below. Their house is hard to leave, very hard. The view is stunning, the company fine and as long as free lift tickets continued to appear, we were hard pressed to find a reason to leave.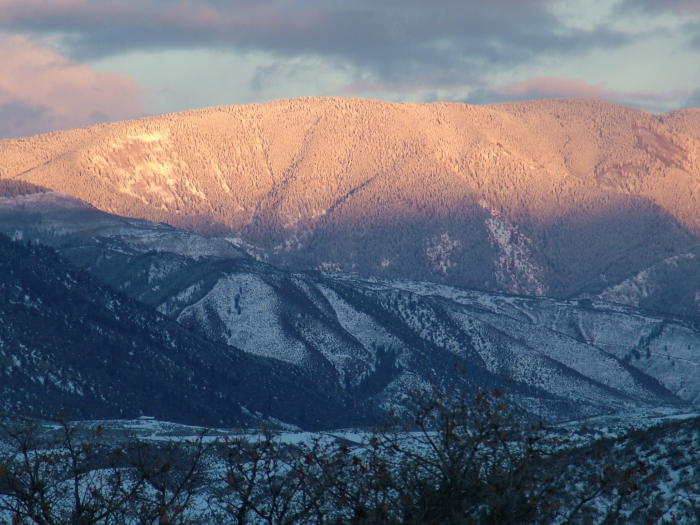 Sunday Dan and I rode Snowmass, which is a very snowboarder friendly mountain. They had received some snow and the conditions were fantastic. Monday, Kip, Lexi, Blades, Dan and I rode at Aspen Highlands, again there was fresh snow and fantastic conditions. Dan and I hiked the Highlands Bowl for the first time.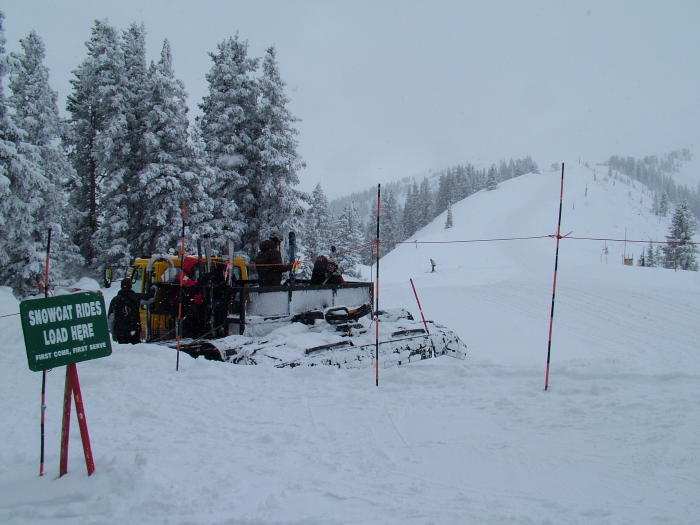 The snow cat takes you about 1/5 of the way up the bowl, your feet take you the rest of the way.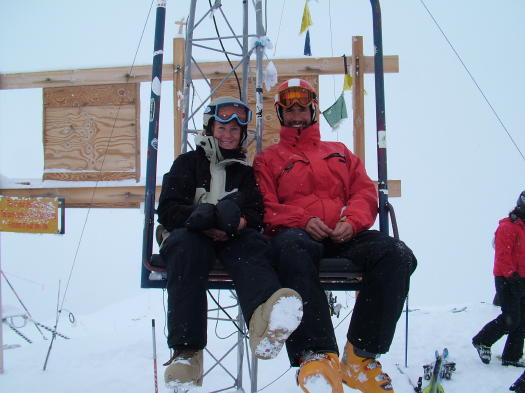 Dan and I at the top of the Highland Bowl.
Tuesday we got really stuck in the eddy and never left the ranch. Kip had the day off and we enjoyed being utterly lazy. Dan lost miserably at a game of Risk, he learned the hard way not to invade Europe when your wife controls that continent. Kip and I finally called a draw after almost three hours, and our interest, had been lost. We ventured out once for about a half hour to throw the Frisbee for Kip's dog, but otherwise were absolutely, blissfully, useless.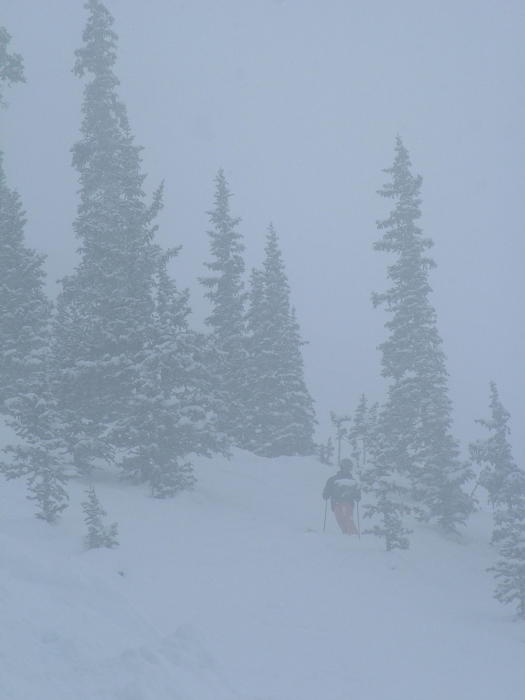 Skiing the Higland Bowl.
Wednesday we again rode at Highlands. After riding we enjoyed a few malted beverages at The Endeavor, the local's bar for Highland's employees. Afterwards we went into Ahhhspen proper for a nice dinner. Thanks so much to our fabulous Ahhspen hosts and friends, you almost got us to stay ;)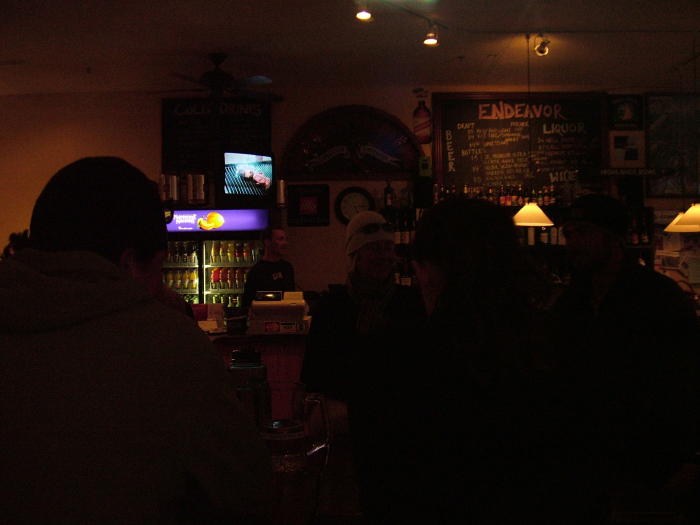 The Endeavor is the bar where all of the Highlands instructors go after work. Thanks to Olga and Sarah for the use of the mug.
Now we are heading north, although we aren't really all that sure this is a good idea. It seems that B.C. is severely lacking in snow, and has an abundance of rain. Did you know that Mt. Hood in Oregon is closed? Closed!!! It is on a glacier for goodness sake! This does not bode well for Northwestern ski areas. But alas, this was our plan all along and we are sticking to it, at least for now.
Or are we???? We are open to suggestions... Where do you think we should spend the rest of the winter? Click Here to tell us.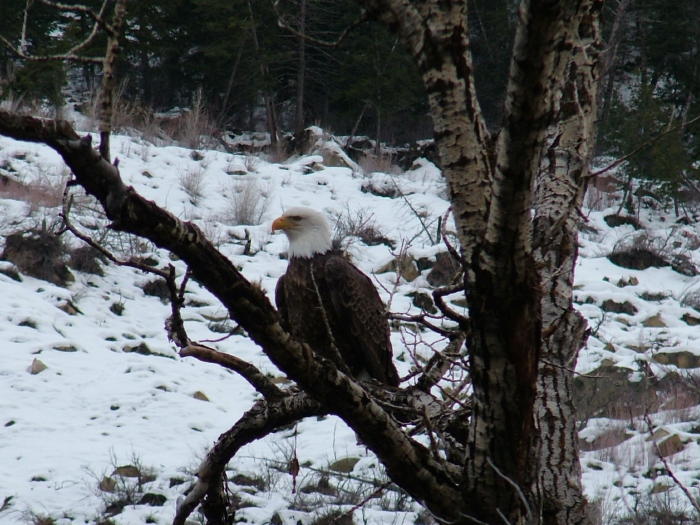 Bald Eagle outside of Carbondale.