Bienvenidos a Sayulita.
November 10, 2004
Monday we succumb yet again to summit fever. Teacapan had been such a treat, but were in a nesting mode and the lure of six weeks in one place proved too much for us. We rolled into Sayulita around 5:30, missed the turn to the RV Park and were immediately made fun of by our friends who live here and had been tailing us, wondering where in the heck we were headed. Bob and Sherry Daniels are from Durango. Bob was our dentist way back when. They bought a place here more than five years ago and have been converting their American friends ever since. We came here about four years ago with Dan's family and liked it so much that we planned our trip to Mexico around this town. We even went so far as to buy surfboards, because Sayulita is a surfing town.
The RV Park here is very nice and is right on the beach. Literally we can take 20 steps from our campsite and be in the ocean at a nice left break for surfing. Our first night we went over to Bob and Sherry's for dinner and conversation, we had a very nice time and low and behold we actually stayed up until 11pm! The next morning we awoke early and Dan started making breakfast for our guests. On the road to Sayulita we passed the girls who are biking to Chile. Remember the ones we met on the ferry? Any way Dan invited them to come visit. They showed up right on time, no easy feat since they had to cycle about 10 miles through the mountains and get here by 8am. After breakfast we said goodbye to Christen and Suzanna.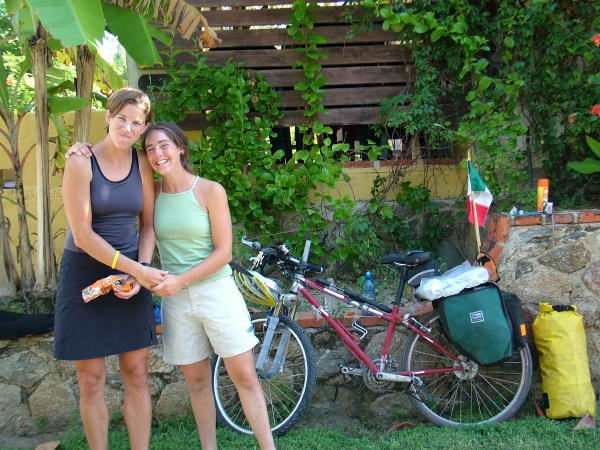 Christen and Suzanna.
Later when we returned to the Park their bikes were still here. Christen had forgotten her lock in another town and hitch hiked back to get it. The detour made it too late for them to cycle to their next destination so we were treated to their being our neighbors for the night. Also we got to enjoy our first surf in mainland Mexico.
Today was move in day. We moved to our new spot, which is ours for the duration. Then we unloaded the camper from the truck for the first time in five months. Our truck immediately became 6" taller and you can tell she is a happy truck having been freed of her burden. We laid down our new carpet, set up our couch and erected a table using crates and our cargo carrier. Dan hung a tarp for shade and we have effectively doubled our living space. It feels very nice to be settled here, to know that we aren't moving for a while and that we can leave things on counters for example.
Now we are off to our favorite fish taco stand in the world. Yet again I wonder how I get to be so lucky.
November 11, 2004
Sayulita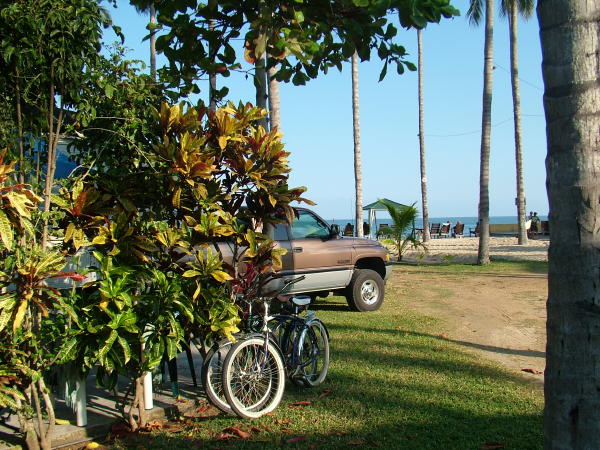 Our camp.
Today we began what I assume will be our routine for the next month or so. Get up, surf, return to the camper, make breakfast, eat breakfast by the ocean, spend some time cleaning or organizing or reading, surf, eat lunch, go to town to buy groceries or beer or use the Internet, surf, make dinner, watch the sunset, play a game and go to bed. I feel so busy. However this particular day our routine had a couple of extras thrown in. After our noon time surf we decided to take the truck for a spin. Dan says she handles like a race car now. We went over to another pueblo and bought some provisions while making sure our guests who were arriving later would be able to follow the directions we had given them.
Back in Sayulita we busied ourselves with a few housekeeping errands and then sat down to wait for Ma and Pa Roberts to show up. My parents are visiting for nine days. They made record time and got in around 3pm. Once they were settled in their rental house we went out for a nice dinner and waited for our final guest to arrive. Christine is from Chicago and she and my mother went to college together. Christine had missed her flight, while awaiting her next flight she managed to leave word for us at the rental car desk and the property rental agency, which greatly impressed us all. Sure enough Christine came rolling up in a cab around 9pm and we headed right back to the bar so she could be properly welcomed to Mexico with a margarita.
November 12, 2004
Dan and I headed out for our morning surf only to find no waves. Just as depression was setting in the pan lady came by (not pan like a skillet but "pon" as in freshly made breads), and we were distracted by still warm banana bread and pastries. We didn't have true breakfast fixin's in the camper so after a few pastries we mounted the bikes to ride to the grocery store. We never made it out of the park though because Bob and Sherry met us at the gate. They introduced us to their friends Jim and Rose Marie. The six of us chatted for about an hour. Dan and I are ridiculously early risers, so even after the visit from the pan lady and our friends it was still only about 8:30. My parents are professional vacationers; they know how to rest when they get away. They stay up late and sleep in. It was a risk showing up at their house before nine, Mom doesn't take kindly to having her sleep disturbed. Lucky for us Christine seems to be on a clock similar to ours and everyone was up when we arrived. After we had successfully mooched breakfast of the parents we went surfing.
Later we all ventured into Sayulita, my Dad was looking for cigars from a certain communist island nation, Christine for a certain liquor made from agave, and my mother for another bathing suit. Seems my personal vice of having a bathing suit for every mood was earned honestly. Still later we all had a beer on the beach with our local friends. The Midwesterners (that would be Ma, Pa and Christine) returned to the comfort of their pool. Dan, myself, and the locals had a few more beers and then retreated for siestas.
Today Dan actually worked a bit. Ramone, the Park manager needed a camper moved, so we bartered a few free nights for Dan's hauling services. Unfortunately what was supposed to be a few steps forward ended up being two backwards. Perhaps we saved about $28 in camping fees, but we had a bit of an accident during the move. Our right front blinker cover suffered a blow from a cement wall, as you can probably guess, the wall won. Goodness knows how much a light cover would cost, I can't imagine that we'll find out until we return to the states, but my guess is more than $28. Dan was putting on a good face, even though his beloved truck is no longer perfect, Ramone brought him a 12 pack of Pacifico to ease the pain. Dan seems to have made peace with the cracked light and his fractured ego. All is well again. I was just corrected while reading this aloud to Dan, seems he is not quite done pouting over the light. Men and their trucks!