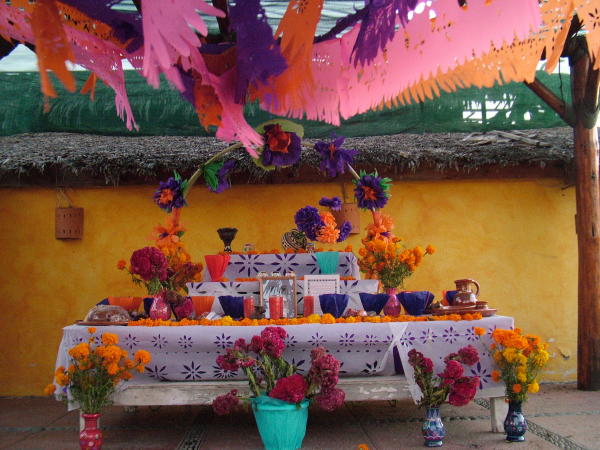 November 1, 2004
Dia de Las Muertas -Coches.
Sunday as we were preparing to pull up camp at la Playa de Cerritos when I realized that the truck was dead, fue muerto. We got a jump from a kindly neighbor and everything seemed to be fine. However, we had not left any lights on, nor had we left anything plugged into the power outlets, so we were a bit stumped as to how we had drained our battery.
Halloween evening we met up with Troy and Rebecca and enjoyed a dinner out and some holiday festivities. We spent the night at El Litro Trailer Park in Todos Santos. El Litro is a simple park which seems to be in a constant state of disrepair. We opted to park on the side where the water worked but the electricity didn't and showered where the water was warm but the toilet was broken.
In the morning we loaded up to head for one more surf at Cerritos before returning to Cabo, but alas the truck would not start. After an hour or so of charging and jumpingit, it still would not start. We found the only mechanic in town and he came to the park to try and help. Using his extra battery to jump our truck finally got it to start, but we had to actually put that battery in our truck, and then swap it out with our dead one once the truck was running. Over the course of the next few hours we drove all over southern Baja, mindful to never turn off the truck. We checked with every mechanico until we finally settled on the Cabo Chevrolet dealership, who said they'd look at the truck after their siesta.
To make a long story as short as possible, it took us ALL day to figure out that our batteries were totally dead, and that we needed two new batteries. We don't know if there is something draining them or if they simply died of old age. What would have been perhaps an hour long fix in the states took all day. This was because the dealership did not have the correct batteries in stock, then we bought the right amp batteries at a nearby store only to learn that the negative and positive hookups were on the wrong side and so on, problem after problem, until all we could do was laugh to keep from crying. Finally at around 5:30 we had two new, correct batteries installed and the truck was running again. Still, however, we don't know if there is a further problem which killed the old batteries, also we hadn't budgeted for $210 worth of batteries and mechanic's fees, so we are officially overbudget.
This experience taught us a few valuable lessons. #1 When you get the slightest bit away from the realms of language you can function in, e.g. restaurants, where is the bano etc., the language barrier is as wide as Copper Canyon. #2. Mexican mechanics are nice, and in our experiences, honest guys. Sylvester, the Parts Manager at the dealership, felt so badly that they didn't have the correct battery that he gave us his Costo card to buy new ones with, and when that didn't work he arranged a ride for Dan to other battery stores until we found the right ones. All of this at absolutely no profit to him or the dealership. When we were all done we tipped the mechanics $30, there was no official bill. #3. What is a minor problem at home can become a real event down here.
We camped at a swanky campground in Los Cabos last night and enjoyed a fine farewell dinner with Marc. The highlight of this meal was that the waiter came to our table and made fresh salsa for us right there, to our specifications, "lots of cilantro and five jalapenos, por favor". It is the Mexican equivalent of bananas flambéed tableside, with all of the showmanship required.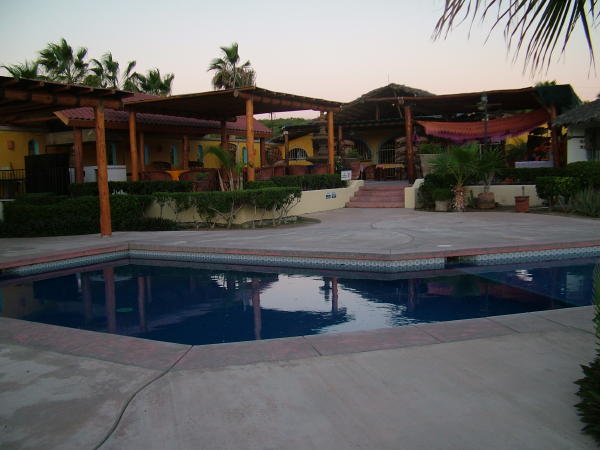 Much to all of our dismay there were no waves this morning so we were denied a final surf before Marc flies off and we head for the mainland. But as a consolation we had a very nice breakfast beachside and got a bit more tanning in for Marc before he returns to Durango, where Wolf Creek Ski Area is already open for the season.
Election night.
We are currently in La Paz at the Casa Blanca RV Park, which is otherwise almost deserted. Aside from the woman who came to collect our money, there are only two other people here and my guess is that there are 40-50 spots unoccupied. Seems Day of the Dead is not a big day for tourists. Tomorrow we resume the ferry ticket game. We need to get our tickets and the pricing squared away, as well as securing our auto permit. There are normally two ferries to choose from, currently though, only the older, slower and more expensive one is operating. We don't think it runs on Thursday and we don't hold out much hope that we could get everything squared away and get onboard before the boat sets sail tomorrow afternoon. Probably we will spending a few days here in lovely La Paz.
La Paz a Mazetlan.
The ferry terminal is 19km out of town, we got there right as things were opening up at around 9am. This is of note because I had sunken into a very deep depression that morning after hearing the election results and the fact that I could rally to deal with Mexican officials is remarkable.
I promise not to preach here too much, but here is the primary reason I am in mourning. During our travels we have met many foreigners. The resounding consensus among the people we have met from Germany, Australia, Switzerland, Canada, England and so on, is that they are very upset with America's preemptive war and dealings with the Middle East. But because G.W. didn't really win the last election they cut us, the populous, some slack. Basically the people we have met hate American policy, but can separate that from disliking Americans. Wednesday morning that all changed. Now we have voted this crazy man into office, we as a nation essentially just gave our cowboy leader a big old thumb's up. By electing him this time, Americans said, "George the war's fine, strong arming our allies, it's all good, making us the self-proclaimed policer of the world, no hay problema". Today I mourn for the American traveler's place in the world. In truth I am hard pressed to come up with one redeemable quality within this administration, but I promised not to preach so I will move on, perhaps to Canada.
Back to the ferry. Things went remarkably smoothly. By 10:30 we had secured our Permiso de Vehiculo por Immagracion Temporar (the sticker that promises we aren't selling our rig), and our ferry tickets. Departure time 3pm, but we would have to be there to load by 12:30. Mexican time is a bit different, so we loaded around 2:30 and set sail at almost 5pm. The ferry is not a tourist ferry; primarily it is a commercial one for semi trucks and workers. The cargo hull was packed so tightly that we were sure the semi next to us was going to rub against our rig the entire time. Also they don't seem to pay much mind to balancing out the trucks, so we had a decided port side list while afloat. Our rig was on the portside, hence the rubbing fear. Our cabin was also on the port side so we slept on a downward slope.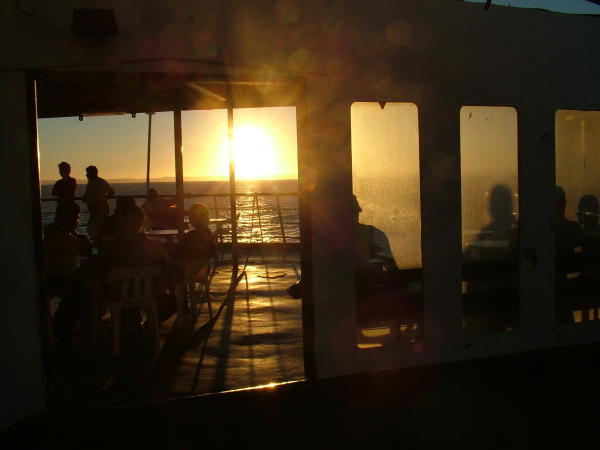 The ferry bar.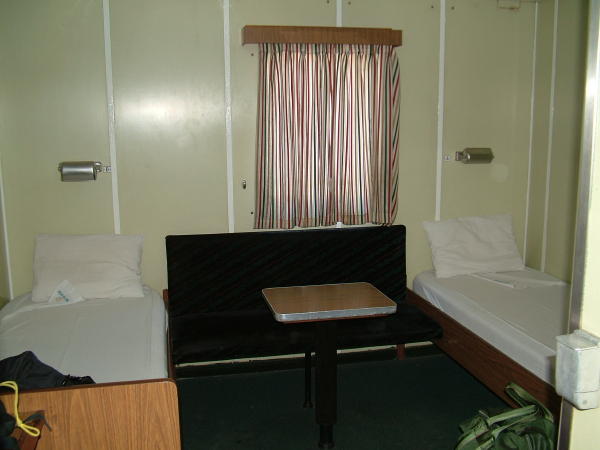 Our cabina.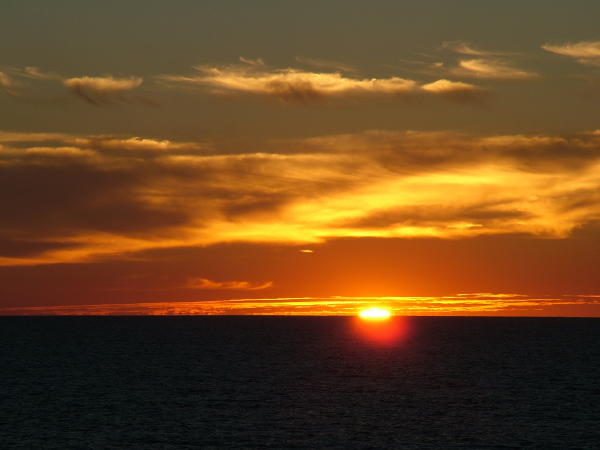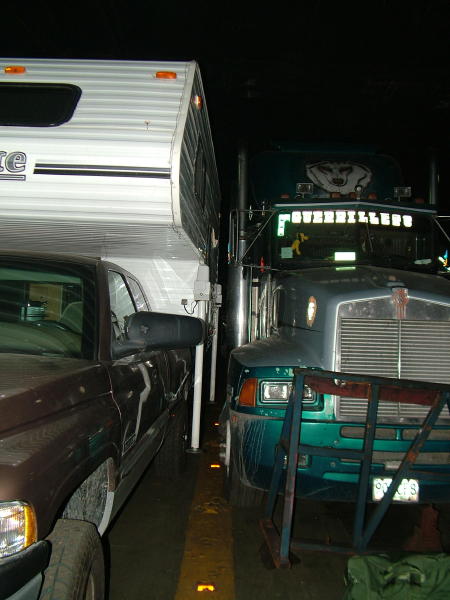 Our tightly fitted rig in the hull.
Particulars: it was impossible for us to figure out the true cost of our ferry ride until the moment we paid. They measure and weigh your rig to determine the cost for it and the driver. A passenger is sold a ½ price ticket and since we chose a cabin my ticket came to $75. Total cost was $432 for the ferry and $34 for the permiso. We took the Sematur ferry because the faster, better, cheaper, Baja Ferry is broken. Both ferries have web sites, in Spanish only and they don't speak English at the ticket offices. If you are in the market for a ferry ride, I would strongly suggest you fork over the extra money for at least the tourist class, which affords you a room and a bed. Cabina class, which we took, gets you a private bath as well, and Classe Especial gets you a TV and VCR. Salon class is akin to a greyhound bus seat for 18 hours, complete with crying babies and smelly, shady looking men.
Once onboard we enjoyed a brief visit to the cantina and had dinner at the restaurant. We saw a phenomenal sunset and enjoyed playing cards and chatting with some of the other passengers. During the night I had a really hard time sleeping. The boat is loud, and small enough that it rocks about quite a bit. Every motion made me worry about our rig and every noise made me wonder if Brook's prophecy wasn't coming true. Our dear friend Brook (you can see her pictured in the Grand Canyon posts) sent me an email not long ago. Brook is one of the funniest women I know, especially when she is writing. She sent us a note about the rain in Colorado and how she was almost overcome with loathing and jealousy for us, but when those feelings came she just went online and checked out www.catostrophicferryaccidents.com. Not a real site, a joke, and a very funny one, except for when it is 2am and you are somewhere in the middle of the Gulf of California.
Since this is written in the past tense I am assuming you have already guessed that we survived the crossing. In fact it was very comfortable and we met some really nice people. Most notably were two women who are bicycling from Alaska to Chile, to follow one of the girl's along check out her website www.earthcircle.org.
Today is a first, we are visiting people we met along the way. Many people write and offer us a place to camp for the night, and we still intend to take you all up on the offers, but to date we haven't been in anyone's neighborhood. You may recall that we attended afternoon tea while in Victoria, B.C., well during our tea by the dump, we met Duane and Dianne. They have kindly invited us over to their RV here in Mazatlan for dinner and we are taking them up on the offer.
Dia de el Mercado
November 5, 2004
Dinner was fantastic. Duane and Dianne have a space in a private campground; they have made their spot very homey, filled with art and plants. We enjoyed an easy and interesting conversation, you know the kind where everyone participates and has something of interest to add. It was truly enjoyable. They told us that the market here is not to be missed and per their recommendation we decided to stay another day. This morning we caught the tourist bus into town, and spent the day shopping in the public markets. We bought our nieces and nephew Christmas presents and managed to avoid buying any of the things we wanted for ourselves. In our home in Durango I had decorated our kitchen in bright Mexican colors and had displayed there my collection of Catrinas. Catrinas are Day of the Dead statues, sort of elaborately dressed skeletons. Here is a picture of them since they are hard to describe without making them sound scary or morbid.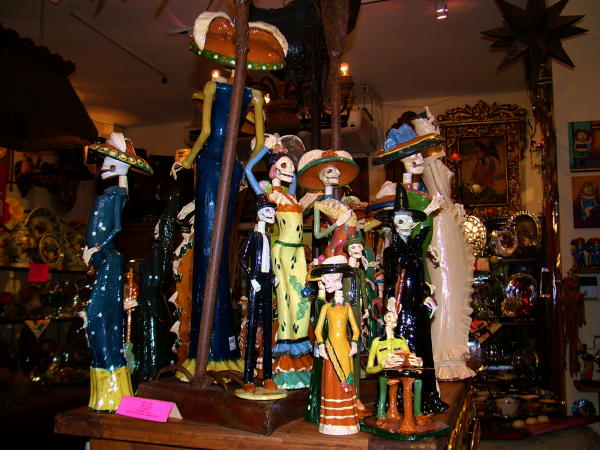 To pass up some of the Catrinas we saw today was almost physically painful for me, but really where on earth would I put a fragile porcelain sculpture in our camper?
Dan forced me to go into the millionth hardware/ carpet store so far, he is on the eternal mission to find a decent piece of outdoor carpeting to help keep down the sand in our camper. You might think that trying to describe Astroturf and decipher meter lengths in our limited Spanish would be fun and that I would never get tired of it, but you would be wrong. Somehow shopping for day-glow green plastic carpeting doesn't do it for me. Never the less, the eternal sand v. Dan struggle is exhausting to watch, and I pray that somehow, some day very soon he will settle on a piece of turf and this quest will be over.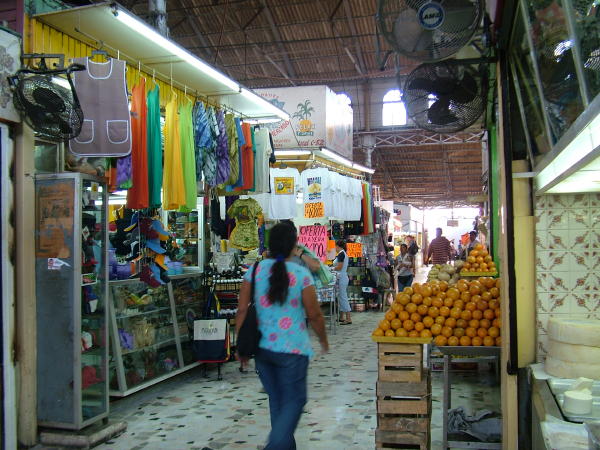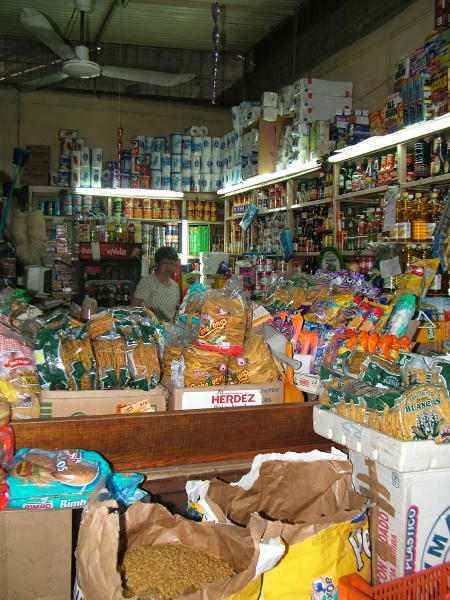 After our shopping expedition we opted to take the local bus, as opposed to the tourist bus. This was a very fun decision, the local bus drivers are muy loco! The return trip was more akin to a rollercoaster ride than a bus trip. We made it home in under five minutes, it had taken us 15 to get into town on the tourist bus. We got off at Duane and Dianne's stop, one stop before ours, and dropped in on them. They invited onto the patio for a beer and then they bestowed upon us one of the nicest gifts anyone has ever given me. A perfectly sized square of Astroturf. They have replaced it with a very nice mat-type rug and they were happy to unload their old rug on us. What to them was a easy way to dispose of unwanted flooring, is to me freedom from having to stop at every God forsaken hardware and/or carpet shop in Mexico. I think that we failed to convey to them how fabulous this gift was, even though we openly gushed for about ten minutes. For goodness sake it even matches, no day-glow here, this Astroturf is tan, like our truck. Duane and Dianne, thank you.
Tonight we are camped again at Playa Escondida. This park had a heyday, it has long since past. Now it is very run down, but functional and near our friends, so it works for us. Most notably there is a huge caravan here. We haven't seen a single caravan before this campground, but we have heard all about them and were intrigued. Our first intro was a bit rough. One of the guys in a big Class A screamed at us to slow down when we drove through the park, we were racing down the road at a whopping 5mph. No one has ever accused Dan of driving too fast, he even drove the ambulance slowly "how can I help someone if I wreck getting there?". He has the opposite of a lead foot, perhaps a feather foot, so this warning made us both laugh. That confrontation aside, we were pleasantly surprised at how welcoming and cordial the other members were. Dan is currently borrowing a water funnel from a member he met in the pool, and filling our tanks with agua purifcado. Another member is trying to help us figure out our isolator/ battery problem (also thanks to Curt from the Forum for your guidance). And still another has invited us over to tour his Lance camper with a slide, he is convinced that we need to upgrade.
So far we have been very pleasantly surprised by Mazatlan. While it is a big tourist city, it still feels like Mexico. The bus system is fantastic, and we were only accosted once by a member of the time-share mafia.
Later that night.
Duane, dan and I went to watch the Venedos de Mazatlan play the Naranjeros de Hermosillo in Baseball. We love the menacing team names, the deers v. the orange men/ pickers. What a great way to experience Mexico. Duane has heard that the stadium was built as a training camp for U.S. teams who have since donated it to mazatlan. As a result it is very modern and clean, it even has a jumbo-tron, which is constantly displaying spectators in various embarrassing acts, like eating or talking on their cell phones. Even more so than U.S. sporting events, there is a complete feeling of sensory overload, everything is loud and flashy, vendors sell everything from beer to ceviche and they outnumber the spectators. The tickets were a whopping $6.50 each and we were perhaps 15 rows off of the field along the first base line. Bleacher seats in the outfield are only a dollar, and box seats are $9. We stayed until 10pm, the 8th inning had just begun and the home town team was down 5-0.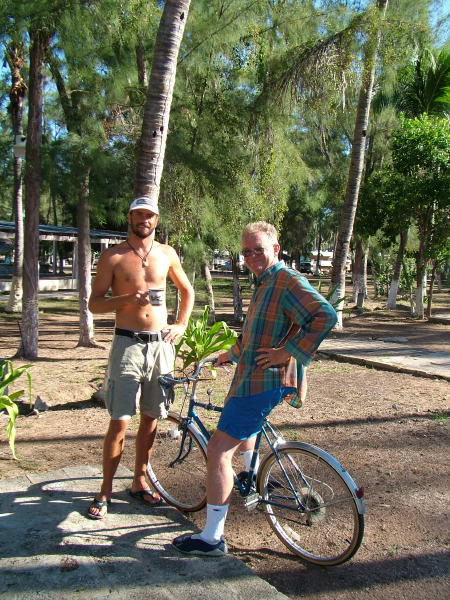 Duane and Dan.
This morning we are packing up to head south yet again.
November 7, 2004
Teacapan, Sinola, MX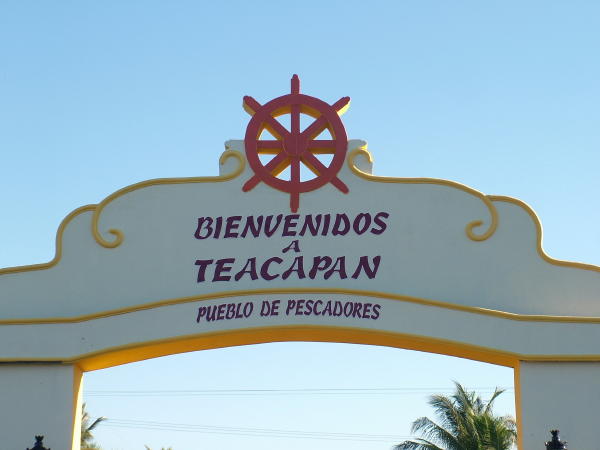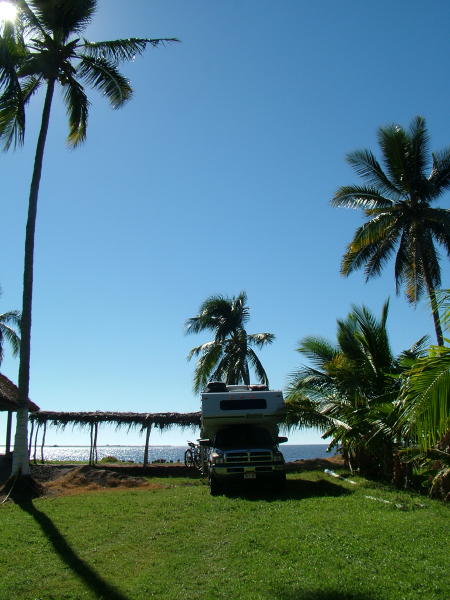 Duane told us to go and spend a night in Teacapan. He said that the town was charming and the estuary filled with birds. What he failed to mention was that we would fall in love with the place and especially the people. It is with trepidation that I write this. You know when you love something so much that you want to keep it just for you? That is how I feel about Teacapan, alas I promised McCoy that I would tell people about this place, because he and his people want to share it with others.
The drive here was breathtaking. Row after row of coconut groves align the road and pools abound filled with beautiful birds. Since we had never been here before, we passed by the campground that Duane had recommended just to visit the town before camping for the night. We liked the town so much that we wanted to camp closer to it and ride our bikes in to explore further. So instead of the campground we had heard of we decided to try Isla Paraíso, which our camping bible, Mexican Camping by the Church's, said had been allowing a few rigs to park, but they weren't sure if the situation was permanent. Well because I promised I would, I am here to tell you that it is permanent. They have set up an area for probably 15 RV's complete with electricity at every site (the sites are marked by palm trees, since this place too was a coconut grove) a central water spigot and dump, palapas and restrooms are being built right now. The plans include a restaurant and in the coming years a 60 room hotel, currently there are bungalows for rent, but only four or so. Camping here is $10 per night. Word of warning, do not park under the palms, our neighbor had a coconut fall on his truck last year.
It just so happens that the owner is here visiting this weekend, his son McCoy runs the place. Don Camote is the owner, his name is actually Rudolpho, but everyone calls him Camote, or sweet potato because he is an old softy. Don Camote and his friends insisted that we join them for a meal about an hour after we had arrived. We went over to the main palapa which ajoins the pool for what we thought would be a quick snack and an introduction. Instead we had a multiple course meal of freshly caught and smoked fish, homemade salsa and tostadas. We were showered with cervesas and got to practice our Spanish with everyone. McCoy lived in Atlanta and is bilingual, so he was a huge help when we needed to know how to say something in Spanish. McCoy invited us back to his home, which is in this complex, and we were fed even more food and beers. Their friend Pepe let us try some Sotol, which is his own family's label. Sotol is akin to Tequila, but it is as smooth as the finest Tequila. Pepe swears it will not cause a hangover and as an added bonus it is and aphrodisiac. I don't know if I believe Pepe, I woke up with a headache and my purity intact. It was an absolutely fantastic evening, they welcomed us into their home and entertained us with the stories of their lives, while tolerating our often painful attempts to speak to them only in Spanish.
This morning Dan and I awoke slightly hung-over and immediately started laughing while recounting the conversations of the night before. Neither of us could believe the generosity that had been shown to us. At 9:30 Aaron, the manager, came to take us for a boat ride and tour of the estuario (estuary). First he took us out to the big dredging boat which is clearing a path for big boats to be able to access Teacapan. The night before we learned that there are many changes in the works for this place, a big marina, a golf course, an airstrip and hotels are all either begun or completed. The ride out to the dredger was really interesting, the estuary mouth is a turbulent place, with very shallow spots, strong currents and waves. After that we toured the estuary with is filled with birds, and sea life. While we didn't see any today we have heard of crocodiles and dolphins in the water. Aaron navigated the boat up a very narrow mangrove corridor to a large shallow lagoon filled with white birds.
The narrows on our boat ride.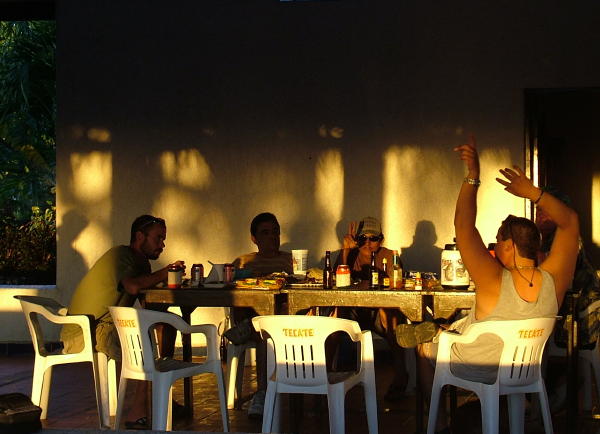 Dinner with the Don and his family.
We came back to the pool and were greeted by Raphael the security guard. We spent an hour or so speaking with him, he also speaks English and he corrects our Spanish for us which we really appreciate. Raphael told us where a surfing spot was so we rode our bicycles up to scout it out. The waves were very small, we hit it at the wrong time, but I can see how you could surf there if the conditions were right. The ride there and back was beautiful, it seems like the entire area is one giant coconut grove.
Upon our return we found another fiesta was underway. This time we were fed ridiculous amounts of freshly caught shrimp, crab and more smoked fish. I feel like I am half shrimp right now, the other half is Pacifico. Once again we were treated like honored guests and we spoke at length with each person there. The only other camper here is a guy named Bill from Alaska. Bill spent last winter here and we asked him if it is always like this. He replied not always, but every Saturday and Sunday. I think we have found Paradise.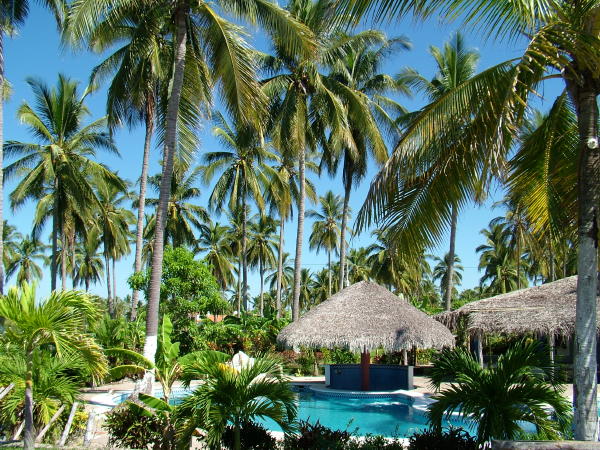 The pool.
This was a special weekend because Don Camote was here, so I am not saying that you will be fed fish and beers during your stay. However, not to worry, you can go into town, buy a kilo of prawns for about $3 and have your own fiesta, just be sure to invite Aaron, Raphael, McCoy, Bill and Don Camote if he is here.
We are both sad to have to leave this wonderful place, but we have a very important date in a few days.