November 13, 2004
The locals invited us over for a cocktail at Jim and Rose Marie's house. Their home is right in town and the view is of the entire town. The locals were playing a game for the evening. Each one was to pick a restaurant to have an appetizer at; you picked up the check at the restaurant you chose so there was some incentive to pick a cheap one. Unfortunately the game fell apart as the beers flowed and they became hungry. Fortunately for us this meant they never left the first restaurant which is where we and the family were eating. We had a very nice dinner and laughed freely at and with the locals.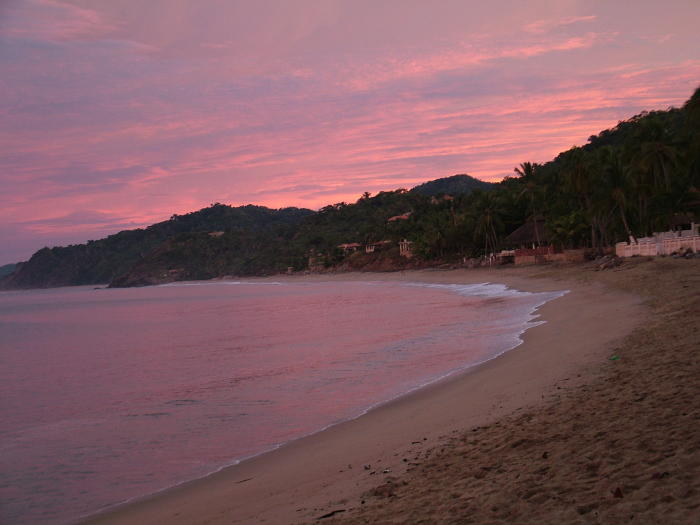 This morning there were no waves, in fact it was the flattest we have seen water since the Bahía de Concepcíon in Baja. Alan and Liz, a couple staying at the park, told us about another nearby break. We all loaded into our recently freed pickup and headed off for Los Burros. This is a really mellow and nice right break. I was in heaven after the shallow left break we have been surfing the past few days. While in Punta de Mita we inquired about a boat ride to other surf breaks and we may return early next week for a full day of surfing breaks only accessible by boat. Cost to hire your own private surfing taxi for the day $60 for up to 6 people.
I am writing this from the local fish taco stand while sipping an agua fresca. Isn't technology grand?
November 15, 2004
Yesterday we hung with the Midwesterners all day. Dad came over early and joined us for breakfast, then we entertained him with our lack of surfing prowess. My father's main goal for the day was to watch the Bengal's game, the poor man still holds out hope for his home team. We spent many hours at the local gringo bar trying to facilitate dad's wish, he was finally able to get the game on the TV, but by then he was engrossed in conversation with the locals and I bet he couldn't tell you what the final score ended up being.
Dan and I are finding our way around here very well now. We know which Super Mercado sells the coldest beer, which loudspeaker denotes the shrimp truck is coming our way, which Internet Café is the cheapest and which one is run by the scariest guy in town. We have managed to locate the Panaderia (bakery), the Helado Shop (ice cream), the cheapest fish tacos and the best beef tacos, the right and left breaks, and even the man who sells gas in milk jugs since there is no Pemex station here. We figured out that the RV Park keeps a supply of chairs and tables around for dirt bag RV-ers like us to use, and Dan got a $2.50 palm frond rug for the patio. So now we have a real outside area for eating, sitting and entertaining, not just our folding couch and cargo carrier. I even got to set up a reading area for myself; we are in full nesting mode.
Today we are all headed into the big city. Dan and I have managed to avoid Puerto Vallarta on this trip up until now. Alas the Midwesterners want to do some shopping and we still have a few X-mas gifts to procure.
Post PV:
This is the Mercado in Bucerias, halfway between P.V. and Sayullita.
Ahh yes large touristy Mexican cities are not for us. Apparently we needed a reminder of this so we subjected ourselves to a full day of shopping. We managed to lose the Midwesterners in the first hour so we got to spend the next hour sitting by the car hoping they would eventually come back to us. From there we did a big city grocery shop and now we are back in the comfort of our happy little RV Park. The Midwesterners will be keeping us very busy for the next few days. Tomorrow morning we go out fishing, then a local friend of Bob and Sherry's is coming over to cook for us. I don't know if people are aware of this, but often here when you rent a house, the maids will cook for you if you request it. They earn some extra money and you get a fantastic meal for a fraction of restaurant costs. Also since she will usually make it for you at your house, you can watch and learn or just enjoy the aromas coming from within.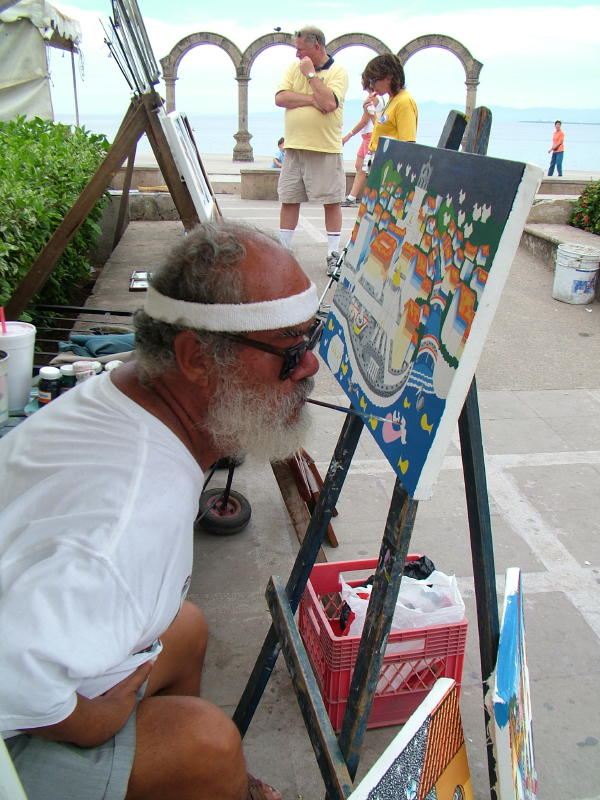 This guy is called the Mouth Painter, Dan and I bought one of his pieces for my folks for X-mas. Don't worry we already gave it to them so you don't need to keep it a secret.
I need a nap now, the parent's are running us into the ground ;)
November 17, 2004
Pescaderos
John "There's a reason they don't call it catching" Roberts, my Papa.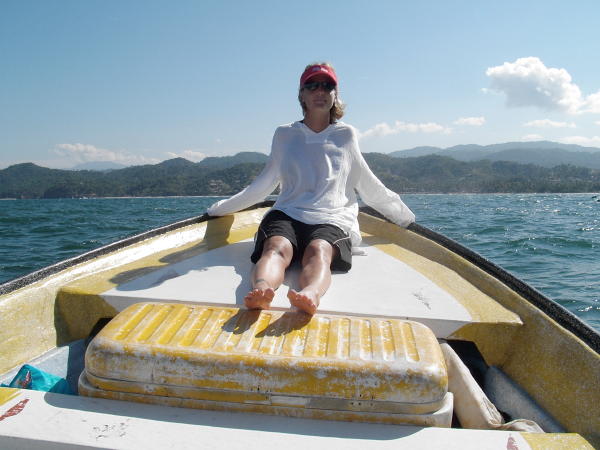 Me catching a tan.
My father, Dan and I went fishing yesterday morning. Our fishing guide was named Nacho (really, that is his name). The guides around here build palapas to fish around, so you are racing out to what seems to you to be the middle of nowhere and then all of a sudden you come upon four milk jugs floating. The jugs are attached to an elaborate series of palm fronds, then sardines are introduced to the palapa habitat where they stay and act as a semi-permanent chumming station. We went from palapa to palapa, yet even with the ocean equivalent of a salt-lick we still couldn't catch a fish. Finally dan landed a nice-sized Dorado (Mahi-Mahi) so we didn't look like total gringo fishermen. The highlight of the trip had to be getting back into shore. Nacho waited for the biggest wave he could find and then gunned the motor sending us flying into the shore, it was fantastic.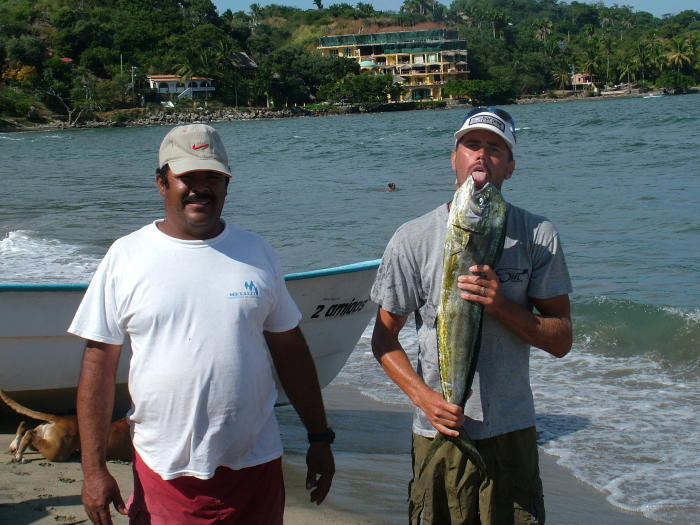 Nacho, Dan and his catch
Lunch.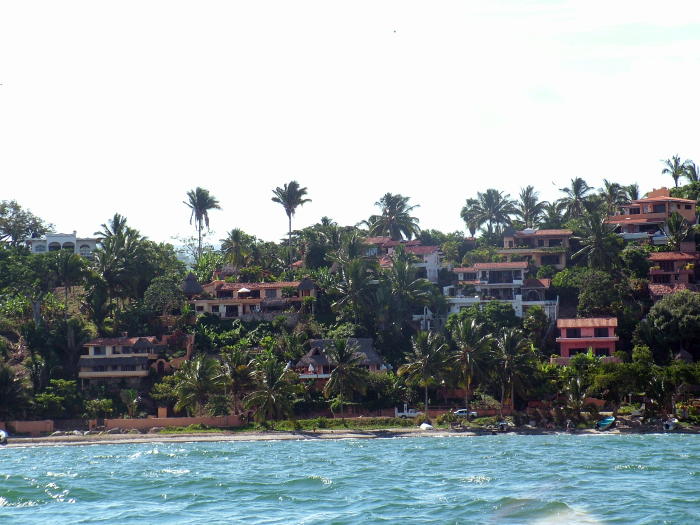 Sayulita as seen from the water.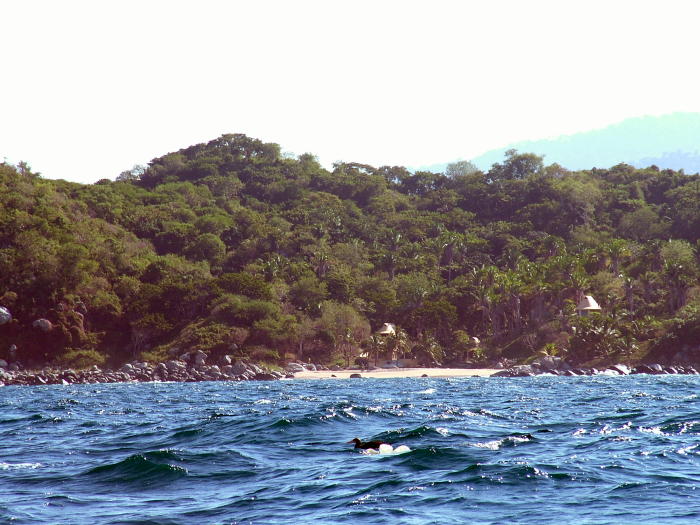 I could live in a place like this :)
We cooked up Dan's catch for a nice fish taco lunch and then settled in for a lazy afternoon. Lazy is not what we got. Have I mentioned yet how I don't know how I ever had time to work? I have never been so busy in all my life. Finally at 6pm we all ventured over to Bob and Sherry's house, where Bertha (pronounced Bear-ta) their housekeeper was cooking a feast for us. By watching Bertha and asking a series of never ending questions I have learned how to make chili rellenos, this was one of my goals while in Mexico. Tomorrow I get to learn how to make chicken mole and flan. Dinner was fabulous and we all had a very nice time.
Also at dinner were Jeff and Caroline Morehouse, who are dear friends of Brother Pat, we keep running into people we know down here, we joke that this is Colorado south. Every license plate here is from either Colorado or British Columbia. We may start telling people that we are from Ohio just to be different. Since we entered Mexico we have met probably 10 other couples from Southwestern Colorado. Colorado is a very seasonal state, many people work at the ski areas in the winter and construction or river guiding in the summer, so they end up with a month or two off every spring and fall, now we know where they all go.
Today Mom, Christine and I are going horseback riding and then I fully intend to be a vegetable for the entire afternoon. Dan and I can't seem to find time to be on vacation yet, even five months in we are still in working mode. We have set a relaxation/ enjoyment goal and we hope to start the new plan this afternoon.
November 18, 2004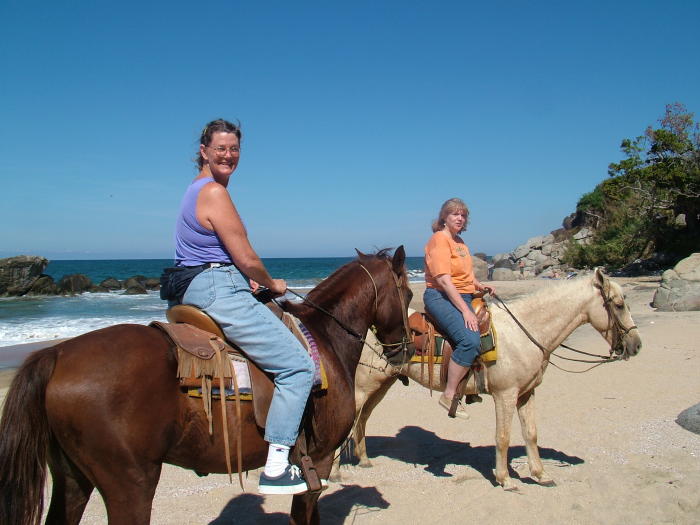 The horseback ride was wonderful. I got to see the south end of town, where I had not been yet. We all got to gallop along in the surf and climb through thick jungle trails. Our guide taught me about several edible plants and fruits that I had not known of before. We ended up riding for two hours and boy can I feel it today! On out way home from the ride I spotted someone who looked familiar to me, it was Dave, the English gent we befriended in Pescadero. He came by the RV Park for about an hour and then joined us for lunch before heading south for a few days.
I did manage to get some relaxation time, but not for the reason I previously stated, it seems I am sick and I needed a three hour nap. After my nap I felt a bit better and rallied to go visit the Midwesterners. We took our buddy Eddy up to the house with us and he and my father played guitars for a captive audience. Last night we all went into Sayulita proper for an Argentinean feast. My mom has been a very good sport, she doesn't like spicy food or beans, or really anything that is typically Mexican fare, so this meal was more up her ally.
Today the waves are still not up to par, they have been blown out for five days now. Seems we may have to take up another hobby soon.
A Queen Iguana we saw oalong the horseback trail.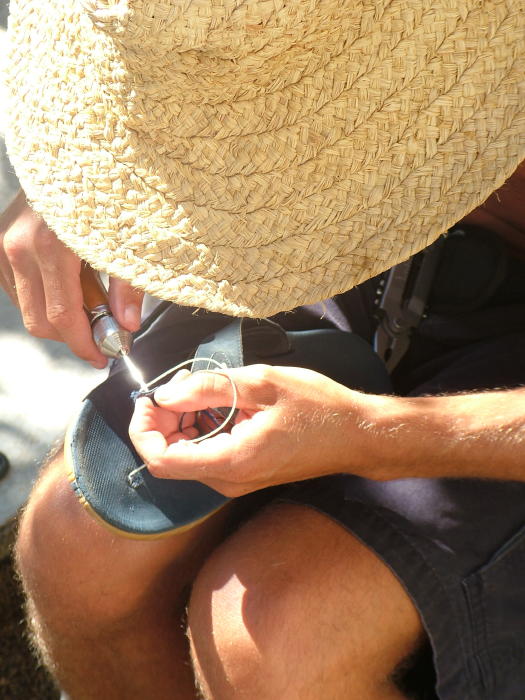 Dan attempting to repair a blown-out flip-flop.