As you can probably tell from the dual postings, today was a pretty lazy day. We spent the morning having some "tidy time" in the camper and doing our laundry at brother Pat's house. Dan made friends with Pat's neighbor Kirk, who is one of those guys who has one of everything. He saw dan struggling to get a long enough hose out to the camper to wash it, so he stopped by with his power washer- go figure.
At lunch time Pat came home and took us up Green Canyon for a bike ride. This ride turned out to be yet another uphill ride- however, this one was nice and gradual and a real treat after our last few. When we finished the canyon trail we rode into Logan and toured the town. We stopped by the Chamber of Commerce and toured the Pioneer Museum there. The museum is small, but has lots of neat furniture including some made by Brigham Young and other Mormon historical figures. After our long ride we treated ourselves to a shake and a float at a real olde-timey soda shop. I honestly can't remember the last time I had a root beer float, I seem to be regressing to childhood in my retirement.
Thanks to Pat for the driveway, extension cord and washing machine- oh and the fresh king salmon and halibut!
Tomorrow we head up to Jackson.
Pat's house.
Dan "power washing" the camper.
We are parked right under Pat's cherry tree. This makes snacking rather easy.
Green Canyon trail head. The path is a gradual uphill which passes by campgrounds and old mining tunnels. There is a creek bed along the trail, but it was dry.
Dan and his brother Dr. Patrick Goddard.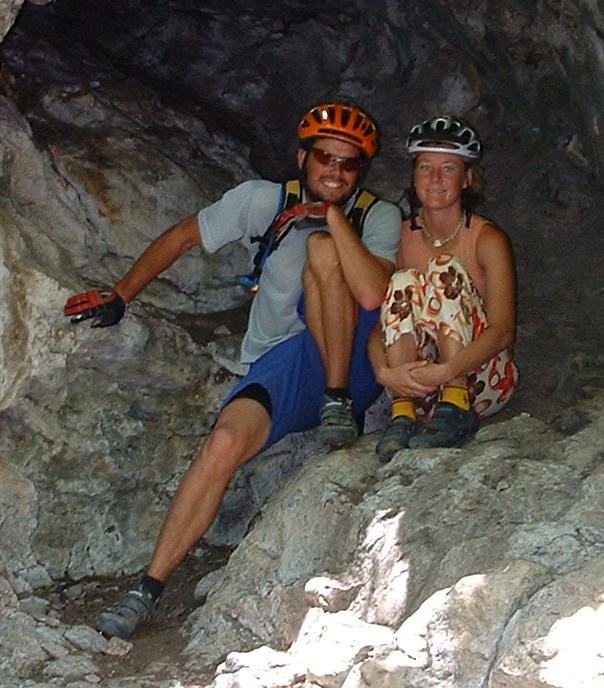 Dan and Rach along the trail.