New Hampshire, Vermont and New York
When you have lived out west for as long as I have you become westernly ethnocentric. You start thinking that only the west is this beautiful, only out here is the skiing this good, or the mountain biking or…well anything. I had forgotten my eastern roots. Maine reminded me, but New Hampshire and Vermont brought me to my knees to beg eastern forgiveness for my presumptive snobbiness.
From Acadia we drove west, through beautiful farmland and past dozens of lakes and streams. When we hit New Hampshire we were speechless at the beautiful rolling farms and green fields. Vermont though is when we realized we could live out east.
As soon as we crossed the border we were enamored. We began by touring a maple syrup factory. Now let me tell you this. I am not a big fan of sweets. After a nice meal I may order a crème brulee, and when Dan makes me a cobbler I enjoy it. However, I am not a candy bar girl, I can go weeks without a dessert, and aside from the sugar I put in my coffee each morning I can pass a whole day with no other sweet urges. I do, however, have one weakness. This weakness is what landed us at the maple factory. This particular place produces more maple candy than any other producer in the world and I am ashamed to admit that after the tour I took not one, but three candies from the sample plate and I purchased five boxes of the nectar of the Gods.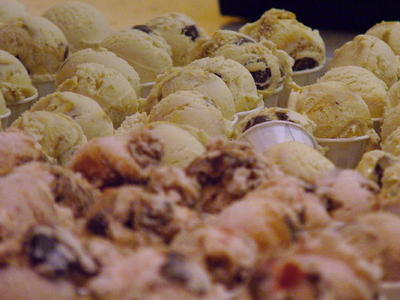 The spread in the Ben and Jerry's Sampling Roon
We had opted for a small and quick breakfast since we were a bit rushed on this particular morning. This came back to bite us when after the maple factory tour we landed smack dab in the middle of the Ben and Jerry's tasting room after another factory tour. Now sated with enough sugar to fuel and army we both endured full-fledged tummy aches. Fortunately we weren't far from camp, so we hurried on and ate something flour and milk-based to try and rectify the situation. We camped outside of Stowe Vermont, near Smuggler's Notch.
Flavor Graveyard at Ben and Jerry's
The next morning we headed into Burlington and this is when we fully realized that there is a place for us out east. Now don't you worry we aren't moving there any time soon…but, if my beloved husband should decided that he is going to medical school someday then we can now consider a few schools out here. Burlington is a beautiful, small college city surrounded by mountains and Lake Champlain.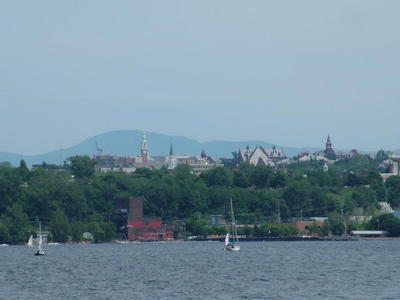 Burlington, Vermont, as seen from atop our camper on the ferry.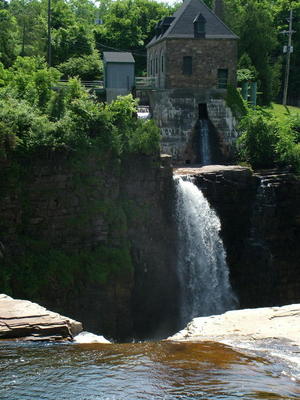 Ausible Chasm, New York
After a fun hour-long ferry ride, (the kind we like where they let you remain in your vehicle, allowing us to picnic on our roof and enjoy a bird's eye view), we landed in northern New York. Again we were blown away by how rural, rustic and beautiful it is here. We made a stop at Ausible Chasm and hiked along the river, for as long as you can without paying the $16 hiking fee. From there we ventured on to Lake Placid, home of the 1932 and 1980 Winter Olympics. Both Dan and I are Olympic junkies so this place was extra especially cool for us. Warranting the big words I just used ;)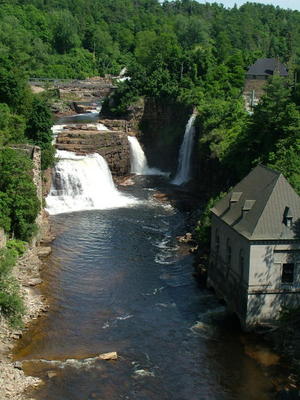 Ausible Chasm.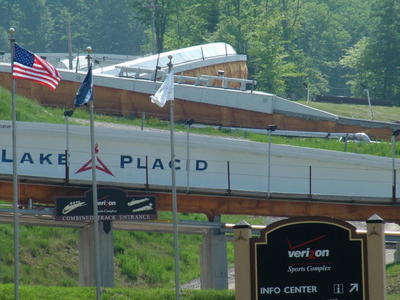 Lake Placid's bobsled track.
Lake Placid proved every bit as cool as we had hoped. Unlike Salt Lake, you can go play Olympian here for a reasonable price. A Bobsled ride will run you $30. For $14 you can learn to shoot like a biathlon and try your skills at two rounds of target practice. And if you are lucky like us, for free you can drop in on a freestyle camp's exhibition show.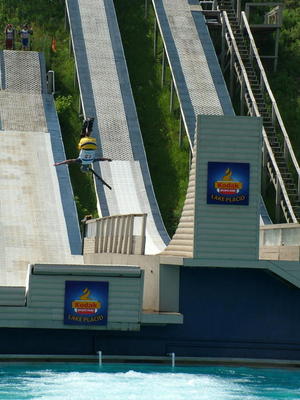 Back Flip to one Ski landing.
Dan took a nasty fall biking and broke this part. We figured we were doomed since he insists on riding his circa 1985 Cannondale. Somehow we dumb-lucked our way into the only place in the world that still had this part burried deep in a spare parts box.
Tonight we are camped outside of Tupper Lake, enjoying our first real sunset in months. Even with reality creeping in on us, we are able to enjoy this moment.
An apology: We have not had consistent Internet access for the last week or so. Go figure that when I pose a question for you all to answer I am struck silent by lack of cell coverage. As a result when I can check we have 20+ messages and I am failing miserably at replying to them all. If you have written us before then you know that I am a reliable responder. If this was your first correspondence then I apologize for failing to get back to you in a timely manner, and perhaps at all, because honestly I have lost track of whom I have responded to and whom I have not. But fear not, we are weighing all relocation suggestions equally at this point since no one has yet included a job offer.