October 11, 2004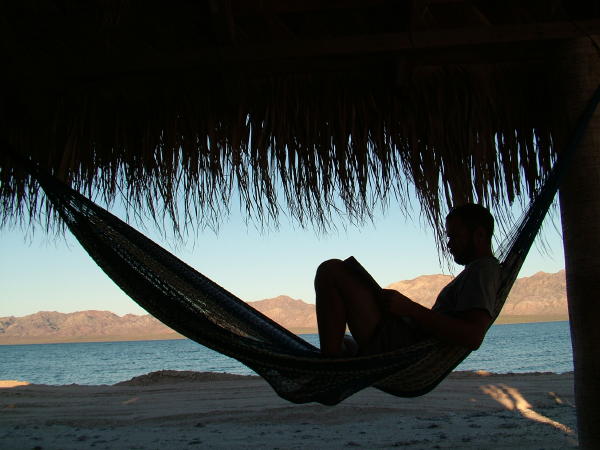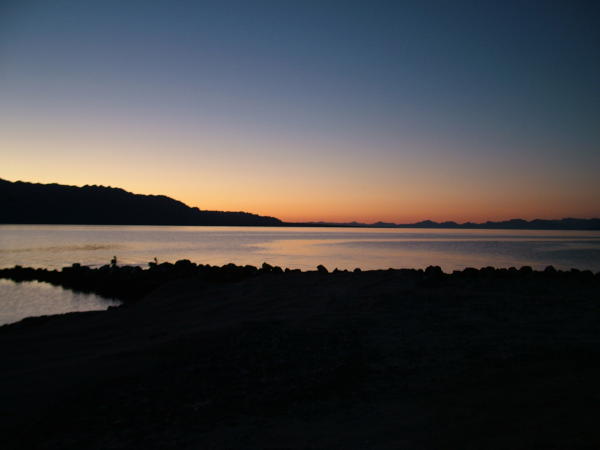 A few last pictures from Bahia Concepcion.

Bahía Concepción a Norte de Puerto Escondido
We met a nice couple at the campground on the Bahía and we agreed to camp together the following evening at a public beach with no fees and thereby no services or security. Todd and Charlotte are embarking on a trip that makes us feel like failures. They quit their computer industry jobs, sold their house and are driving from South Carolina to Panama, from there they will be heading over to Asia to travel about. Their trip is scheduled to last two years. We had a very nice evening with them and our two refrigerators combined to make a very nice dinner.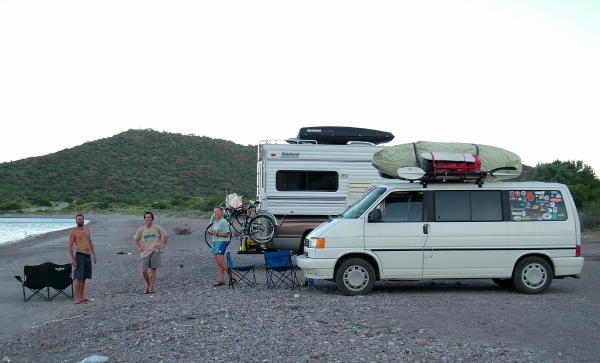 Dan, Todd and Charlotte on the beach.
The next day Dan and I headed for La Paz hoping to get our ferry reservations all squared away. No one at the ferry speaks English which didn't help matters. Through a series of drawings and awkward pauses, while we consulted our dictionary, we were able to figure out that the ferry ride will cost us somewhere between $300 and $500 and that we cannot buy our tickets until November 1st.
Additionally we need to procure a Mexican vehicle permit. This document ensures that we didn't bring our rig down here to sell, apparently our explaining to them our motives, that this really is our only vehicle and our only housing, is woefully inadequate. Of course the place to get the permit is 17km out of town, it closes at one, current time 1:15, and tomorrow, October 12, is Mexico's celebration of Columbus Day, they will not be open. So faced with the choice of spending two totally unproductive days in La Paz or continuing on down south where the promise of surf waves beckoned, I bet you can guess where we are now.
October 12, 2004
La Paz a el San Pedrito RV Park, sur de Todos Santos.
Our trusty Surfer's Guide to Baja informed us that there was cheap camping to be had right at a surf break, south of Todos Santos; so this is where we went. The surf was big, really big, and far too big for surfers of our limited abilities. The camping however was fantastic, and we enjoyed a wonderful night on the beach.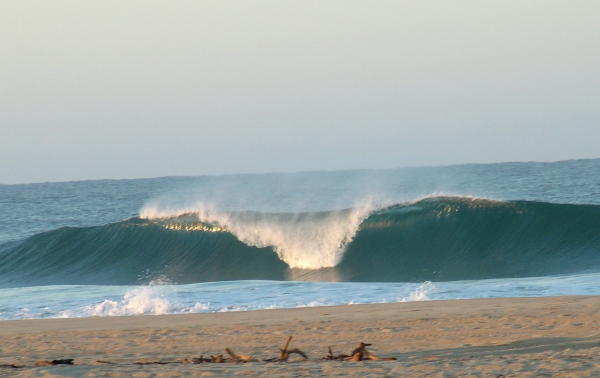 Waves at Pedrito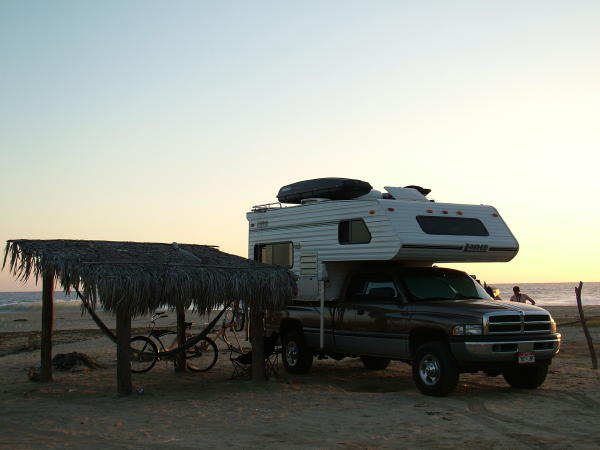 Our palapa.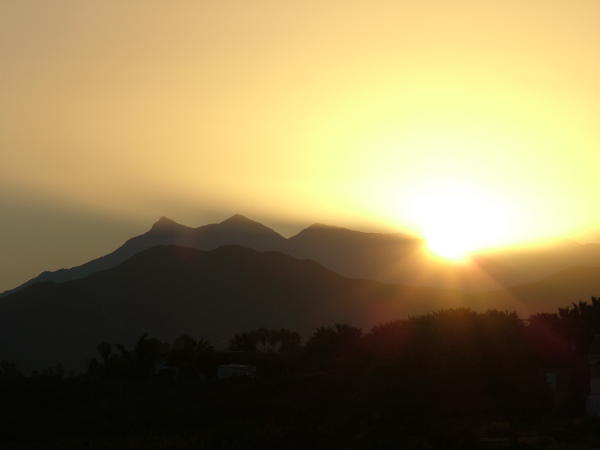 Sunrise.
Side bar: The image that kept me going the last 18 months before we left on this trip, was of waking up, opening the camper door onto a beautiful white sand beach with good surfing right out in front. I am getting really close to this dream now and I can almost taste it.
The next morning we again consulted the Surfer's Guide which led us to a more beginner's friendly beach, which is where I am now writing this from. This beach, Playa los Cerritos (which I believe means beach of the little hills), is in fact a much better fit with our ability, or lack there of.
The campground here apparently only operates from November through the end of the busy season, as such camping here is currently free. There are about seven other rigs "camped" here, the quotes are because I don't really think they ever go anywhere else, they seem pretty permanent. Our "neighbor" ,"Juan" (not his real name, seems he's running from the law for a drug offense, I didn't ask for specifics), told me enough about some of the locals to make me not feel great about being the only woman for a ten mile radius. Not to mention that Juan, "it's only a probation violation", didn't warm the cockles of my heart either.
I had just about talked myself out of staying here when I was very pleasantly surprised to see Todd and Charlotte pull up. Also another couple we had met the night before, John and Amanda (from Telluride only an hour and a half from our home town) spent the night in the park too.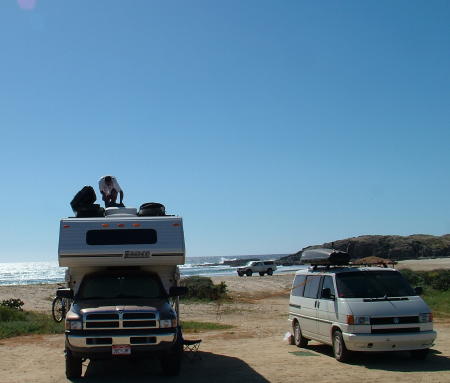 Our safety in numbers group.
I went to bed convinced I'd be able to sleep, which has been a bit difficult for me since the San Diego intruder incident. Well it seems that "Juan" is a bit of a movie buff, and he likes to watch them ALL FRIGGIN' night. This requires the use of his rather loud generator. Free campgrounds don't enforce generator hours I have learned. Since "Juan" was parked right next to us this proved to be rather a nuisance, by midnight it was more of a cause for attack and by 2am when I was still awake it had escalated in my mind to the worst infraction "Juan" has ever committed, one surely punishable by death.
At 3am I turned on our stereo to try and drown out the noise and save myself a murder rap. By the grace of God the movie show finally ended at 4:30, with the generator finally turned off I managed to get a lovely 2.5 hours of sleep. I awoke to find that the more senior residents had already let "Juan" have it, saving him from my wrath, which can be substantial when I am denied either rest or food.
Additional Side Bar: Dan and I have coined the phrase "Hangry". Hangry is what other's, apparently better tempermented than ourselves, might refer to as low blood sugar. Except when we fall prey to low blood sugar we get grumpy, hence Hangry.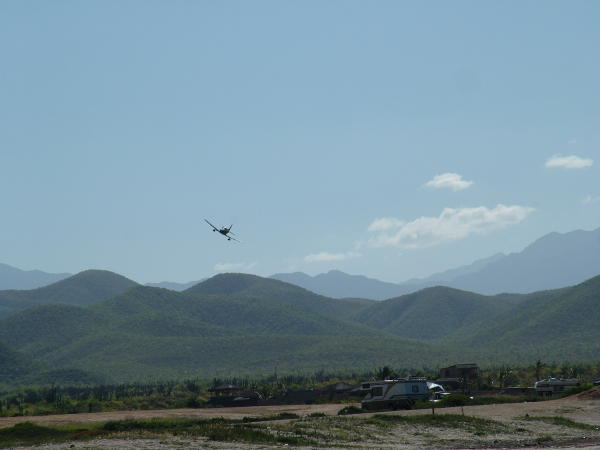 The "campground" at cerritos and a patrol plane flying over.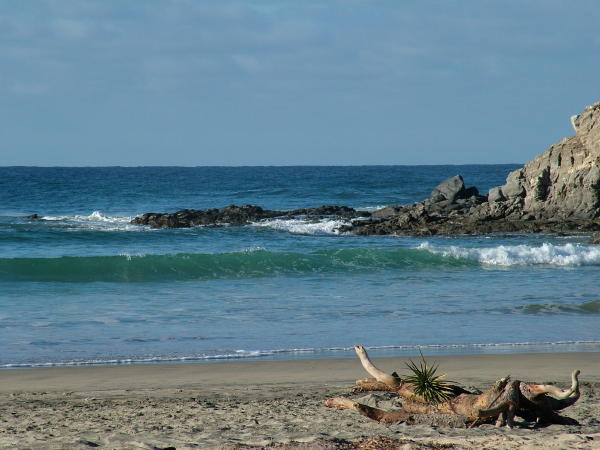 Cerritos beach.
Well rested I got up this morning, drank a pot of liquid courage and hit the waves. I am not good. Granted this is my fourth ever time attempting this sport and I can stand up, but I am still very intimidated by the real waves and find myself more at home in the whitewash closer to shore. Dan and spent the morning riding 1-2' swells, otherwise known as shore break, and then I decided to get some "color". I spent the remainder of the day tanning and crocheting. Dan requested that I make him a bottle cozy and this presented a new challenge since can cozies are my forte.
Tally for the day: approximately 20 waves caught and two bottle cozies completed.
October 15, 2004
We have been happily camped at the Pescadero Surf Camp for four days now. This place is sort of a surfer's hostel and we have met lots of really nice folks here. E.Z. the caretaker is fantastic as is Laura. Her boyfried the camp's owner, Hymee, is out of town, but none the less Laura and E.Z. have made us feel right at home. Each morning we have been driving to the beach to surf with Dave, who just finished a four-year stint in Cambodia where he was working to remove land mines from their fields (Princess Di's charity). Additionally it seems everywhere we go we are running into Colorado ski industry employees who are enjoying the calm before ski season by surfing down here.
After five stright days of surfing Dan and I are ready for a day off. Surfing has awakened muscle groups that I had forgotten I had, and ever pointy part of my body is bruised. But this sport can be so much fun that scraped and bumps seem a small price to pay.
Off to enjoy a fish taco and a Pacifico. Adios Amigos.
Bungalow at the camp.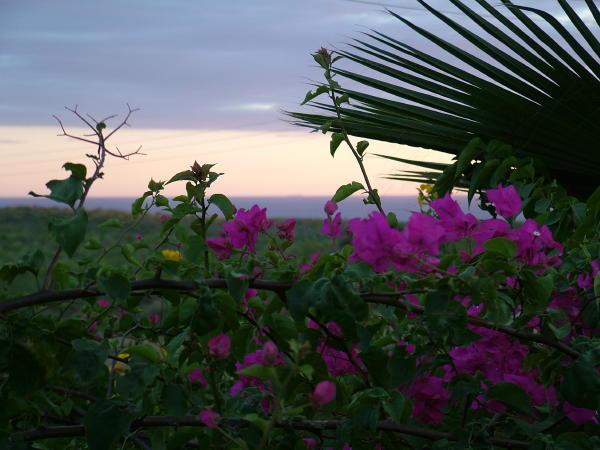 The gardens here are magnificient.
Our rig behind the communal kitchen
Dan catching a monster wave.