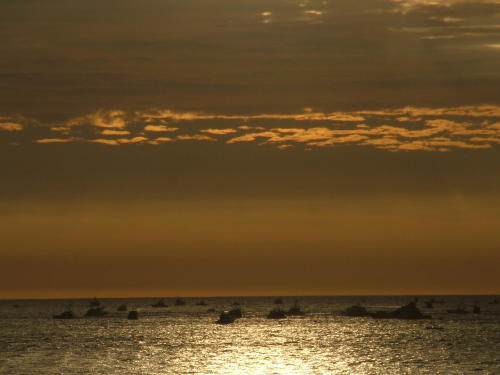 October 17, 2004
Pescadero to Cabo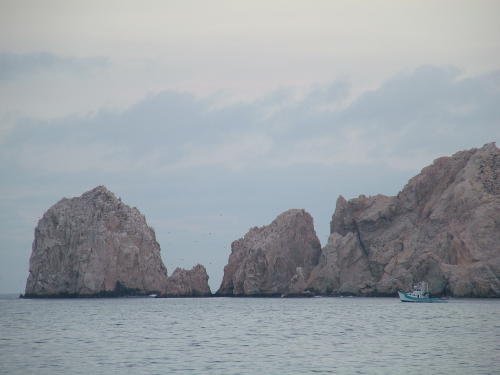 Land's End, Cabo San Lucas.
The surf turned ugly yesterday morning and we all got trashed. Dan and I had our first collision and while his body faired better than mine, his board did not. Fortunately the local ding repairman was on the beach too and he is repairing the slice I took out of Dan's board. I just ended up bruised from head to toe.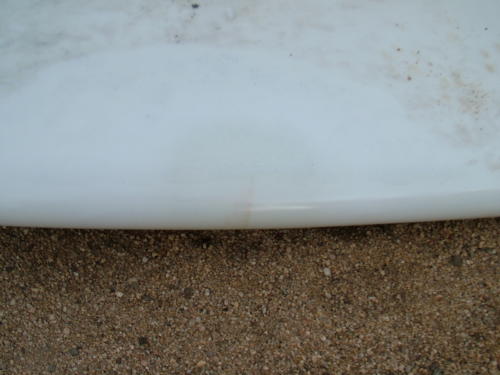 Dan's repaired board.
All of the Pescadero Surf Camp residents returned to the camp to recuperate by the pool. We ventured into Todos Santos for some administrative errands. Todos has phones, email and all of the gringo comforts.
Last night we had a fabulous communal dinner with the Colorado kids (Simon, Betsy, Derek and Creston) and Dave (the English gent). We all pitched in whatever we had and ended up making the best fish tacos I have had yet.
Today we are a bit slow on the giddy-up because yesterday we discovered the Ballena. Ballenas are big beers, sort of the Mexican equivalent of a 40oz. save for the lack of malt liquor. A ballena (Spanish for whale) costs 10 pesos, or about a dollar, and unlike the finer U.S. brands like Mickey's and Colt 45, these are genuine Pacifico. Throw in a few limes and you've got a recipe for a late night.
Tonight is our last night at P.S.C. for a few days, we are heading to Cabo San Lucas tomorrow to pick up our buddy Marc, who will be traveling with us for the next week or so. It is always nice to get to see friends, since Dan and I running out of conversational topics, seems he has already heard all of my stories.
We also met Gus and Alicia who are from Australia, while staying at P.S.C. Alicia is pregnant and decided that she didn't want to work while she was with child, so they took off for a nine-month vacation. Now if I got to travel for another nine months I might start to change my opinion on child bearing. Alas I still have eight months left on this trip and I don't have to set up a college fund to do it.
Cabo San "Gringos"
Cabo is a stark contrast to Pescadero. Everyone here speaks English, and everything is sold in dollars, not pesos. We spent our first night here at a $17 RV park very close to town. It was a no frills kinda place, but it was fine for our needs. Dan's sister owns a timeshare down here. Thanks to Tracy we are now staying in her condo for a few days. This place is pretty fancy for a couple of folks who've been living in a truck for three months.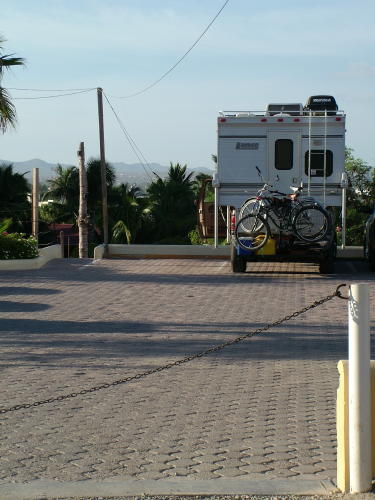 The rig in it's upscale parking spot, taking a much needed break.
Condo living.
Dinner in the condo.
Beach peddlers
Last night after we'd checked into our high end digs, we set out to walk the beach and the marina. Guess what we found… a FREE beer stand accompanied by FREE food. Why you ask were we blessed with the opportunity to drink cervesa libre? Well it would seem that we had stumbled into the kick off party for Bisbee. Bisbee is a three-day sport fishing tournament. Dan and I were rubbing elbows with the crème de la crème of the salt water fishing world. We marveled at all of the trophy fish and trophy wives. Also since we have been surrounded by super fit surfer types we were slightly amused at the general physique of the professional fishing "athlete." Now here's a sport--you get sun and catch dinner all while drinking cold beer on a boat. Forget this surfing stuff--get me an Ugly Stick!!!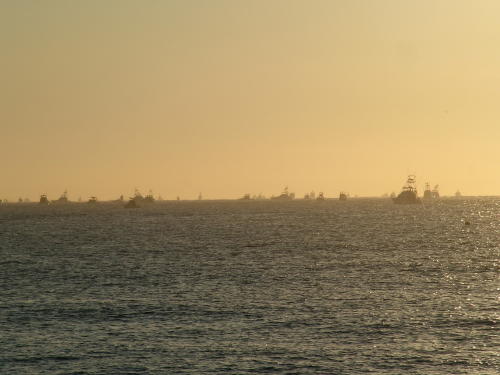 The Bisbee competitors in the start gate.
After we'd abused the free beer tent enough we opted to purchase a cocktail from the piano bar on our way home. What fun. We were the only customers in there, and we were entertained by Bernardo, a classically trained pianist who is finishing up a business/tourism degree. Bernardo even let Dan play the bongos with him.
This morning we sat through the time-share-mafia's sales pitch. I am happy to report that we came away with a free breakfast, a free boat/snorkeling trip, and no desire to ever buy a condo.
In re-reading this I am beginning to think we sound like drunk freeloaders. C'est la vie.
October 21, 2004
Aeropuerto.
As promised we had Marc on the waves by 3pm. The break we found here to surf is called Old Man's which seems to suit us just fine. After a nice "welcome to Mexico" surf we returned to the condo for a little R & R. Afterwards we ventured back down to the fishing contest, where we learned that the biggest Marlin caught was 645lbs, and it was caught by a woman!
Tunnel to Old Man's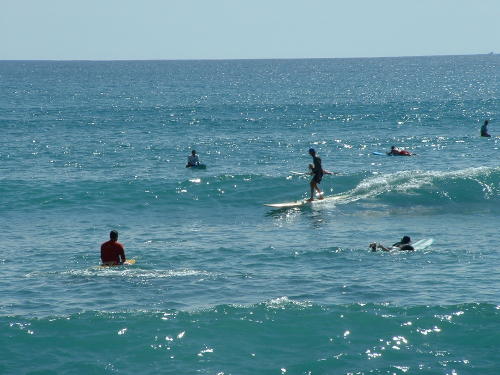 Long Boarders at Old Man's.
October 22, 2004
Yesterday we surfed all day. Old Man's proved a nice and friendly surfing spot for Marc and I, but Dan may disagree. His last ride in before lunch he jumped off his board and onto the reef. He cut the bottom of his foot badly and he will have to stay out of the water for a few days. His self diagnosis called for no stitches fortunately and after a few butterfly bandages had been applied, he was able to hobble off to lunch with us.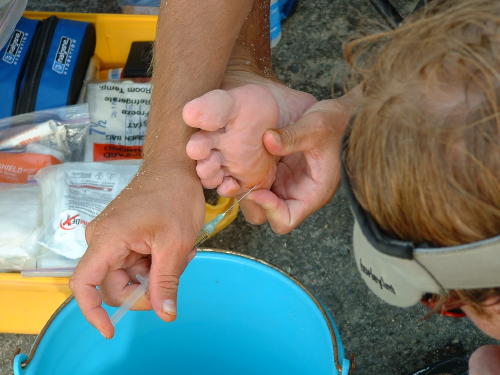 Doctor Dan.
In the afternoon we all went on a grocery shopping expedition. Being in Mexico makes something as seemingly mundane as buying dinner fixings seem fun. We returned to watch the fishermen weigh their catch and today's biggest was a measly 440lbs. One more night in condo-ville for us, then it is back to truck living. I am ready.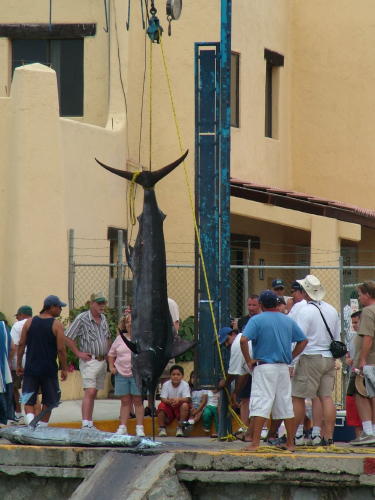 Bisbee catch.
October 23, 2004
Our last night at the condo proved an exciting one. Due to an unfortunate sewer problem we had to move rooms. Luckily this move got us out of the basement and into a room with a view. Unfortunately though, we were given about 5 minutes to vacate, thus resulting in Chinese Fire Drill type move. This was further compounded by the fact that we had just gotten off of a four-hour, self proclaimed, booze cruise. The nice part about the cruise was that there were enough true drunks onboard to make us realize that our own alcohol consumption is truly recreational and not professional. Also we had gone snorkeling and I even took a marathon swim over to a fishing boat to buy us freshly caught shrimp for dinner, so we were relatively sober. None of this though prepared us for the fire drill and the move proved a bit trying. Later we took our hard earned shrimp up to the restaurant for the "you bring it, we'll cook it" special, only to learn that due to a very brief and light sprinkle they were closed, our reservation would not be honored. No worries, we cooked up our own shrimp in our new room and had a nice last night.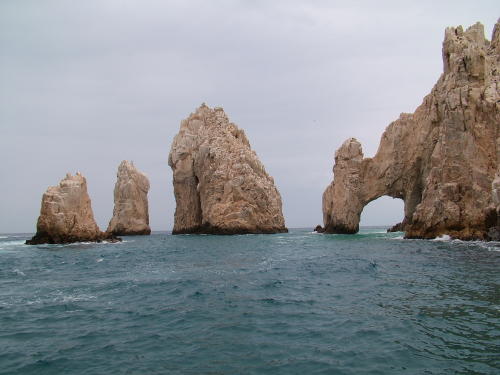 Los Arcos.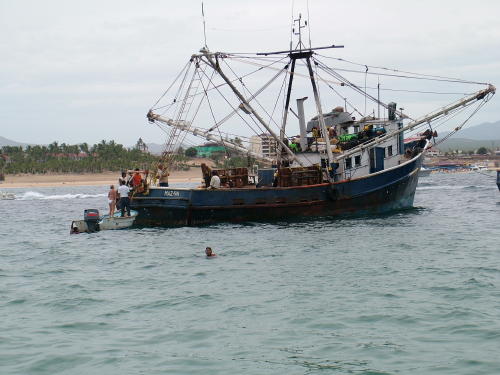 Me on the shrimp boat.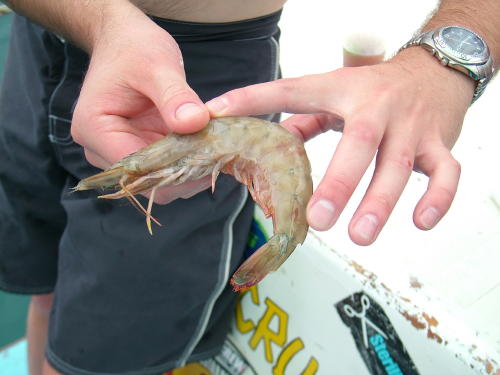 Our catch.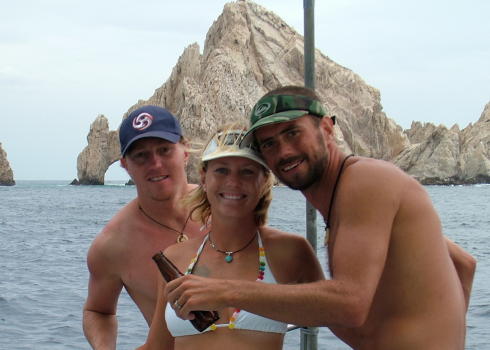 Marc, myself and Dan.
Since the condo folks had been so difficult during our stay, we felt no guilt in schlepping 5 gallon jugs full of their agua purificado from the tap in our room to our truck. It was with a full water tank that we said goodbye to sister Tracy's condo and headed back to the haven that is the Pescadero Surf Camp.
October 24, 2004
Rainy Day
Today we are being treated to a rare day of rain here in Baja. Just the excuse we all needed to take a day off, let our bodies recover and catch up on some reading. The skies cleared after noon and we surfed some more. Back at the camp we played a rousing game of poor man's poker and I am happy to report that Dan and I earned $80 pesos, or about $8.

Expenses
Fuel $ 41.63
Groceries$ 29.23
Liquor $ 20.81
Treats $ 100.09
Repairs $ -
Camping $ 35.43
Park Fees$ -
Other* $ 60.85
Total $ 288.04
Remainder$ 26.40 *we have a remainder because of carry over money from previous weeks.
*Other includes, surfboard repair, tips and car washing.
Note: As of today we are exactly on budget, meaning that we have just enough left to continue at $40/day through the end of June 2005.