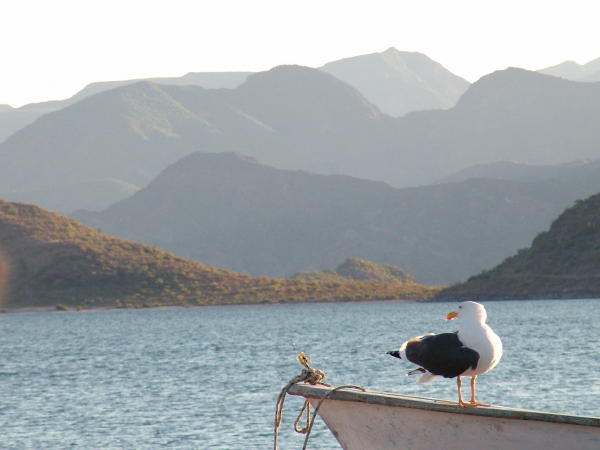 October 5, 2004
San Diego to Ensanada, Baja California, Mexico.
Dan got back late last night, I am happy to report that we both got a solid eight hours of sleep. Marcellus came down to join us for breakfast at the RV Park. We spent about two hours sipping coffee and telling stories. Did I mention yet how good it is to reconnect with old friends? After breakfast we said our goodbyes and Dan and I headed for the border. We had given a lot of thought to which border crossing to go to and finally decided to brave Tijuana. It turned out to be a piece of cake and we found our way to the toll road with no problems.
We easily motored down to Ensanada in about two hours. We made two stops in the town, the first to get our tourist visas stamped and the other to load up on groceries. It is worth coming to Mexico simply for the fresh tortillas that are sold in the grocery stores. For roughly .50 cents U.S. you get 10-15 fresh corn or flour tortas that are still hot.
All four of the Mexican guide books we have agreed that we need to stay at the Estero Beach Hotel and Resort.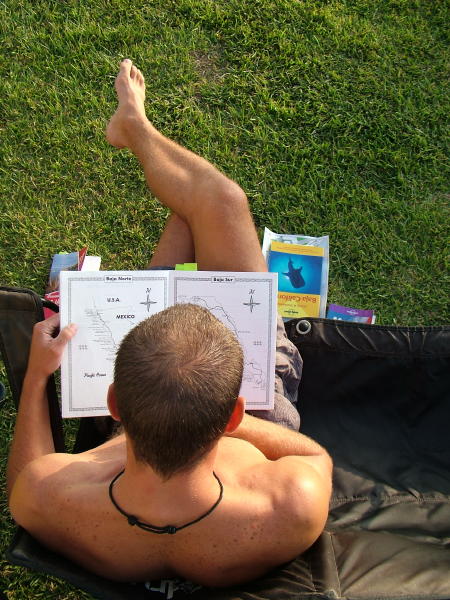 They weren't wrong, this place is an oasis. It is currently off season so the RV Park is maybe 10% full. We had the pool all to ourselves and now we sit in our beach front spot watching the sunset, drinking COLD Mexican beer with lime (gotta fight off scurvy). Life is really good.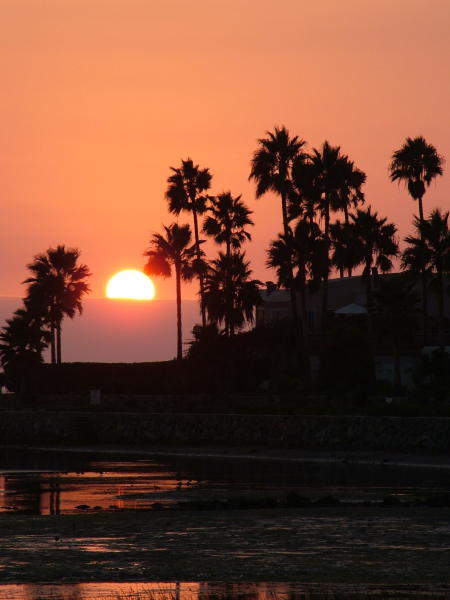 October 8, 2004
Wednesday night we stayed at a remote beach just north of El Rosario. We ventured into El Rosario for lunch before camping and were treated to some wonderful Lobster Burritos at Mama Espenosas. The Baja Surf Guide book helped us find both Mama's and our camp spot.
Dan had started to make us a nice enough dinner when a man we'd seen snorkeling in front of our camp spot came up with a net full of lobsters he'd just caught. We abandoned our original plan of tacos and for about $4 U.S. set out to make the best lobster dinner I have ever had!
We were up early and on the road. So far HWY 1 has been much better than I had expected it to be. However, it is VERY narrow compared to U.S. roads and each passing semi is cause for the driver's knuckles to turn white. Yesterday we drove through miles and miles of cactus and Joshua Trees, as well as huge boulder fields and the periodic stands of palms. Things started to flatten out and the scenery became more of what I expected Baja to look like.
Iglesia de Santa Rosalolita
We set our sights on Santa Rosalolita because a friend of ours said it is a great little surf town. To get there you must travel 7 miles on dirt/ washboard roads. After about an hour traveling around 10mph and being jostled about like we were corn being popped, we arrived at the charming little pueblo of Santa Rosalolita. Much to our dismay however there were no waves, it was dead calm.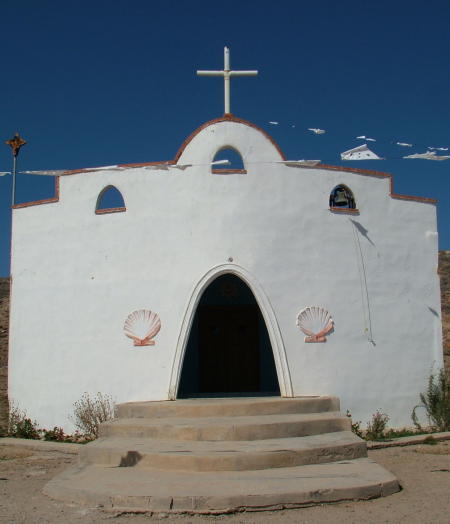 Iglecia De Santa Rosalolita.
Dan was a bit spent from hours of white-knuckle driving so we got him a Mexican Coke (Coca-Cola not the illicit kind). Now if you have never had one then put it on your to-do in Mexico list. As best as I can figure, Mexican Coke is similar to its American counterpart only in that it is brown and has the unmistakable label. Mexican coke, however, is served up in real bottles, it is less carbonated and perhaps sweeter than American Coke. Neither of us drinks soda regularly but Mexican Coke is a real treat.
Anyway now that Dan was sufficiently hopped up on sugar and Caffeine we returned the way we had come, and decided we'd spend the night Guerro Negro, a salt mining town
just south of the Baja California Sur State line. We are now in the lower half of Baja. We passed through our first federale check point with flying colors and did not have to resort to bribery with the ice cold cokes, water or smut magazines we keep on hand for such occasions.
October 10, 2004
Today marked our first foray into eastern Baja and onto the Sea of Cortés. We stopped in Santa Rosalia to check on the ferry system and learned that we need to obtain another permit before we book our ferry ride. We will be spending a day in La Paz later next week to get this all sorted out.
On the road from Guerro Negra and Sant Rosalia we hit our second Military Checkpoint and this time we did resort to gifts of cold bottled water and Coke. These Federales were more experienced in fleecing tourists it seemed and the only places they "inspected" were our cooler and under our mattress. Clearly they know where to look for cold drinks and smut mags. Fortunately for us we had been told to bring a stocked cooler and mags for such occasions. We forgot to get the mags, so the young man was sorely disappointed that there was nothing but dust under our mattress.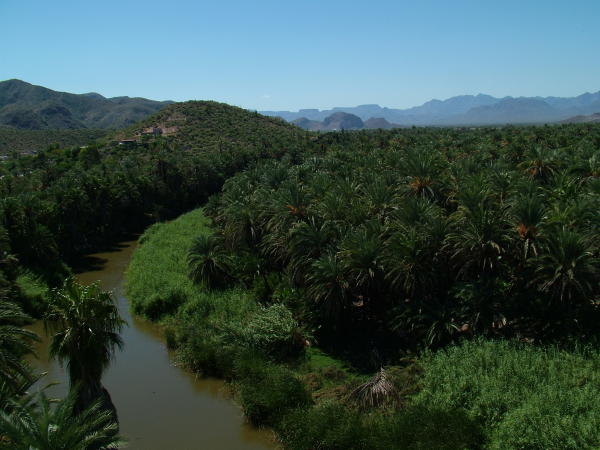 Rio De Mulegé.
Later in the day we visited Mulegé, which is the nicest little town we have seen in terms of architecture and because it has a spring-fed river running through it, it has a very tropical feel. There is a restored Franciscan Mission there and we toured it.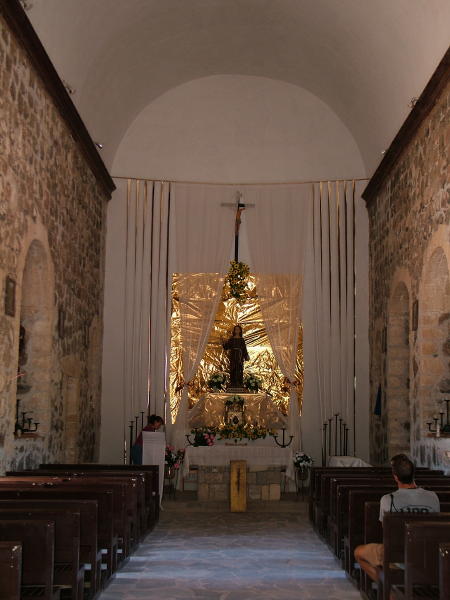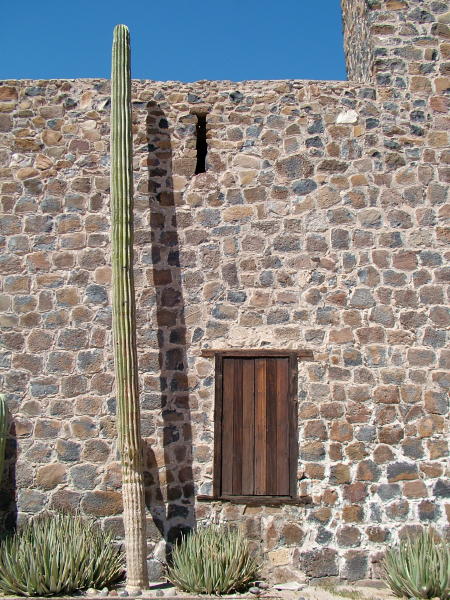 We have spent the last two days camped in a fabulous campground on the Bahía Concepcíon. For about $6.00 a day we have a private palapa on the southern point of this bay. There is a wonderful restaurant here run by the owners and we have treated ourselves to a few meals there. Aside from the complete solitude we are enjoying, there is also some pretty good snorkeling right off this point. On our snorkeling trips we have seen numerous rays, Puffer Fish, a Scorpian Fish, Sea Stars and I even got up close and personal with a Jelly Fish. We have had two wonderful days of complete rest and relaxation.