If you would like to contact Rachel about this site, please send emails to rachel@thisendupyoga.com be well
New York Times Article, Nov. 27, 2005 Click Here to read.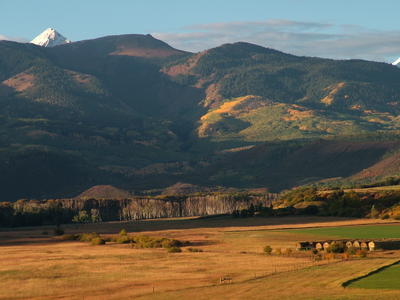 The view from our new home.
Alright one last note.
I am thrilled to report that Dan and I have fully assimilated to our new surroundings and more traditional lifestyle. We have successfully completed re-entry. For a while there we were worried about burning up, but the warning lights and buzzers seem to have been greatly exaggerated.
I lasted all of two weeks at my first job. Truth be told, after the first two hours I knew it was a bad fit. But once again the stars were aligned and through a chance meeting I secured an interview for a not-yet-listed job opening with
Aspen Skiing Company
and got hired on the spot. Somehow I have dumb-lucked my way into my perfect job. One that blends the things I already know how to do, with the chance to continue learning and gain real life experience in the field of marketing, (which is what my degree is in). And it is for a skiing company!
Dan is busy saving lives. He has had to adjust to adding "what illegal drugs have you taken today and is there any silicone in your body that I should know about", to his laundry list of pre-treatment questions, but otherwise it was like riding a bicycle, everything just came back to him. He has been offered a job on Aspen Highlands ski patrol, which he is very excited about. Highlands' is a prestigious patrol and he'll get to throw bombs, in the name of avalanche mitigation, which is every man's dream now isn't it.
With much assistance from our friends we have secured housing. While the home is not much to speak of, the views would make it worthwhile even if there were only an outhouse and fire pit for creature comforts. Every weekend has found us biking and hiking in the beautiful forest lands around here. We hiked from Aspen to Crested Butte for lunch one day, an 11 mile hike with a 90 mile car ride back to the starting point. Most recently we have been hiking to see the fall foliage which is like watching a wave of fire sway across the sky. Flaming yellows, oranges and reds, intermixed with bright green, the stark grays of granite and the white of freshly fallen snow. If you have never visited Colorado in the fall, what's keeping you?
The Maroon Belles, along the trail to Crested Butte.
Our lives here are so full that I really don't miss traveling. I walk past the camper everyday and wave at it like you would an old friend. Sometimes I do miss the compactness of it, like when I have to get out of bed to brush my teeth, or start the coffee maker, but mostly it is just a great reminder of how lucky I am, and how I need to never forget it.
The crest between Aspen and Crested Butte.
I really have become a happier, more confident and, I think, better person because of this trip. If possible I adore my husband even more than when we left, and I have managed to fold the sense of adventure that came with being in a new place everyday, into being in the same place, (albeit still a new place to me). I have been taking lots of photos, it is easy to be inspired with the views we have and on the route I drive to work each morning. Dan has been busy keeping off the weight he lost when he was ill by riding long bike trails and hiking every chance he gets. I am channeling my inner Italian mother, force feeding him every fattening thing I can find. (In my mind a man who is 6'2" tall should not weigh 155lbs!)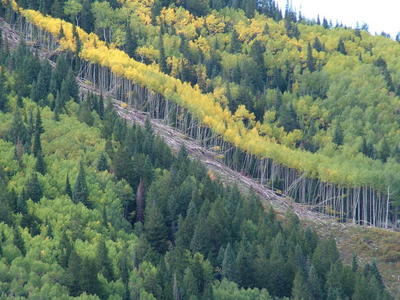 Avalanche chute along Avalanche Creek, outside of Redstone, Colorado.
I truly appreciate all of the emails I have received asking us to continue the blog, but I just think it has reached a nice, tidy, ending point. If anything that really pertains to it pops up I may put some quick snippets on here, but otherwise I thank you all for a fantastic ride and wish that each of you will enjoy a journey of your own, sooner rather than later. I hope that you will continue to fill us in on your lives, so many of you have become our friends and mentors along the way, and it brings a smile to my face when I know that we helped someone plan their trip, or inspired someone to follow a similar path.
Again thank you.