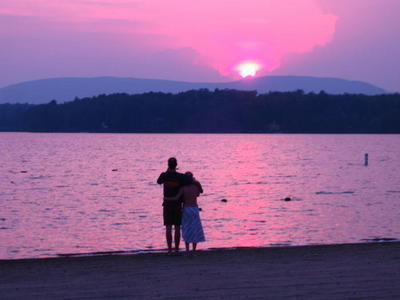 Dan and I near Tupper Lake, New York. Our Neighbors that night, Paul and Kathy, took this photo and emailed it to us.
Clouds at Tupper Lake
Last Tuesday we entered Ohio, my home state. Our first night was spent in Geneva on the Lake State Park, where we watched a gorgeous sunset and took a nice dip in Lake Erie. Unbeknownst to me then, 55 years prior my grandparents had come to the same place for a few days on their way to Niagra where the spent their honeymoon. Wednesday we arrived in Cleveland to visit my grandmother. Gram, Dan, myself and my cousin Jamie had a fabulous visit. Visiting my older relatives like Aunt Kitty and Gram make me wonder how many more times I'll get to enjoy their company. This though makes me a bit melancholy, and reminds me to call, write and visit more often.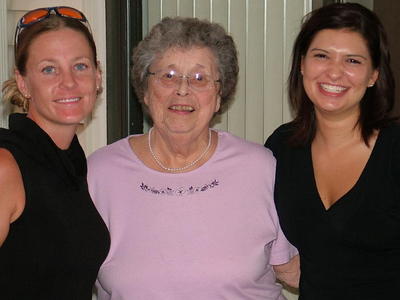 Me, My Gram and cousin Jamie.
Before we got to Ohio we visited Niagra Falls.
The Canadian side of Niagra Falls- also known as Horseshoe Falls.
Niagra Falls
Niagra Power Plant.
Association Island Campground Sunset.
In a thinly veiled attempt to trap us in Ohio my father went and broke his leg. I can see through his cast and pain to the underlying coercion within. Sure he thinks we'll feel obligated to stay longer and help him in his hours of need, sure he's testing our caretaking abilities for the future, and defiantly he is testing my mother's patience with us all. Due to Dad's injury we hurried up and got to Cincinnati on Thursday.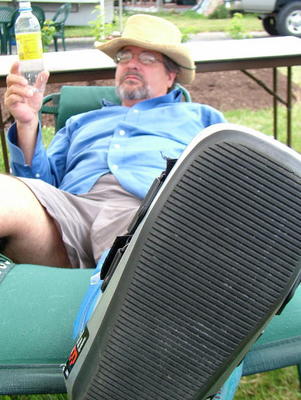 When I was eleven I began attending a summer camp which always fell during the first week of July. After that I moved away and as a result I have not been with my mother on her birthday in 21 years. So this year we threw a big party for her and denied her nothing. Daddy bought a giant tent for us to erect and we felt like carnies again. We would have decorated the entire block given the roll we were on, but the festivity preparedness came to a screeching halt when we learned of the helicopter crew's fate in Durango.
Despite our best efforts to put on brave faces and enjoy the party a deep and all encompassing sadness had taken a hold of Dan and I and our productivity level dropped to almost nonexistent. Despite our zombie-like behavior the revelry continued on and we bucked up enough to enjoy the company of our friends and family who were in attendance. My mother had a ball.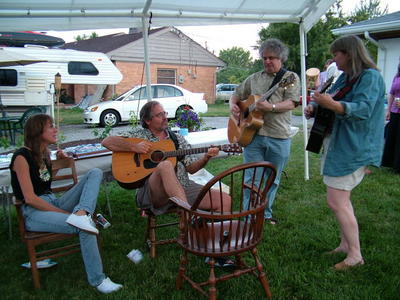 The band, also known as my father, Jude, Jan and Ron. I am very blessed to have a ton of musical friends, and they like to play all the time. They even wrote a song for Dan and I and performed it at our wedding, and from time to time they play it for us and make me cry because I love them all so much and have known them my whole life.
For the fourth of July holiday we attended parties, parades and fireworks displays. Somehow the mere sight of a fire truck was enough to bring tears to Dan's eyes and once again we are unable to shake the loss of the two brave men who Dan had the great fortune of working with, and the pilot of the helicopter who was a friend to them.
Dan is back in Durango today, attending the first of three memorials this week. For now all of our plans are on hold. When he returns we have some big questions to answer, like how much longer do we travel for? Maybe this is a good ending point for our trip, just head back to Durango from here and call it quits. Kind of nice book ends really, we left from Dan's home town and finished in mine. Beyond that we wonder, what jobs will we be getting and where will those jobs be? And I wonder how to put a nice neat bow on this website and give it a happy ending.
But today none of these questions can top the big ones we are struggling with, like why those guys, why that day and that way, why so young? Take a minute and think of your loved ones, let me remind you that you are not promised another day with them and may we all be better friends, spouses, and children, so we don't have to regret the things we forgot to say and the love we forgot to give.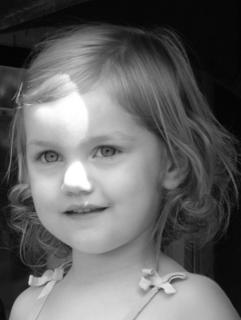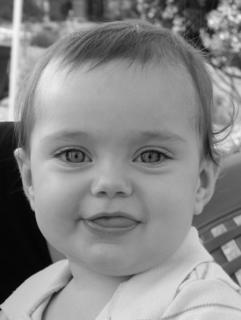 These beauties are Ruby and Essa Britt, daughters of one of my oldest and dearest friends.