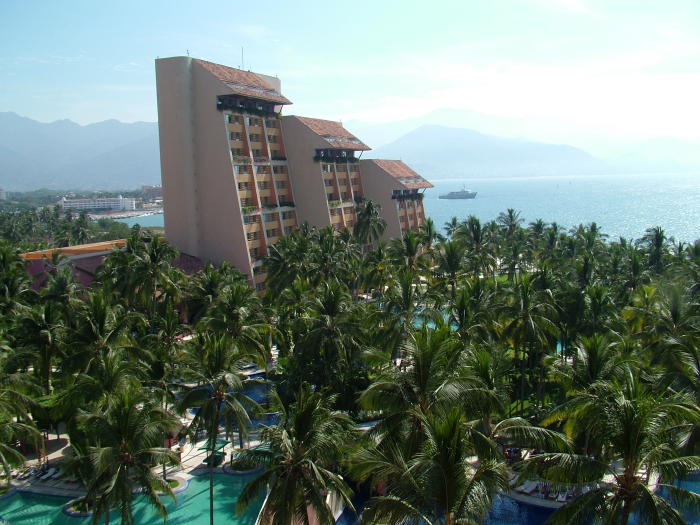 December 13, 2004
In the last week we have been really busy. Brother Pat kept us entertained for five days, friends Ryan and Jonika made a guest appearance, Meredith moved in with us and The Locals waged a war that severely disrupted my sleeping patterns.
During Brother Pat's visit we surfed and surfed and surfed. At night we ate and ate and ate and then drank a little too. One night early on in Pat's visit he and our friend Bob, one of The Locals, went out on the town. Late that night they had a moment of what I refer to as "Pacifico logic". This allowed them to think that if they came into the trailer park at midnight yelling Dan's name, he would hop right up and join in their debauchery. Dan did not leave the safety of our bed, he's a good boy, but Bob had unknowingly kicked of the, "Who can wake whom up more often" pranks of the following week.
The very next night, Pat, Meredith Dan and I decided it would be a good idea for us to take a dip in Jamie and Rose Marie's pool late at night, again "Pacifico logic" at work. We were busted about five minutes in. Jamie and Rose Marie were both principals and we had just been caught by them. We fully expected a swatting or detention, but instead we were punished with tequila shots and good conversation. Bob was at home recovering from the previous night's events, so of course we had to call him repeatedly to wake him up, tit for tat if you will. He remained strong and never answered the phone, but we had defiantly sent a message.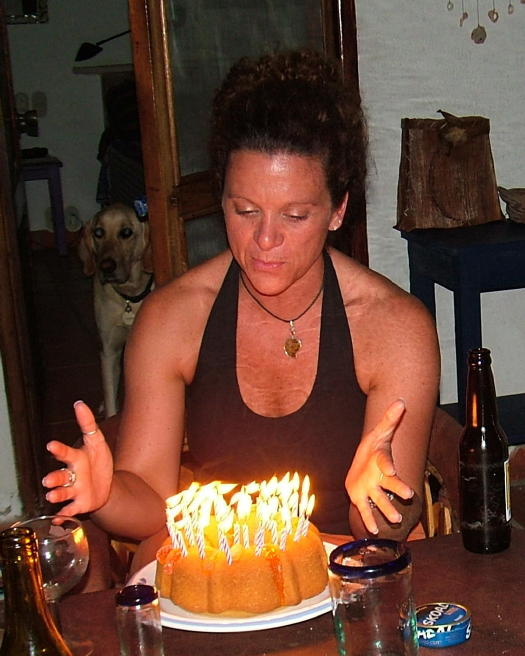 Meredith's birthday was the next night, we threw her a dinner party up at Bob's house, since we were all there, no pranking was done on this evening and once we went our separate ways we all slept soundly.
We said goodbye, yet again, to Brother Pat. Don't worry he will continue his reoccurring role in a post a few weeks from now when we meet up for Christmas. Since we were already in Puerto Vallarta we decided to spend a day at our friend's Ryan and Jonika's hotel there. Jonika won a trip to P.V. as a work incentive and they did it up in high style. They stayed at the Westin and Nikki Beach resort. Dan, Meredith and I had a hard time adjusting to how the other half live, but we did our best. The beach bed's and cabana boys helped to ease the transition.
The cabanas at Nikki Beach.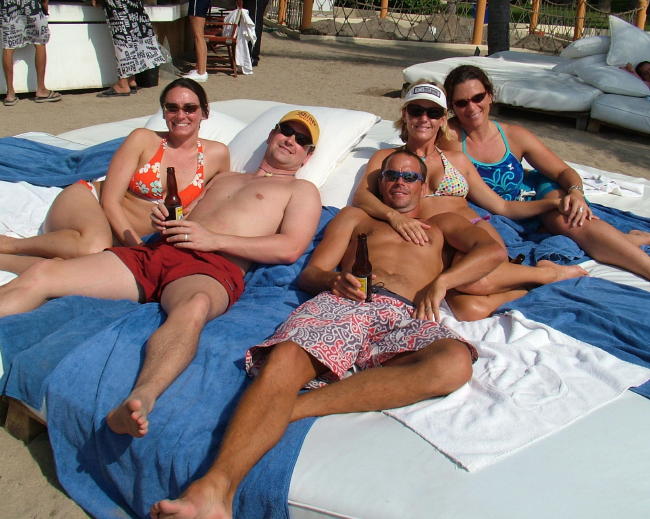 Our motley crew.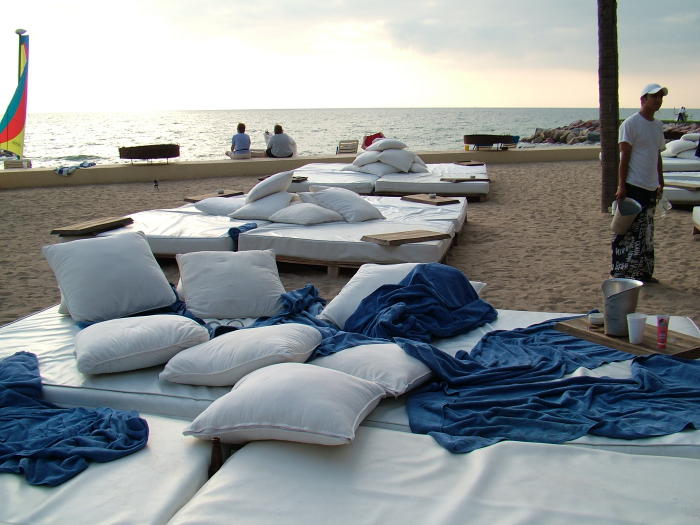 The aftermath.
The next day we were in desperate need of a good night's rest and a day of detox. Meredith had moved from her fancy digs at the surf camp, to the plot of grass in front of our camper and her tent. We were all asleep by 7:30. Around 11:30 I thought I heard carolers, really bad carolers. In fact what I was hearing was The Locals driving through the park screaming Jingle Bells and laughing hysterically. Then I heard Bob say "I know we'll bright them", this was followed by their truck doing a donut in the parking area so they could point their headlights directly into Meredith's tent. Mer got up and addressed the drunkards, from there on all I heard was laughter. By some miracle we were not voted out of the RV park the next morning. Seems our neighbors have really good senses of humor and the sight of four people, with a median age of 60,heckling the youngin's was appreciated by all.
In the morning we decided against retaliation, why not let the old folks enjoy their victory. Besides Jamie and Rose Marie were leaving for Arizona and we can't afford the long distance charges involved with any future pranks. Thus ended the "Who can wake whom up more often" pranks of the winter of 2004.
Footnote: The surf camp Mer went to is pretty schwanky. Many of the women who attended it were a bit more high society then the likes of us. Case in point: One of the women, we'll call her Texas, joined us for dinner one night. She asked about our travels and we told stories for as long as our companions seemed interested. The whole time though we were aware that Texas was watching us like you watch a car wreck. Morbidly curios I suppose.
The next day she was chatting with Meredith and she said the following, (it helps if you read this in a thick Texas accent) "I enjoyed meeting your friends last night, but I must tell you, I…I would never know people like that. I guess maybe I am just to0 civilized."
We love this quote!