July 12, 2004 Bozeman to Freezeout Lake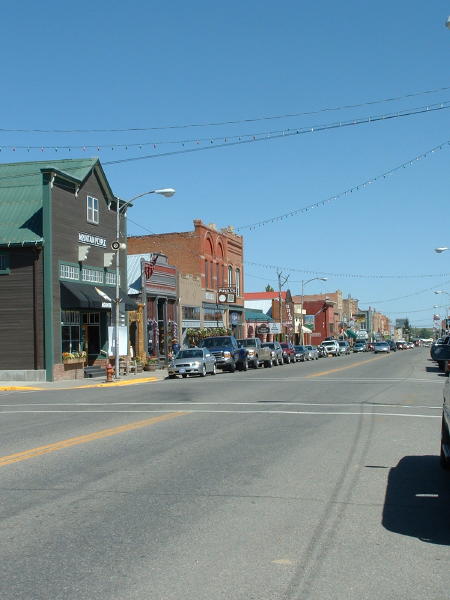 Red Lodge, MT.
We spent last night in front of Dan's high school friend's house in Bozeman, Montana. Stacie was a wonderful hostess and gave us a bike tour of her town, complete with our first visit to a bar in over a month. After the buckets of Corona we had a BBQ at Stacie's.
Today we had a few repairs to deal with. Our hot water heater had been bleeding water non-stop every time we turned it on, and following the "belching" directions in our manual was having no affect. We went to Big Sky RV- which we would recommend should you be there and need parts- they were very helpful. For $23.99 we got a new valve and the problem seems to be fixed. However none of the three shops we visited today seemed to carry the refrigerator cover that we lost somewhere between Yellowstone and Bozeman. So, I fear that more RV stores are in my immediate future. We are learning rather quickly that an RV is really a boat with wheels and it requires constant upkeep and maintenance.
This evening finds us at Freezeout Lake Wildlife Management Area, along HWY 89, about 100 miles south of Glacier. Freezeout is a cooperatively maintained bird refuge. A co-op between the state and Duck's Unlimited. This place is a birder's, or bird hunter's, paradise. This evening we took a mountain bike ride around the refuge. Believe me there is no shortage of bugs for these bird to eat, after our ride I knew what my windshield feels like after a day of travel. But after we squeegeed the bugs off of ourselves we were treated to an amazing sunset, complete with ducks flying overhead and serenading birds. This site is free and located right off of 89 between Fairfield and Choteau- It is a great place to spend a night as long as it isn't duck season, when I must assume this place is packed.
July 13, 2004
Glacier to Waterton or Which Way Do We Go Day.
We woke up to bird calls at Freezeout Lake. It had been a lovely campsite, but we were headed for Glacier so we hit the road.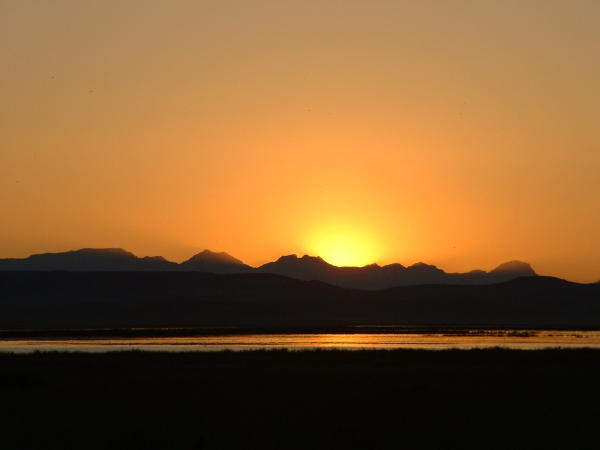 Our plan, as much as we ever have plans, was to drive across the Going to the Sun Road, through the heart of Glacier ending up in Whitefish for the night. We had heard that our camper was small enough and that we would be permitted through. Apparently we heard wrong. The guard told us to remove our racks- you know the infamous double-hitch system, and then we'd be short enough. We did so in the Visitor's Center parking lot. Then we decided we'd better consult another park employee since the camper's ladder pushed us JUST over the 21' limit. Apparently the fine for driving a too-long vehicle over is $500. In other words enough for us to be damned sure we meet the criteria.
This is when we learned the real rules. 21' long, 8' wide and the real spoiler for us…10' tall. Alrighty then onto plan B. Oh wait we never really had a Plan A, so B is nowhere to be found.
After a lunch of once dropped nachos (this is not some anchient family recipe, this means I dropped them on the floor and implemented the 10 second rule) we decided "hey we're 28 miles from Canada, screw the U.S. parks and all there "no swimming in our rivers, no vehicles over 21'" rules. So I write this from Waterton Campground on the Canadian side of the International Peace Park.
We did go down to Many Glaciers before we left the U.S. Side.
The view of Many Glaciers.
These are called Grinders and you can hire them to give you a tour of the park if your rig is too big.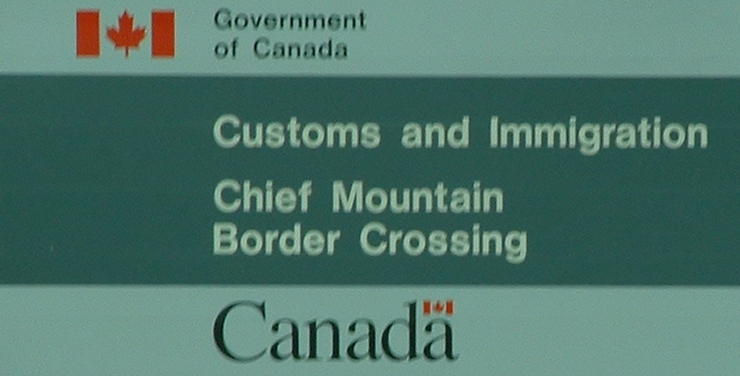 Here's what I find to be bothersome about the Peace Park. According to all I have read this was supposed to be a sort of cooperative park between Canada and the U.S. Well the U.S. seems as ethnocentric as ever. Case in point… Once we realized our change in plans I went into the U.S. Visitors Center and asked for info on campgrounds on the Canadian side. No can do, I was told. To be fair I haven't checked on U.S. pricing over here, but I can tell you that the folks at the Visitor's Center, and really all over, have been amazingly helpful and friendly. Even the guy at the border filled us in on ski resorts for our winter excursion.Overall the Canadian side of the park is as beautiful and is more laid back than the U.S. side.
Waterton Lake.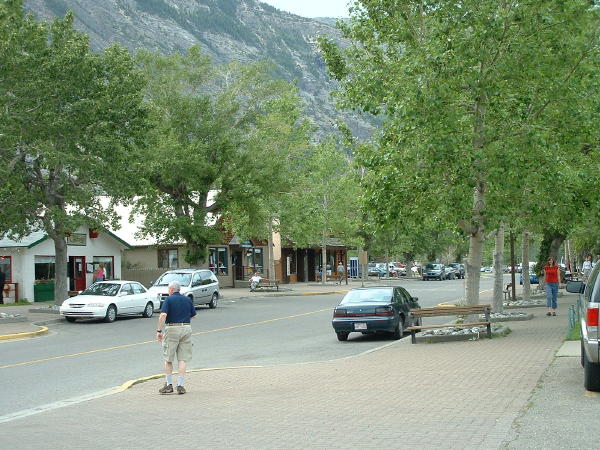 The town of Waterton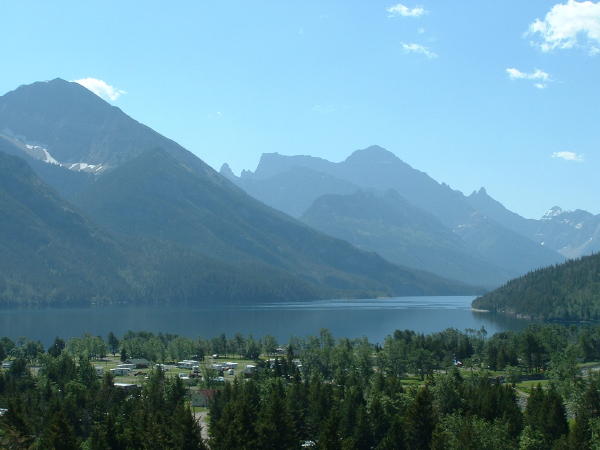 Waterton Campground is the most expensive one here, but as every real estate agent knows it is all about location, location, location. We are mere steps from the charming town of Waterton, which has all of the amenities you could need. The steep camping price of $17 U.S. is somewhat offset by the proximity to town, positioning on the lake and the free showers. We are having a nice bottle of Shiraz, a going away gift from Keith and Landa (thanks again) and a pasta dinner, complete with Canadain Smokies (a sausage not an illegal substance ;)while toasting our first night north of the border.
Don't worry we aren't leaving the U.S. for good just yet, this is just a round-a-bout way of getting to Whitefish, MT, which we will do tomorrow or the next day- or so the "plan" goes.
July 14, 2004
Waterton to Fernie.
We have been playing a fun game as of late, we like to call the "how many cans can you use game". This game stems from my inability to throw away cans of food that had been hiding in the pantry of our home in Durango for years. As a result we have many cans in our pantry. We try and use at least one for each dinner. Well Dan stepped it up a notch today and tried to use a can for breakfast. The result was pineapple pancakes. Should this blog eventually result in a guide book, rest assured this recipe will not be in there.
After this lovely meal we decided to ride Crandall lake trail.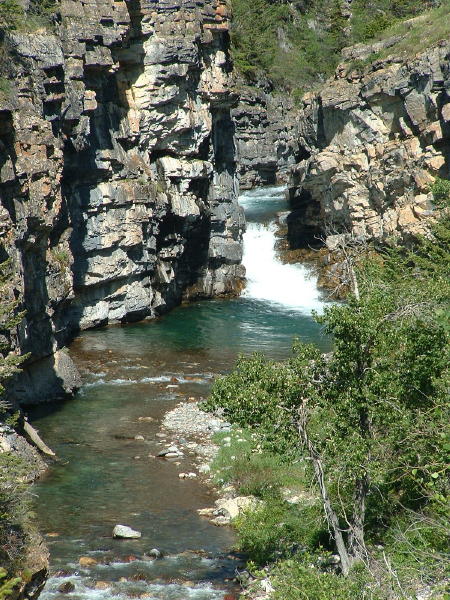 We rode/ hiked up the first mile or so and then the trail mostly wandered through tight vegetation and a few scree fields yielding fantastic views. We rode back on the road which was a thrilling and very fast downhill back into Waterton.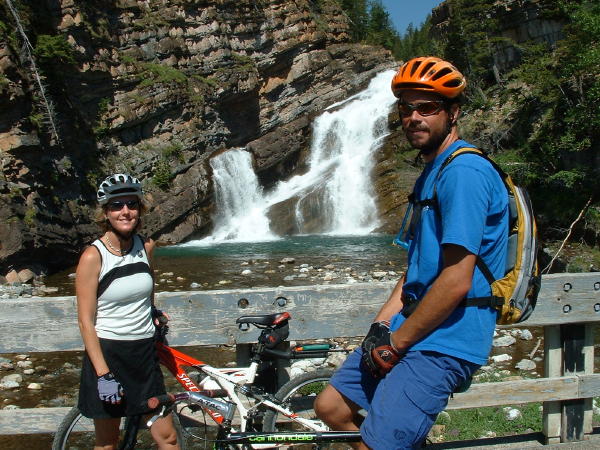 Once back at our campground we took a very short hike to a waterfall. One last shower and then we hit the road.
We loved Waterton and really recommend it. It is defiantly the kind of place where you could spend a week doing nothing or running yourself into the ground, whatever your pleasure. If it had a ski area we may have never left.
Family outing in Waterton.
We drove along HWY 6 to HWY 3 both very scenic drives. There is a huge wind farm (you know fields of wind mills) where the two highways connect and it makes even the flatter parts of the drive interesting. Stopped for lunch at yet another waterfall, this one had a windmill and four bison in the background.
Used a can of tuna for that meal (Sid that one's for you- I know you love when I reference food ;)
Then we crossed into British Columbia. Our destination was Fernie but the signs beckoning us to the world's largest truck in Sparwood were too much to resist.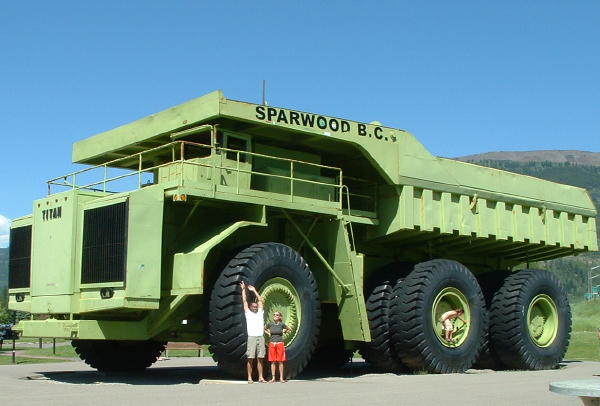 After this minor detour we rolled into Fernie. Seems it is their 100th anniversary so they are re-doing the main street in town. They are making it a pedestrian plaza, most of the stores are closed until the construction is completed, but we still got a feel for the town. Dan bought me a Lonely Planet guide to B.C. since I didn't have one and was feeling lost with out a relevant guide book to read.
We visited the grocery store here and learned that B.C. makes buying liquor almost as hard as Utah does- actually it may be harder up here because you can't even buy 3.2 in the grocery stores. So we had to improvise and make up yet another gin concoction that no one would ever put on a bar menu. Alas it gets the job done.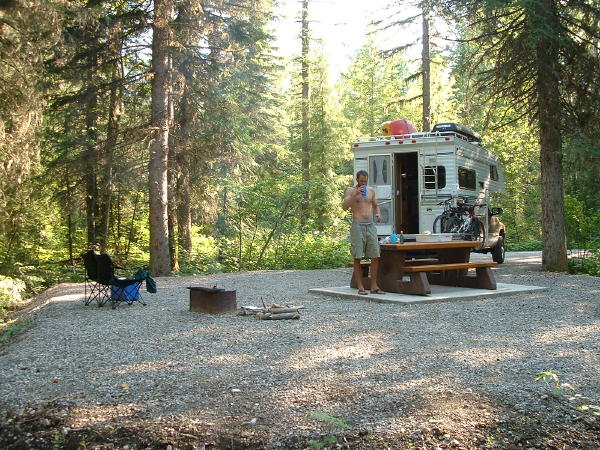 Tonight we are camped at the Fernie Mountain campground. There are tons of trails all over this place and I imagine we'll ride a few tomorrow before we head back to the good 'ol U.S. of A.
July 16, 2004
Fernie to West Glacier, via Whitefish.
Checked out the ski are in Fernie, and vowed to ski it this winter. Had most of our breakfast food confiscated at the U.S. border. Word to the wise, they are serious about Avian Flu there so no poultry products at the crossings. Then we arrived in Whitefish, Montana. Everyone warned us how cold and miserable Montana can be and it has become a running joke for us. So yesterday, as we were lying on the beach at Whitefish Lake, basking in the sun and the 96 degrees we joke that Montana sure is cold.
We rode our bikes around Whitefish and then finally got in touch with our buddy Keith who invited us over to his humble abode in West Glacier for the evening. We got there around 6pm. It stays light out until 10:30 around here so we decided to go for a little float. The kind guys at Keith's place of employment, Montana Rafting/ Glacier Wilderness Guides, loaned us a boat and a shuttle vehicle and we were off.
We floated the Middle Fork of the Flathead. It was a breathtakingly beautiful float and a wonderful time of day to get to be on the water. The rapids were tons of fun and old stories flowed as fast as the water. Afterwards we visited West Glacier's local hot spot. A one room speak easy of sorts which boasts $1 Miller beer in a can. That fits our budget!
For those of you who have never worked as a raft guide, you should know that it can be the most fun way you have ever spent a summer, but it is rarely, if ever, lucrative. The company that Keith works for is located on what used to be a commercial campground. Most of the guides live in the old campground and their "homes" are a medley of tarps, tents, old busses and then there is Keith's house. Keith lives in what was the campground's restroom.
The toilets and basins long since removed it makes for a veritable non-mobile camper, very similar to our own dwelling, but without the fuel bills.
Thanks to Keith and his cohorts for a wonderful float and a minor hangover.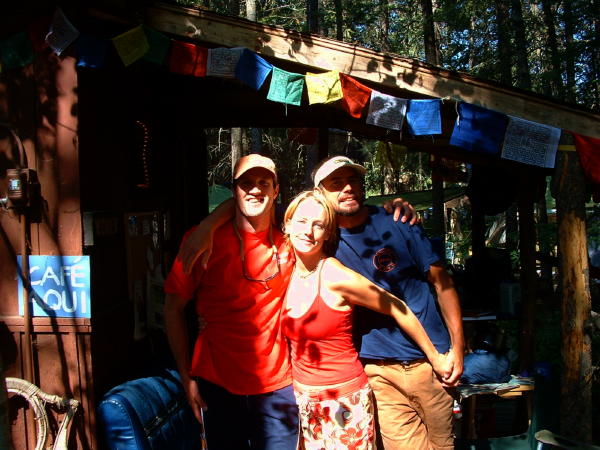 Dan, Rachel and our buddy Keith.
Currently we are at the Switzer Ski Area outside of Sandpoint, ID. As it just so happens there is a Bluegrass festival here today and we do love that olde timey music so we are eating lunch and enjoying the music.
NOTE:
Sorry to have posted the text w/o the pictures, Blogger changed it's format and my learning curve took a while to catch up. All is well again now.
Expenses
Fuel $155.39
Groceries$41.65
Liquor $29.00
Treats $25.00
Repairs $51.49
Camping $39.50
Park Fees$7.00
Other $12.00
Total $361.03
Remainder($111.03)
**In honor of our first foray into Canada we are posting our expenses in Canadian dollars. Actually that would be nice but it is not true, we went over budget this week, however, we are still under budget for the first 3 weeks so all is well.
Final Note: Thanks to, my Mom and Dad, Bethy, Heather's Britt, Brooke and Bates, Stella, Kendra and Kim for the birthday wishes.