Thanks again to all of you who read and click. Saturday we enjoyed a challenging day of cat skiing with some of our closest friends. We had never managed to make it out with
San Juan Ski Co
. which is sad since they are based in our hometown of Durango. In February you all clicked away and we made almost $250 from the ads on our site. A day cat skiing cost us $240 after tip and the other $10 bought us beers afterwards. If you are ever planning a ski trip to SW Colorado than a trip with Bob Rule is a must. The terrain he can access is some of the most amazing I have ever seen and can challenge any ability of skier.
This is where we skied for most of the day.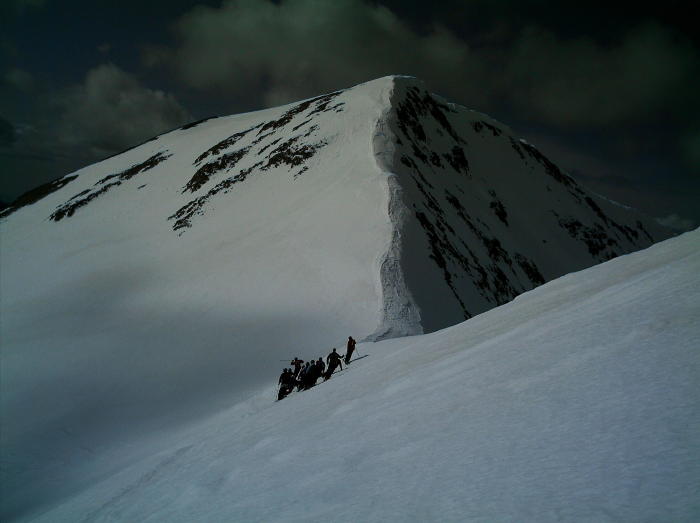 Everyone picking thier lines.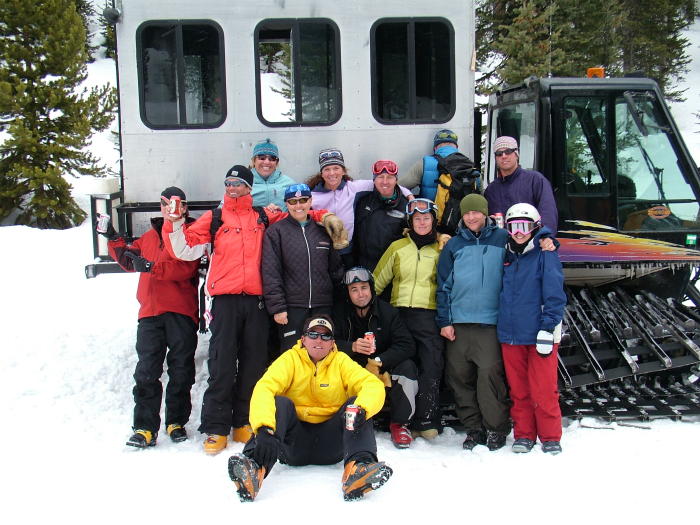 Our crew, note that Brother Pat is the one with his back turned.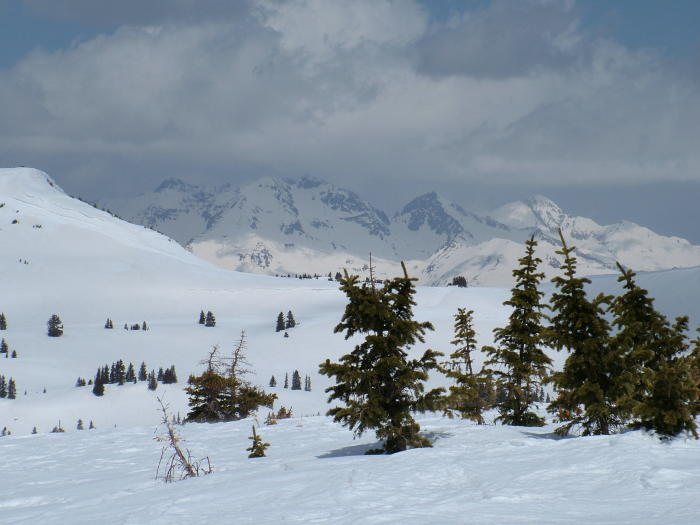 The ski terrain.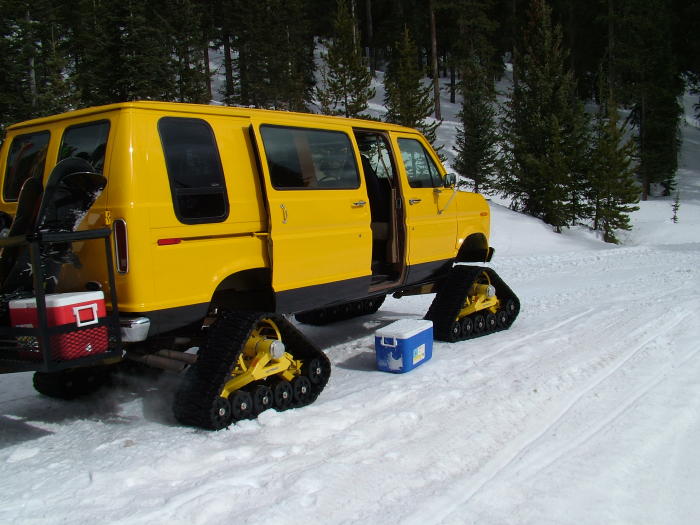 This van takes you up to where you meet the snow cat. It is a pretty fun ride.
Fruita
While our day of cat skiing was fun, it was not ideal. It had been hot all week and then on Saturday a storm moved in freezing everything and making the terrain really challenging. So we have decided that we are done skiing for now and wanted to be warm again. This lead us to Fruita, Colorado, a Mecca for mountain biking. We have been blessed with two warm and sunny days of excellent single track riding. Our friend Eric Wienk has joined us and we have had a ball.
Dang and Eric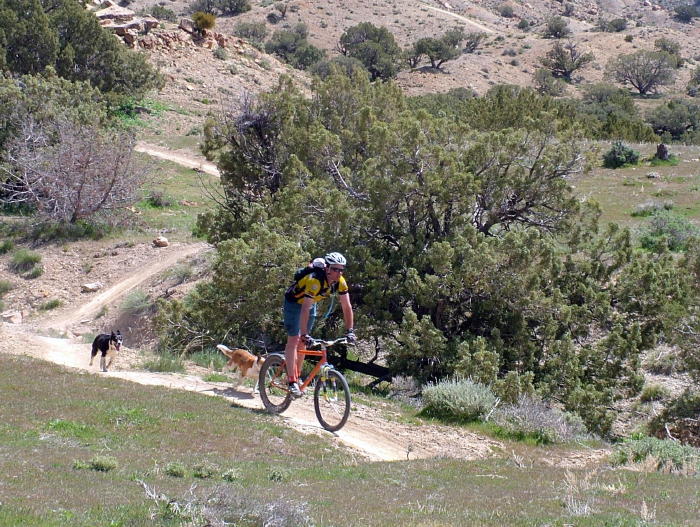 Rachel atop Joe's Ridge
Me smiling through the pain.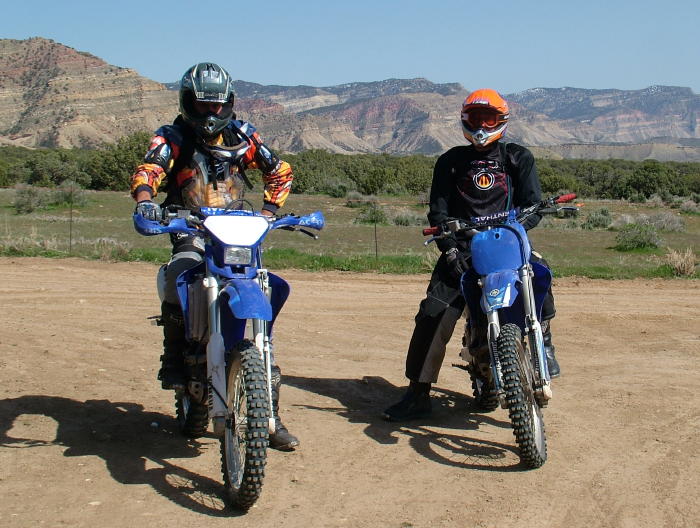 Eric brought his other "bikes" and the boys enjoyed a two-sport day, riding the dirt bike trails that lead up to the mountain biking area.
From here we are off for our last bought of employment for the foreseeable future. This one ought to be a blast. We are going to Vail to work a Snoop Dogg concert. Some of our Durango friends are working it too so we should be able to get ourselves into all kinds of trouble.
From Vail we return to Durango to begin the gear swapping process. You see in three weeks we are heading south and east and from there we do not know when we will be returning to Durango. It is time to trade snowboards for surf boards, skis for bikes and pants for shorts. But, before we head out east we are heading south, very south. To Central America in fact.
We have "earned" a vacation we think. Actually we had a few too many beers and Eric convinced us that we deserved a vacation, next thing I knew I had put two tickets to Costa Rica on the debit card and was searching online for a new bathing suit. So on April 23rd we, along with seven of our friends, are going to Costa Rica for an eight-day vacation. No camper, no budget, no ski pants or snowboard boots. I am so excited to be on a beach, surfing and sipping frou-frou drinks that I can hardly stand it. But I am getting ahead of myself. For now on to Vail.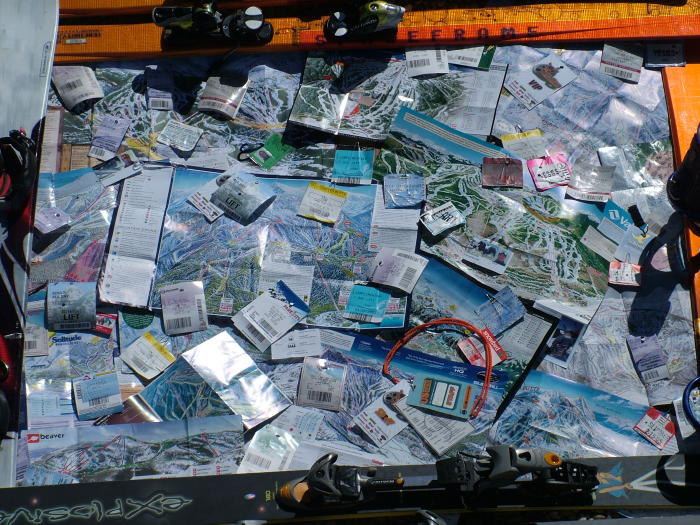 As many of you know our plan for the winter was to live in Rossland, B.C. and settle into one town and one ski area for three months. Alas there was no snow there this year and Red Mountain was forced to close down in mid-March. Ironically enough all of the snow was hitting our home turf so we tucked tail and made circles around Colorado for most of the winter. Instead of one ski area, we got to travel the west and ski some of the great ski hills along the way, 20 in all. This photo shows what we did on our winter vacation.